Certificates, Reports and Awards
Nokian Tyres can be considered a forerunner in the tyre industry with regard to the long-term development of safety and environmental issues. Responsibility means more to us than just meeting the requirements and norms of society. 
 
The core stepping stones for our actions are safe and environmentally-friendly products, industry-leading production processes, safe work environments and personnel well-being. 
Nokian Tyres plc has qualified to the OMX GES Sustainability Finland index 12/2012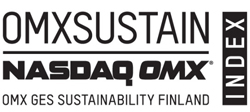 The index is designed to provide investors with a liquid, objective and reliable benchmark for responsible investment. The benchmark index comprises of the 40 leading NASDAQ OMX Helsinki listed companies in terms of sustainability. The index criteria are based upon international guidelines for environmental, social and governance (ESG) issues. The index is calculated by NASDAQ OMX in cooperation with GES Investment Services.
Corporate Sustainability Report 2013
12.6.2014
The renewed Corporate Sustainability report, which has been implemented according to the revised GRI G4 guidelines, has been published as a web version. The report can be browsed through traditional navigation tools or through links in a GRI comparison table. The report can also be easily printed, either as a whole, or just by necessary sections defined by the user.
Corporate Sustainability Report 2013
Corporate Sustainability Report 2012
Environmental Report 2003
14.04.2003 
Environmental Report 2003, pdf
Nokian Tyres' certificates: 
1994  ISO 9001 Certificate (quality), Nokia factory
1995  BS 7750 Certificate (environmental), Nokia factory
1998  ISO 14001 Certificate (environmental), Nokia factory
2006  ISO 9001 and 14001 Certificates, Vsevolozhsk factory
2008  ISO 9001 and 14001 Certificates, Nokian Däck Ab
2013 ISO/TS 16949:2009 Certificate (quality), Nokia
2013 ISO/TS 16949:2009 Certificate (quality), Vsevolozhsk
Examples of awards:
- Many wins and awards in Environmental reporting
- In year 2006 Honourable Mention in "Environmentally friendly tyres" in the European Business Awards for the Environment (EBAE) contest's - Finnish series