13% of drivers use dangerous summer tyres in autumn rain: Nokian Tyres' SnapSkan service reveals the truth about tyres' condition
SnapSkan is a ground-breaking digital tyre checking service developed by Nokian Tyres. All summer, SnapSkan has measured car tyres in the largest Finnish cities. Worryingly, up to 13% of the cars examined are equipped with poor summer tyres. In heavy rain, the good condition of summer tyres is invaluable for safety.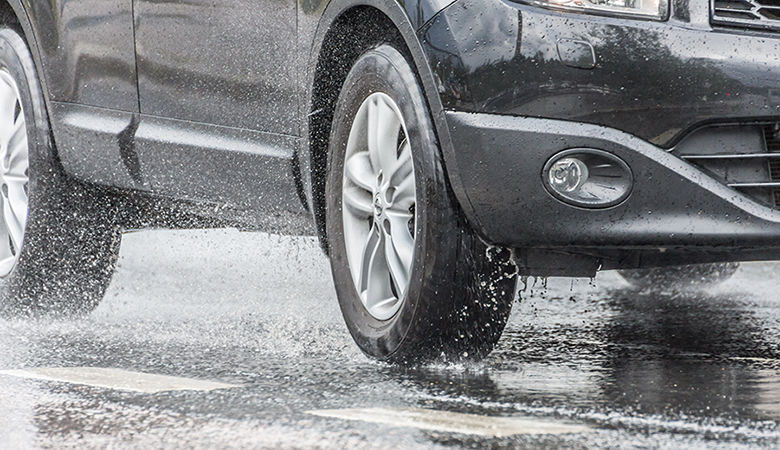 Up to 13% of drivers take chances with poor tyres
SnapSkan helps drivers learn about their tyres' condition and its impact on their safety: it measures the tread depth of the tyres using a drive-over scanner located at the entry or exit of a public parking garage. The service then sends the information directly to the driver's smart device, free of charge. SnapSkan makes tyre condition checking and monitoring simple and quick without any extra cost. A total of nearly 200,000 cars was scanned in the period from June to August. Out of all the cars scanned in the three months, up to 13% had a dangerously low tyre tread depth.
Tread depth is an essential component of a summer tyre's wet grip. The deeper the tread, the better it stores water from between the road and the tyre, thereby improving grip on the wet surface. A new tyre has a tread depth of about 8 mm, and its aquaplaning resistance is greatly reduced once the tread is worn down to 4 mm. The poor condition of tyres also leads to longer braking distances: when tested, a tyre with a 7 mm tread stopped the car after 25 m, whereas a 2 mm tread extended the braking distance to nearly 38 m. The difference may be over two car lengths, which is a lot when you need to be able to stop suddenly to avoid collision.
4% drive on winter tyres even in summer
SnapSkan's results also worryingly show that many drivers drive on winter tyres even in summer. From the cars measured between June and August, about 4% had winter tyres. Driving on winter tyres in the summer is dangerous as their properties are not optimised for summer conditions.
As winter tyres are designed for snow and ice, their wet grip properties are considerably lower compared to summer tyres, which is particularly evident when braking on a wet surface. When tested at a speed of 80 km/h, a Nordic non-studded winter tyre stopped after 39.2 m, whereas the figure was just 25.4 m with a good summer tyre. The difference is crucial if a moose jumps in front of you when driving at night on an autumn road. Furthermore, winter tyres are no match for summer tyres in driving comfort or handing on a hot and dry road surface.
Most drivers do not know the condition of their tyres – SnapSkan was designed to help
Even though the tyres are the most active piece of safety equipment on a car, people often neglect checking their condition. Many people check the condition of their tyres only when changing them, and this means that summer tyres may be driven thousands of kilometres on hot and sometimes poor roads. After the summer, the tyres may be too worn for the coming autumn rain.
Nokian Tyres developed SnapSkan in order to improve road safety. The service provides a quick and easy way to check the condition of tyres. SnapSkan service points can be found in parking garages in the largest Finnish residential areas as well as at tyre and car service chain Vianor's stores. Last spring the first service point outside of Finland was also opened in Oslo, Norway.
SnapSkan is the world's first tyre scanning service that is fully automatic and available at a public location to everyone. The goal for SnapSkan is to improve road safety globally for millions of people in the future.
Further information:
www.nokiantyres.com/snapskan
Photos and videos: www.nokiantyres.com/snapskan-photos
Nokian Tyres Plc
Program Manager Ville Nikkola, tel. +358104017596, [email protected]
Marketing Manager Hanna Kivimaa, tel. +358104017440, [email protected]