Tue March 29 10:00 am 2022 in category Product news
A tire that enables new business – the new Nokian Ground Kare excavator tire sizes bring more versatility to wheeled excavators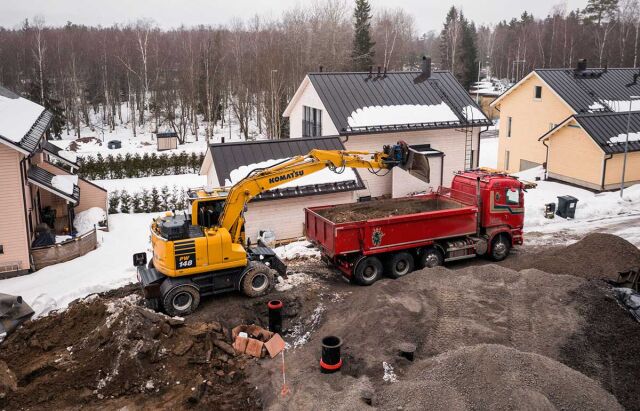 Being able to do versatile jobs is usually good for contracting business – and excavating is no exception. The contractors everywhere have noticed that with the Nokian Ground Kare tires, the capabilities of their wheeled excavator and the performance of tires compared to dual wheels have increased substantially. Also backhoe loaders perform their best with a versatile set of tires. Now the Nokian Ground Kare tire range is extended with three new sizes to bring grip and stability to the reach of more contractors.
Wheeled excavators with single-wheel configuration have some advantages over their dual-wheeled counterparts, such as being gentler to the soil and not having rocks stuck between the tires. The Nokian Ground Kare tire range has proven its worth on soft soil, where its performance is superior to more narrow dual wheels. Some contractors have even reported that they are now able to work on soils the previously have required a tracked excavator.
"A high utilization rate helps the contractors get the most out of their machine investment", says Kimmo Kekki, Product Manager at Nokian Tyres. "Nokian Ground Kare is an excellent all-round tire for many kinds of jobs, enabling them to do more with their excavator."
A right set of features
In excavating work, tire stability is the key to fast and safe working. Nokian Ground Kare tire has excellent stability that gives the work a solid foundation.
"Another crucial feature is the large footprint that minimizes soil damage", says Kimmo Kekki. "And the special rubber compound ensures excellent grip even in winter conditions – another point in favor of wide single wheels."
Long service life
An excavator tire must endure on many different surfaces, including road transits. With its large footprint and sturdy rubber, Nokian Ground Kare tire wears very slowly and evenly.
"Another thing affecting the tire service life is the risk of tire damage on rocky construction sites with knife-sharp stones and rebar fragments", Kimmo Kekki reminds. "Nokian Ground Kare is steel fortified against cuts and cracks, and unlike with dual tires, the rocks can't wedge between them."
Also for backhoe loaders
In skillful hands, backhoe loaders are truly versatile tools. They have many uses from constructing sites to powerline or railroad maintenance work. With the Nokian Ground Kare tires, backhoe loaders can also benefit from better working stability, excellent all-year grip as well as smooth and silent ride on road transits.
"In backhoe loader use, Nokian Ground Kare has truly impressive service life", Kimmo Kekki points out. "What's more, there is a special semi-slick version available for railroad use!"
Complete wheel expertise
Working hand in hand with the tires, the wheels play an important role in smooth excavating work as well. Nokian Tyres produces also high-quality wheels, providing many machine manufacturers with perfectly matched complete wheel sets.
"Having the wheel and tire both optimized for the intended use guarantees seamless working", Kimmo Kekki says. "For example, our Tube Edge wheels have a unique re-enforced structure that supports the tires in a best possible way!"
Sizes and availability
In addition to existing Nokian Ground Kare sizes, there are three new sizes available this February. The biggest tire is 710/40-22.5, which has extra-large footprint for working on soft soil. While the existing size 650/45-22.5 still offers the best load carrying capacity in the range for heavy machinery – 6900kg @ 40 km/h with pressure of 6 bar – the new tire size 600/50-22.5 is an excellent choice for smaller machines.
For backhoe loaders with heavy work implements, the new size 620/60B30 offers excellent load-bearing capacity. It complements the existing 620/60B34 size, which is also available as a special semi-slick version for railway use.
600/50-22.5 173A8 GROUND KARE SF TL
650/45-22.5 175A8 GROUND KARE SF TL
710/40-22.5 173A8 GROUND KARE SF TL
620/60B30 176A8 GROUND KARE SB TL
620/60B34 178A8 GROUND KARE SB TL
620/60B34 178A8 GROUND KARE SEMI-SLICK SB TL
More information:
Kimmo Kekki, Product Manager, Nokian Heavy Tyres Ltd
[email protected], tel. +358 10 401 7254
Marketing, Nokian Heavy Tyres 
[email protected]  
More information and photos:
Photos and press materials: www.nokiantyres.com/groundkarepr  
Product page: www.nokiantyres.com/groundkare
Company site: www.nokiantyres.com/heavy