Thu January 15 12:18 pm 2015 in category Product news
Better capacity and durability:
The new Nokian NTR 52 steer axle tyre remains reliable for longer
Nokian Heavy Tyres is introducing the new Nokian NTR 52 steer axle tyre for trucks and buses for medium and long distance use. This new tyre meets the EURO 6 load carrying capacity requirements and has a higher load index than its predecessor, the Nokian NTR 32. The Nokian NTR 52 has an M+S label and it is excellently suited for all-year use. The new construction and tread compound offer good durability and excellent grip under main road conditions.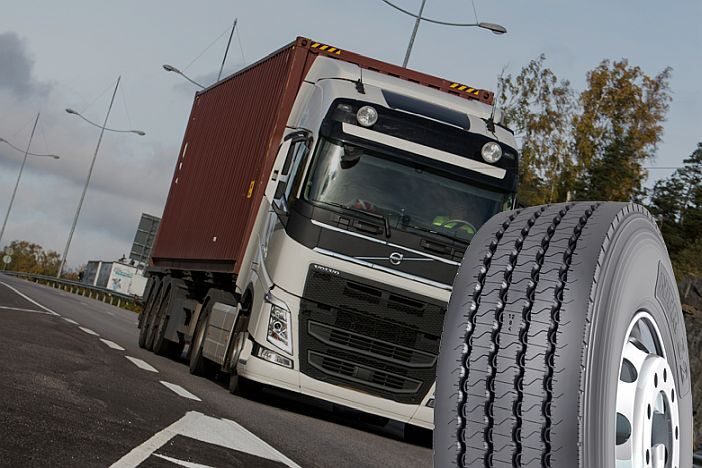 Nokian Heavy Tyres has developed an entirely new type of tread pattern. The tread pattern has innovative, zigzag shaped grooves. The design of the new pattern is protected in Europe.
- The Nokian NTR 52 offers excellent wear resistance. As the tyre wears down, its grooves become more zigzag shaped; this increases the lateral support of the ribs and improves driving stability. The new grooves also reduce stone trapping in the main grooves. These features ensure that the tyre works reliably even when worn, says Teppo Siltanen, Product Manager for Truck Tyres at Nokian Heavy Tyres.
Combined with the new construction and tread pattern, the even wear shape ensures a long service life and more useful kilometres. The low rolling resistance, for its part, brings fuel cost savings and ensures smooth driving comfort. The low rolling noise of the tyre improves driving comfort even further.
The Driving Safety Indicator (DSI), developed and patented by Nokian Tyres, makes it easier to follow the safety and wear of the tyre. It displays the remaining amount of tread surface on the tyre's main grooves in numbers.
The Nokian NTR 52 is especially designed for Central Europe, Russia, and the Nordic countries. The first three sizes will become available in 2015: 
315/70R22.5 156/154L (154/150M)
315/80R22.5 156/154L (154/150M)
295/80R22.5 152/148M
Safety and cost savings for demanding professional use
The Nokian tyres for trucks and coaches are developed for demanding professional use and varying conditions in order to enable safe driving under all weather and road conditions. We test extreme driving situations under all weather conditions at our own testing centres in Ivalo and Nokia.
The tyres are developed by driving millions of kilometres in different operating environments and all kinds of weather. Our close co-operation with bus and transport companies offers valuable operating experience to support our design work. The purpose of our versatile testing is to offer the market's safest, most economical tyres for professional driving. Our strong competence is based on long traditions. We developed the world's first winter tyre for professionals in heavy traffic in 1934.
Photos: www.nokiantyres.com/nokianntr52
Read more about the Nokian product range:
http://www2.nokiantyres.com/trucks-and-buses
Nokian Truck Tyres
View video: http://youtu.be/BsPztTuGijU
80 years since the world's first winter tyre
View video: http://youtu.be/3pb8Oe-Ki5c
Further information:
Nokian Heavy Tyres  
Teppo Siltanen Product Manager, Truck Tyres tel. +358 10 401 7709 teppo.siltanen(at)nokiantyres.com