More durability for SUV drivers:
Nokian Tyres extends the use of Aramid Sidewall Technology
Nokian Tyres, the world's northernmost tyre manufacturer, is increasing the use of its Aramid Sidewall Technology in SUV tyres designed for demanding and versatile winter use. From the beginning of 2016 onwards, nearly all premium products from the pioneer of winter driving will feature the unique Aramid Sidewall Technology that provides additional safety and durability. The new technology will also be included in products that are already on the market.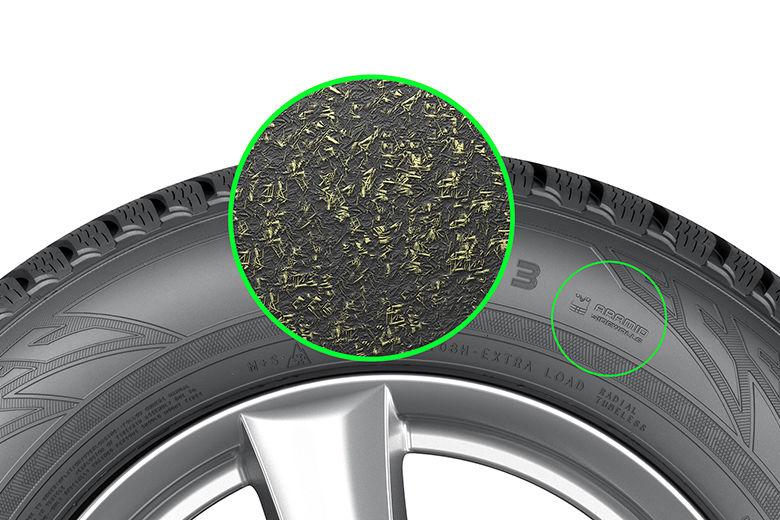 The Aramid fibre that Nokian Tyres uses in the sidewall compound strengthens the tyre's sidewall, allowing it to better withstand impacts and cuts that can easily puncture the tyre. The same material is also utilised in the aviation and military industries.
New technology used on SUV winter tyres from the beginning of 2016
Durability has been one of the most requested features for tyres from SUV drivers who want to enjoy the passenger car-like features of their large and powerful vehicles. According to research, tyres are most often damaged by impacts to the tyre sidewall. Typical scenarios include driving into unexpected potholes with low inflation pressure and parking too carelessly, allowing a sharp kerb to damage the sidewall. No repair is recommended for sidewall damage. Such damage usually requires fitting a replacement tyre.
- This new innovation that improves durability under surprising conditions has been extremely well received by SUV drivers. Tyre retailers have also been excited about the new invention that is entirely unique and provides added value for customers who want to enjoy care-free off-roading and urban driving. We want to maximise the features of our existing premium products and will be introducing this innovation at the beginning of 2016 in our winter products tailored for different markets, says Head of Product Management Petri Niemi.
Nokian Tyres' Aramid Sidewall technology was utilized for the first time in test-winning Nokian Hakkapeliitta 8 SUV studded tyre. It is also fundamental feature in Nokian Line premium SUV summer tyres.
Durability like never before – Aramid Sidewall Technology 2016
Products that are utilising Aramid Sidewall technology:
SUV tyres for global markets
Nokian Rotiiva AT Plus & Nokian Rotiiva AT
SUV tyres for North American markets
SUV tyres especially for Nordic markets
SUV tyres especially for Central European markets
Product range is subject to regional availability.
Photos:
www.nokiantyres.com/NokianWRSUV3 
www.nokiantyres.com/NokianWeatherproofSUV
www.nokiantyres.com/HakkapeliittaR2SUV
Video: Durability like never before: Nokian Aramid Sidewall technology https://youtu.be/P2yjARS7frM
Video: Nokian Aramid Sidewall technology – How it works
http://youtu.be/N5LvBke-UqY
Nokian Tyres – the world's northernmost tyre manufacturer and the inventor of the winter tyre www.nokiantyres.com/company/about-us/history/
At the top of winter tyre testing: Ivalo Testing Center – White Hell
http://youtu.be/n3UyMo4L8bM
Further information: www.nokiantyres.com
Nokian Tyres plc
Head of Product Management Petri J. Niemi, tel. +358 10 401 7646 [email protected]
Technical Customer Service Manager Matti Morri, tel. +358 10 401 7621[email protected]
Twitter: https://twitter.com/NokianTyresCom 
YouTube: www.youtube.com/NokianTyresCom 
Facebook: www.facebook.com/nokiantyres 
LinkedIn: https://www.linkedin.com/company/nokian-tyres-plc