Nokian Armor Gard 2 resolves the key issues of urban excavation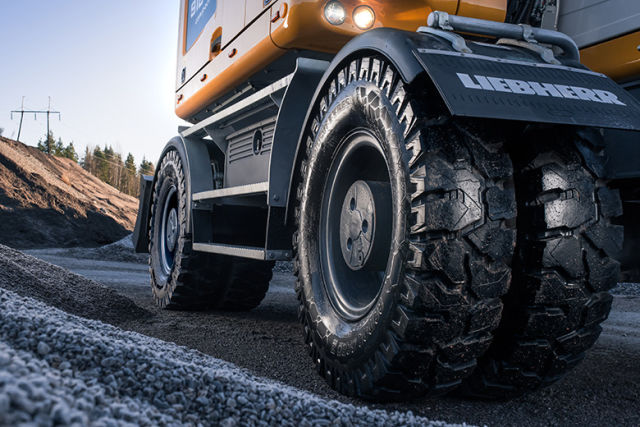 Nokian Heavy Tyres, Nokia, Finland, March 21, 2018 – Nokian Heavy Tyres launches a new tyre with innovative features for urban excavation. The Nokian Armor Gard 2 is designed to start a new era of excavation work in city environments all over the world. 
The key issues of urban excavation are well-known: how to ensure safety and stability even in the most demanding tasks, and how to prevent tyres from wearing rapidly when the on-road transitions are long. The world-class product development team of Nokian Heavy Tyres resolved these issues with a next generation premium tyre. As the result, the new Nokian Armor Gard 2 offers all the features the urban excavation work needs the most.
Strong duration and premium stability
Nokian Armor Gard 2 presents better stability and improved lifetime compared to previous generation of Armor Gard tyres. It is vertically 25 percent stiffer – this robust carcass design enables optimally stable and smooth excavation work.
The new wider tread design of the Nokian Armor Gard 2 lowers the contact pressure as well and makes the tyre more hard-wearing. This combined with 12 percent more rubber to wear gives the tyre a longer life and strong duration even on tarmac.
Experience and innovation combined
At Nokian Heavy Tyres years of experience are combined with constant innovation. Nokian Armor Gard 2 is an excellent example of the power of this process. The more rectangular shape of the tyre takes the stability to the next level.
With Armor Gard 2 the on-road transitions from one site to another are quiet and pleasant. Its precise handling is ideal even for the most demanding tasks.
Main features
Excellent for long-distance transitions on the highway
Wide tread and 12% more rubber compared to the previous generation of Armor Gard tyres enable longer life
Insert windows maximize tyre cooling and carcass durability
The tread depth indicator makes the tyre condition easy to monitor
Availability
The Nokian Tyres' Armor Gard 2 size 10.00-20 is now available, and 11.00-20 will be available in 2018.
About Nokian Tyres
Nokian Tyres is the world's northernmost tyre manufacturer. It promotes and facilitates safe driving in demanding conditions. We are the only tyre manufacturer to focus on products for demanding conditions and customer requirements. Innovative tyres for passenger cars, trucks, and heavy machinery are mainly marketed in areas with snow, forests and challenging driving conditions caused by varying seasons. We develop our products with the goals of sustainable safety and environmental friendliness throughout the product's entire life cycle. In 2017, the company's Net sales were approximately EUR 1,6 billion, and it employed 4,600 people at the end of year. Nokian Tyres' stock is listed on the Nasdaq Helsinki.
More information
www.nokiantyres.com/heavy 
www.nokiantyres.com/armorgard2
Photos and press materials:
www.nokiantyres.com/armorgard2_materials
Further information:

Toni Silfverberg, Head of Sales & Marketing, Nokian Heavy Tyres Ltd
[email protected], tel. +358 10 401 7854
Tuomas Färlin, Business Line Director OTR, Nokian Heavy Tyres Ltd
[email protected], tel. +358 10 401 7819