Mon October 27 01:42 pm 2014 in category Product news
Nokian Hakka Truck 844 - Durability for demanding operations
Nokian Heavy Tyres is introducing the new 385/55R22.5 Nokian Hakka Truck 844 trailer tyre. The tyre has been designed to operate flawlessly even under demanding conditions. Due to its new structure, the Nokian Hakka Truck 844 offers excellent mileage and good wear resistance. The sturdy tyre is especially designed for use on trailers, but it also works well as a front tyre.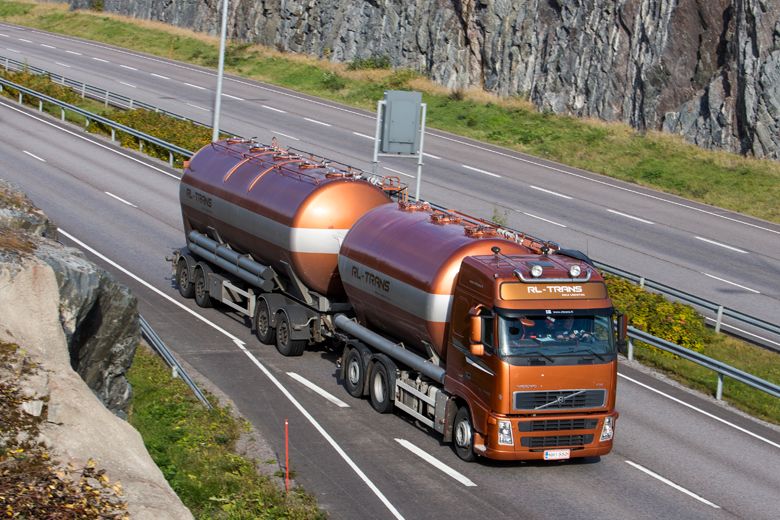 The Nokian Hakka Truck 844 is designed for all-season long and medium distance transport, and it also works well under winter conditions. It is the first trailer tyre in this size on the market with both the M+S marking and the snowflake symbol, signifying official winter tyre approval.
- The new belt structure gives the Nokian Hakka Truck 844 trailer tyre optimal surface pressure. This ensures even wear and excellent mileage. The tyre also has low rolling resistance, which reduces fuel costs and ensures silent running, says Teppo Siltanen, Product Manager for Truck Tyres at Nokian Heavy Tyres.
The Spiral Sipe System maintains the correct stiffness of the tread pattern even as the tyre wears down. This ensures that grip is maintained. The siping also reduces the tyre's rolling noise.
Stone ejectors in the main grooves reduce stone trapping. This reduces the penetration of sharp rocks into the tyre, thereby prolonging its operating life. Other road users will also be happy, as the number of rock projectiles is reduced.
A simple wear indicator provides safety and makes it easy to follow the wear of the tyre. The Driving Safety Indicator (DSI) developed and patented by Nokian Tyres indicates in numbers how many millimetres of tread there is left on the main grooves of the tyre.
The Nokian Hakka Truck 844 has excellent retreading capabilities, which increases the usability of the casing and reduces the overall costs. The Nokian Hakka Truck 844 tread pattern is also available in the durable Nokian Noktop 44 retreading material which is suited for demanding conditions.
The Nokian Hakka Truck 844 is especially designed for the Nordic countries, Russia, and Central Europe. The new product will be available in November 2014.
Safe and economical driving in demanding professional tasks
Nokian truck and bus tyres are designed for demanding professional use in varying conditions with the aim of ensuring safe driving in all weather and road conditions. In our own test centres in Ivalo, Lapland, and in Nokia we test extreme driving situations in all seasons.
Further development of the tyres involves millions of kilometres of driving in different environments and in all kinds of weather conditions. Close co-operation with transport operators and haulage companies provides us with valuable usage experience to support our product development. The aim of our versatile testing is to offer the safest and most economical tyres for professional drivers. Our solid expertise rely on extensive traditions built upon since developing the world's first winter tyre for heavyduty vehicles back in 1934.
Photos: www.nokiantyres.com/nokianhakkatruck844
More information about Nokian truck tyres: www.nokianheavytyres.com
Nokian truck tyres
Watch video: http://youtu.be/BsPztTuGijU
Hakkapeliitta Test Experience 
Watch video: http://youtu.be/SSGI1MIr5F4
The world's first winter tyre 80 years.
Watch video. http://youtu.be/3pb8Oe-Ki5c
Further information:
Nokian Heavy Tyres 
Teppo Siltanen Product Manager, Truck Tyres tel. +358 10 401 7709 teppo.siltanen(at)nokiantyres.com
Marko Muhonen Business Manager, Heavy Tyres tel. +358 10 401 7968 marko.muhonen(at)nokiantyres.com