Nokian Heavy Tyres launches new Nokian Hakkapeliitta Loader winter tyre for wheel loaders
Nokian Hakkapeliitta Loader widens the Nokian Heavy Tyres' family of winter tyres to wheel loaders. This totally new special tyre is targeted to wheel loader winter use when customers need reference level grip on snow and ice. Typical applications are airports, winter road maintenance and municipal snow clearing. Nokian Hakkapeliitta Loader is available in three sizes, 17.5R25, 20.5R25 and 23.5R25.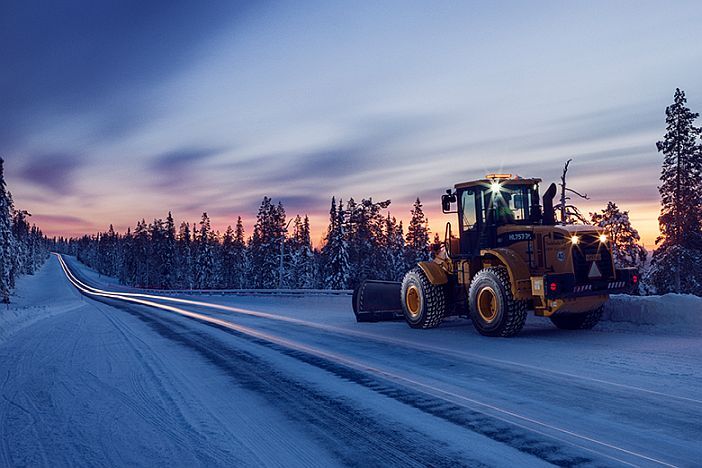 - This product features all the best characteristics for winter use to achieve maximum grip and efficiency in professional work. At the same time our target was not to forget the summer use. Tyre is designed without compromising the durability in the summer, sums Matti Kaunisto, Product Manager at Nokian Heavy Tyres.
Top performance on ice and snow
Nokian Heavy Tyres expanded its versatile winter tyre selection to tractors when the Nokian Hakkapeliitta TRI was launched in the spring of 2014. The Nokian Hakkapeliitta Loader is now expanding this selection to cover also wheel loaders. The diagonal siping creates grooves on the tread blocks, increasing the number of edges that grip the driving surface and improving longitudinal and lateral grip.
- Here, well above Arctic Circle, we need proper winter tyres for road maintenance says Ari Räisänen, driver of one of the test machines for Nokian Hakkapeliitta Loader.
Town called Kolari in Northern Lapland of Finland they are contracting for different customers for snow clearing.
- We drive continuously about 6 months during snow clearing season and during this time the average working hours are about 12 hours a day. Have to say that I am amazed by the grip levels of this new Nokian Hakkapeliitta Loader. This makes my work a lot easier because I can trust the tyres and concentrate on other things, tells Räisänen. 
Nokian Hakkapeliitta Loader features
Nokian Hakkapeliitta Loader has unique open tread pattern with siping for maximal grip and self-cleaning. This aggressive tread pattern creates reference level grip in both lateral and traction direction. New tread rubber compound together with added tread surface rubber will bring more working hours and improves grip level. Tread pattern is asymmetric and it has pre-marked positions for studs. Nokian Hakkapeliitta Loader is available in three sizes.
The master of extreme conditions
Nokian Tyres is the world's northernmost tyre manufacturer. The company developed and manufactured the world's first winter tyre for the winter frost in 1934. Two years later, the Nokian Hakkapeliitta was born in the Nordic winter; it is already a legend wherever true winter conditions are known. The unique innovations have made the Hakkapeliittas the winners of magazine tests year after year and decade after decade.
Since the beginning, careful testing and development by Nokian Tyres has been leading the way towards safer and eco-friendlier tyres. Far north of the Arctic Circle, Nokian Tyres has its enormous Ivalo Testing Center, also known as "White Hell", spanning over 700 hectares. Winter tyres are put to the test in extreme conditions around the clock.
The company is the only tyre manufacturer in the world focusing on products and services that facilitate safe transport in Northern conditions. Its innovative tyres for passenger cars, trucks and heavy machinery are mainly marketed in areas that are home to snow, forest, and demanding driving conditions due to changing seasons.
Nokian Hakkapeliitta Loader
See videos and read more about Hakkapeliitta Loader
www.nokiantyres.com/hakkapeliittaloader
Action photos – The new world record for fastest tractor www.nokiantyres.com/hakkapeliittaloader_photos
More information:
Nokian Hakkapeliitta Loader – Ready for anything
https://youtu.be/ONSmByxBS9M
How the world's first winter tyre was invented
www.nokiantyres.com/first-winter-tyres
Nokian Heavy Tyres Ltd.
Marketing Manager, Jarkko Puikkonen, tel. +358 10 401 7201 [email protected]
Product Manager, Matti Kaunisto, tel. +358 10 401 7228 [email protected] 
Facebook: www.facebook.com/nokianheavytyres 
Twitter: https://twitter.com/nokianheavy 
YouTube: https://www.youtube.com/user/NokianTyresCom 
LinkedIn: https://www.linkedin.com/company/nokian-tyres-plc