Wed June 28 11:58 am 2017 in category Product news
Nokian HTS G2: The 2nd generation of terminal tyres from Nokian Heavy Tyres – Massive load capacity and reliability for container handling
Nokian Heavy Tyres has introduced its second generation of HTS terminal tyres. The new Nokian HTS G2 tyres have been designed to be even more rugged, efficient and safe, and tests confirm that Nokian has succeeded in all these areas.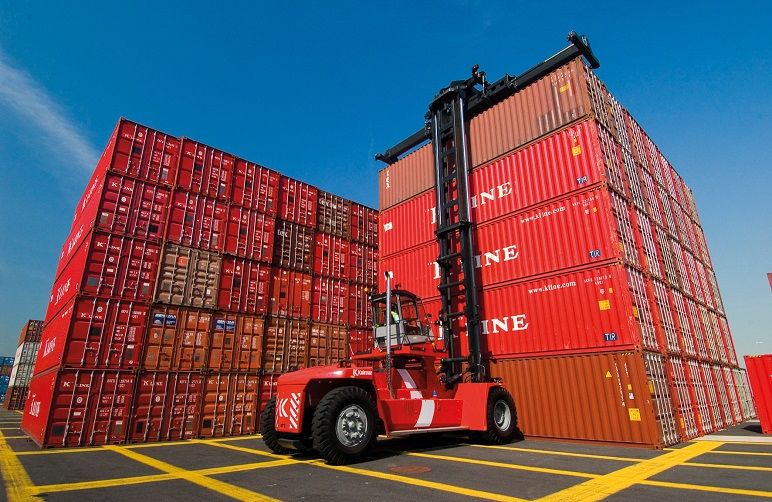 Nokian Heavy Tyres introduced its first HTS terminal tyres in the early 2000s. The brand new Nokian HTS G2 tyres represent a completely new generation of terminal tyres. The new Nokian HTS G2 tyres are available either as L-4S slicks or with E-4 treads.
"The choice of slicks or treads depends entirely on customer preference. The L-4S slicks have more contact surface, which helps extend their life, while the E-4 treads remain cooler in hot climates and over long transfer journeys, which also extends their life," says Martti Keinonen, Project Manager, Nokian Heavy Tyres. 
Whichever option customers choose, they will be getting one of the longest lasting tyres on the market today. Nokian HTS G2 tyres have a multilayer, cross-ply structure that provides stability and a high load-bearing capacity. Increased stability also means enhanced safety, as it prevents reach stackers from kneeling even when handling the heaviest loads.
Long-lasting rubber compound and stiff cross-ply structure
Both the L-4S and E-4 models have a long-lasting rubber compound optimised for harbour applications. The rubber compound resists wear on high-friction asphalt surfaces, while the stiff cross-ply structure ensures that the tyres are long lasting and reliable, which lowers costs over their lifespan. Tests have shown the new generation of tyres to be as much as twice as long lasting as competing tyres depending on conditions.
Availability
The second generation Nokian HTS G2 tyres will be launched at TOC Europe 2017 in Amsterdam on 27 June. Deliveries will begin this autumn in the 18.00-25 size for both L-4S slicks and E-4 treaded tyres. The bigger 18.00-33 size will be available in 2018.
Nokian HTS G2 Terminal Tyres 
18.00-25       
L-4S 18.00-25       
E-4 18.00-33       
L-4S (available in 2018) 18.00-33       
E-4 (available in 2018)
More information:
Toni Silfverberg, Head of Sales & Marketing, Nokian Heavy Tyres Ltd [email protected], tel. +358 10 401 7854
Martti Keinonen, Project Manager, Nokian Heavy Tyres Ltd [email protected], tel. +358 10 4017288
Photos: