The summer tire season is here – Nokian Tyres' premium summer products offer safety and peace of mind for tighter turns and rainy days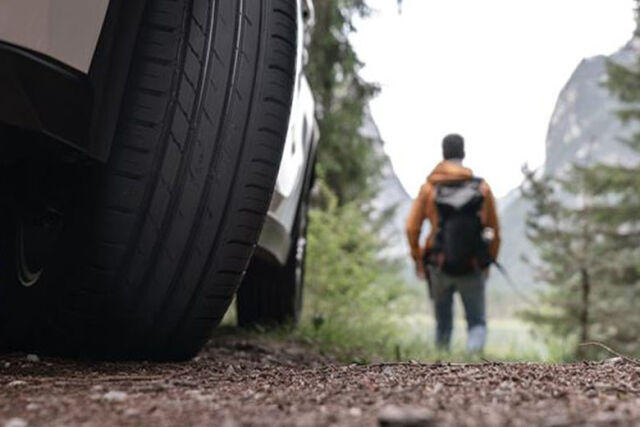 Scandinavian tire manufacturer Nokian Tyres offers a modern and versatile summer tire selection for Central European market. New summer tire generation features a unique Dual Zone Safety technology, specially developed for varying summer conditions. This test-winning technology was first introduced in the passenger car models and then carried on to the SUV and cross-over range. Nokian Tyres' products offer premium driving comfort, durability and, above all, first-class safety – ensuring perfect peace of mind for all summer trips. 
When enjoying the sunny and beautiful summer days, it's easy to forget the dangers of rain-soaked roads. It's also more than typical these days that the weather varies from extreme heat to abrupt rain showers and the forecasts can change unexpectedly. Advanced and thoroughly tested premium summer tires offer you safety when you need it the most. "Any tire can roll without issues when the weather conditions are perfect. In surprising and challenging conditions however, such as a sudden rainfall, your tires need to provide extremely stable performance. It's very important that the tire will not surprise you during evasive maneuvers, braking, or on wet surfaces. You need reliability and consistency, which means your tires retain their grip and handling characteristics from the early spring to late fall," says Martin Dražík, tire expert and Product Manager for Central Europe in Nokian Tyres.
Stability and durability for SUV's
Nokian Tyres comprehensive and competitive summer tire range is completed by new SUV tires: the Nokian Powerproof SUV and Nokian Wetproof SUV. Both new products feature the Dual Zone Safety technology familiar from the test-winning passenger car models. The stable SUV tires are designed for powerful sport utility vehicles and crossovers for precise handling and enjoyable driving feel.
Both novelties are equipped with Nokian Tyres' unique Aramid Sidewall technology. The sidewall structure contains extremely strong aramid fiber, which makes it more resistant to sudden impacts and cuts that could otherwise easily interrupt a trip.
The same Aramid Sidewall technology is utilized in all of Nokian Tyres' van and campervan tires. The Nokian cLine Van tire family offers much-needed stability, balanced grip, and excellent durability for vans.
The new Nokian Powerproof SUV was developed and tested in cooperation with the F1 champion Mika Häkkinen. "In my SUV tires, I value stability, reliability, and ease of driving. The Nokian Powerproof SUV is an admirable combination of high-class performance, extreme durability, and enjoyable driving feel. It works at high and low speeds and on wet and dry surfaces alike. It gives you confidence, which in turn offers safety," says Häkkinen.
Convincing test ratings
Nokian Powerproof and Nokian Wetproof  offer safety and reliability  summer for passenger car drivers navigating the Central European roads. They are both ranked high in the current independent tire tests for 2020.
Appreciated for its good braking grip and very low rolling resistance, the Nokian Powerproof finished third in this year's Sport Auto summer tire test. It also received good ratings in the tests of Auto Motor und Sport, Sport Auto, and Auto Bild. The Italian motoring magazine Automobilismo praises Nokian Powerproof as one of the best tires when it comes to wet handling, while also noting that it's perfectly balanced and very predictable on dry surfaces as well.
The unique properties of Nokian Wetproof premium tire didn't go unnoticed by leading motoring magazines. "When it comes to dry braking, the Nokian Wetproof is absolutely top class" points out the German Gute Fahrt Magazine in this year's test. The Polish Motor Magazine in turn highlights its high level of performance at wet and dry braking. Worth mentioning is also the absolute victory of this unique tire in the 2019 German ACE Lenkrad and Auto Motor und Sport tests.
Right tires for your vehicle
The Nokian Tyres' comprehensive summer tire range caters to all needs. In addition to the latest passenger car and SUV models, the Nokian eLine 2 summer tire is also worth mentioning. Thanks to its low rolling resistance and the resulting fuel savings, it is the ideal solution for safe and environmentally friendly driving. The AA-rated tire is popular among electric car drivers.
Guaranteed quality and satisfaction
As one of the few manufacturers, Nokian Tyres provides its customers above-standard care in terms of guarantees: Nokian Tyres Aramid Guarantee and Nokian Tyres Satisfaction Promise. Both give the customers premium access to a suitable tire model of choice and to its guaranteed durability.
As a further proof of excellence, both Nokian Powerproof and Nokian Wetproof tire families have been granted the TÜV Tire Performance Mark. This mark from the independent TÜV SÜD testing organisation certifies that Nokian Wetproof compares favourably with premium competitors in terms of quality and performance.
Test success of Nokian Tyres summer tires
F1 world champion Mika Häkkinen and Nokian Powerproof SUV - enjoyable driving feel
 
Further information:
Zuzana Seidl, PR Manager Nokian Tyres CE, 00420 603 578 866,