Tue May 3 10:00 am 2022 in category Product news
When a standard tire is not enough – Nokian Tyres Ground King hybrid tractor tire enables more efficient all-season working in the Nordics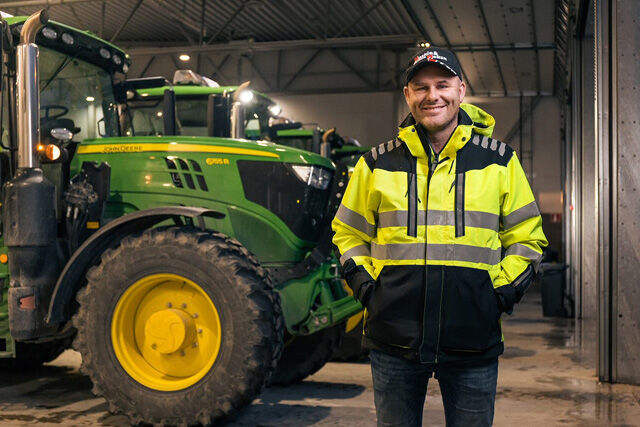 Up until 2019, there was really not much choice for a tractor tire for mixed agricultural work: on a soft soil, it had to be lug pattern, which generally does not offer very good road properties. Or worse yet for the users in Nordic countries, their winter properties leave a lot to be desired. Then came the Nokian Tyres Ground King tire with its distinctive Hybrilug™ pattern technology, receiving much praise from the agricultural contractors in demanding Nordic conditions.
Making a tire that works well on the field and on the road is challenging enough, but in the Nordic countries there is also the drastic differences between the summer and winter conditions. 
"In the past, there simply wasn't a tire available that could answer all these demands well enough", says Tero Saari, Product Manager at Nokian Tyres. "Now, the users in Finland, Sweden, Norway and even Canada say the same thing: changing from a standard lug pattern tire to Hybrilug-patterned Nokian Tyres Ground King has resulted in significant improvement in both road comfort and winter properties – particularly in deep snow. What's more, Ground King can be studded for even better winter grip." 
Test-proven advantage 
The Kiel University tested Nokian Tyres Ground King in various agricultural works. The results prove that Ground King tire had 5% less wheel slip than the reference tire in field work while leaving a less deep lug impression. What's more, the subjective handling of the tire was reported to be good, resulting in a more confident work, and comfortability as the tire noise on the road was noticeably lower than with classic lug pattern tire. 
"Especially winter contracting is much more comfortable now."  
Finnish farmer and tractor contractor Mr. Antti Alajoki is more than happy with the all-season capabilities of his Nokian Tyres Ground King tires. "Especially winter contracting is much more comfortable now, and the difference to my previous lug-patterned tires is significant", he says. "There are no situations where I would have to worry whether my tractor stays on a slippery yard or road or not."  
Together with amazing grip and durability, the Nokian Tyres Ground King tires also offer Mr. Alajoki much-needed quietness. "Even on-road the tire noise is nonexistent. Driving is very stable and comfortable", Mr. Alajoki praises. 
"It runs quietly on the road and is stable even at higher speeds."  
Operating in Växjö, Sweden, Maskin & Mekan does many kinds of agricultural and contracting jobs from snow removal to haymaking. Their CEO Martin Sjöberg values reliability, long service life and versatility in a tire. "The conditions differ a lot from job to job", says Mr. Sjöberg. "Nokian Tyres Ground King is good on all surfaces."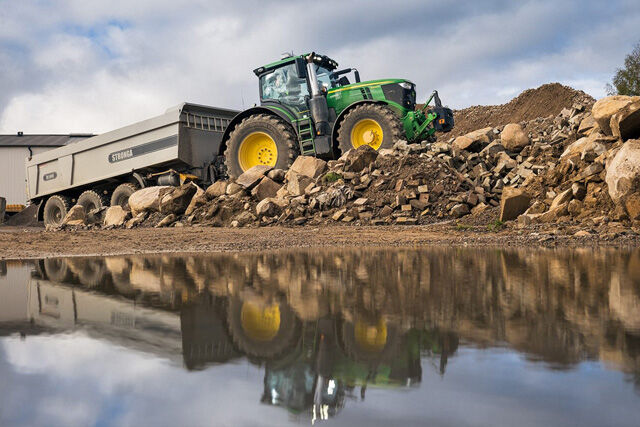 In all-season work, the tires must handle the most challenging soft surfaces as well. "The cleaning properties of Nokian Tyres Ground King provide a better grip on tough surfaces", Mr. Sjöberg says. "With Ground King, we very rarely or never get stuck anymore."  
Part of the versatility is the good road properties Nokian Tyres Ground King offers. "It runs quietly on the road and is stable even at higher speeds", Mr. Sjöberg says. "This is very important as we do a lot of road transports."  
"The tire has good traction on the soil, and it works very well on the road." 
Knut-Fredrik Grimsøen in Østfold, Norway does both farming and contracting work. The choice of tires for his tractor has always been a headache, as it is used both on the field and to pick up and transport bulk and equipment.   
"Ordinary agricultural tires are not good on roads and construction work", he says. "Block-patterned industrial tires are good on the road and in construction work, but on the fields, they quickly become clogged and there is the risk of getting stuck." 
After switching to Nokian Tyres Ground King, Mr. Grimsøen is very happy. "I do not regret my tire decision at all", he says. "The tire has good traction on the soil like agricultural tires, and it works very well as a replacement for industrial tires on the road." 
Available in Finland with Nokian Tyres Intuitu™ 
The Nokian Tyres Ground King tire is also available in Finland with the Nokian Tyres Intuitu smart tire connectivity. It allows the users to monitor the vital tire parameters on their mobile phones – from one tractor to the entire fleet. 
"Nokian Tyres Intuitu both makes the tracking of the tire condition easier and provides financial savings", says Mr. Jari Suontausta, property maintenance entrepreneur in Nokia, Finland. "The correct tire pressure can decrease fuel consumption and provide crucial traction on slippery winter roads, and mornings are effortless now that I can check that everything is okay with just one look at my phone." 
Safety and sustainability 
Besides all-season grip, Nokian Tyres Ground King has also had other designing and manufacturing considerations. "Safety and sustainability are important factors for us", Tero Saari says. "Nokian Tyres Ground King is designed and manufactured according to high safety environmental standards in Finland, minimizing the carbon footprint. The tire is also designed for significantly reduced rolling resistance, which helps to conserve fuel." 
For all-season work, Tero Saari sees that the improved work safety brings value that is hard to measure. "Transports are needed around the year. Controlling the heavy trailer in winter conditions requires good tires", he reminds. "When transporting snow or moving heavy machinery, you'll appreciate the safety that comes from good handling." 
More information: 
Tero Saari, Product Manager, Nokian Heavy Tyres Ltd 
[email protected], tel. +358 10 401 7226 
Marketing, Nokian Heavy Tyres  
[email protected]     
More information and photos: 
Photos and press materials: www.nokiantyres.com/groundkingpr   
Product page:  www.nokiantyres.com/groundking 
Company site: www.nokiantyres.com/heavy