Nokian Tyres has made an assessment of human rights in our value chain. In the assessment we recognized several (10) human rights related risk areas in supply chain: Right to health, right to privacy and right to family life being the most salient.
Right to privacy
Right to a family life
Right to health
Right to life
Right not to be subjected to slavery, servitude or forced labor
Right to freedom of movement
Rights of protection of the family and the right to marry
Right to enjoy just and favorable conditions of work
Right to an adequate standard of living
Right to education
In order to improve supply chain sustainability, we started a partnership with an external auditor already in 2016. Our separate sustainability auditing process has been developed together with a consulting company, and it is based on Nokian Tyres' Supplier Code of Conduct and principles that align with the UN Global Compact ten principles.

We set a goal to audit all of our major rubber processor partners by 2020, comprising at least 80% of our natural rubber purchasing volume. The audits enable the processing companies to improve their occupational safety and develop their operations further.

All the audits performed between 2016 and the end of 2019 cover 90% of our natural rubber purchasing volume, which means we have exceeded our target.

After the audits, we always initiate corrective programs to address the shortcomings identified in the process. The most common problem remains the same in most of the places: the recruitment of foreign workers. Foreign workers are recruited through a recruitment agency network, and the amount of recruitment costs to the employee can be significant: up to a year's salary. As the agencies are often approved by local governments, it is difficult to improve the process. However, we require our suppliers to improve also on this issue. The suppliers keep requesting support from the local officials, but the progress is slow.

Another common problem is the language and contents of the employment contracts. The contract is not necessarily available in the employees' mother tongue, or the translated content differs from the original.
AUDITS HELP IMPROVE LABOR RIGHTS IN THE SUPPLY CHAIN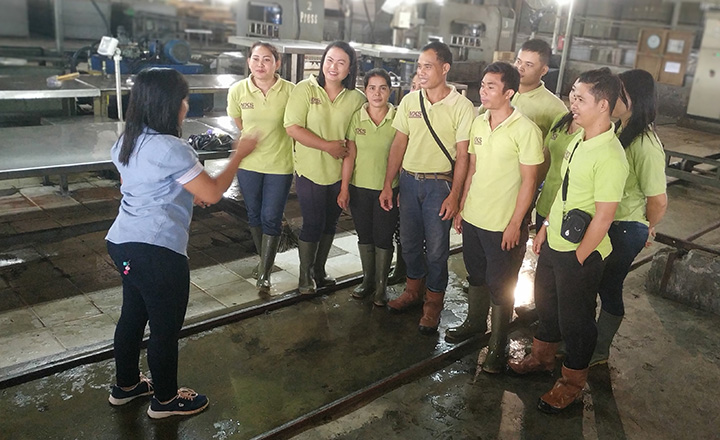 In our sustainability audits, five different areas are being investigated: human rights, labor rights, health & safety, business practices, and environment. After the initial audits, a commonly agreed corrective plan is drawn. They are carried out externally by a third party.
The follow-up audits in Malaysia and Indonesia have showed significant improvement especially in labor rights. Here are some examples of the findings in follow-up audits:
Workers no longer did grueling 12–14 hour-shifts and had resting days required by the law.
The follow-up audits also showed significant improvement in creating health & safety systems as the factories have arranged education on safety issues.
The recycling of metallic waste was also well organized after the initial audits. However, some governments still lack a proper recycling program for hazardous waste.
Business practices also showed improvement: education on code of conduct had been arranged and one factory owner had also visited his suppliers to educate them on safety issues and discuss ethical business practices.
However, the high recruitment and work permit fees for the foreign workers in Malaysia remain problematic. Workers are forced to loan money, which creates the pressure to work excessive hours. 
One company had organized training on discrimination, harassment, fair treatment and first aid. Previously none of the employees had received training on any of the topics.
Another company had implemented hazardous waste management system and since 2018 organizes an environmental performance monitoring twice a year. The company had also installed a box for feedback. Letters from 3 employees were received and reviewed by the management.  
In 2021, Nokian Tyres was able to re-establish sustainability audits after a break due to the pandemic. The company conducted two follow-up audits and two new sustainability audits of natural rubber processing plants that are suppliers of Nokian Tyres.