Experience in the working life for students and new perspectives for the company
Nokian Tyres' Product Development department carries out projects that are essential for maintaining our pioneering role. In addition to our in-house and partner projects, we work with educational institutions in projects that benefit the students as well as the company.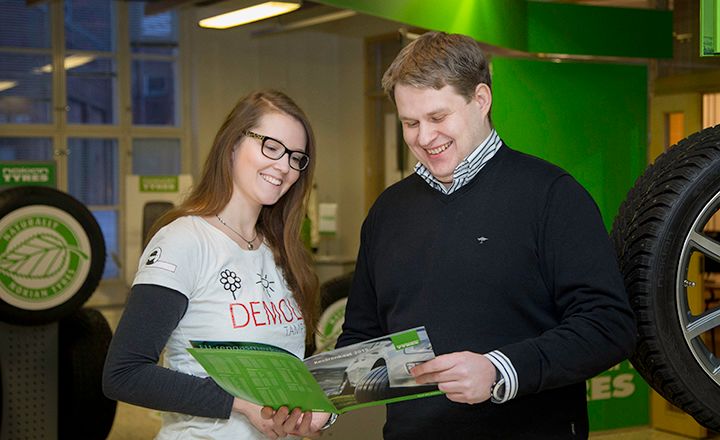 Each year, we complete a project with the Demola Innovation Platform. Demola brings together businesses and higher education students on project work for participating businesses. The multidisciplinary project teams are assembled from the three higher education institutions in Tampere with people of different backgrounds and cultures. Depending on the topic, the project team can include graphic design, business administration or programming students, for example.
– By bringing together experts from various backgrounds, we can keep up to date with the different fields and can provide the client companies with as inventive solutions as possible. Our requirement for businesses is to have product development objectives or plans to grow. The students provide the client company with fresh perspectives and ideas, explains Aino Siippainen, Demola's facilitator. 
Experts in the making
Nokian Tyres' Development Engineer Teemu Soini is the contact person for collaboration projects with Demola.
– The projects with Demola have been very successful: the students are committed, innovative and hard-working, and the projects have yielded results that we can use and develop further, Soini says.
The Demola projects are popular among students. Based on company and project descriptions, higher education students can apply for three projects of their choice. A project team is assembled based on student specialisations, skill sets and any ideas they might have already when applying for a project. One student can participate in one project. The students who participate in Demola projects are mostly nearing the end of their studies, such as persons who have already completed their bachelor's thesis.
– The projects are a unique way for the students to get to know and network with businesses. They also provide the students with highly valuable experience and train them for working life, Siippainen explains.