A virtuoso combination of safety and care-free driving enjoyment for small and medium-sized family cars.
The Nokian Tyres WR D3 offers first-class grip and excellent handling for the varying winter conditions experienced in Central Europe.
RELIABLE ON WET, DRY, AND SLUSHY ROADS
EFFECTIVE AQUAPLANING AND SLUSHPLANING PREVENTION
ROLLS LIGHTLY, PROTECTING THE ENVIRONMENT AND SAVING FUEL

Officially approved for winter use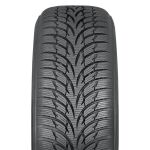 User opinions
Rated 4.3 based on 78 customer reviews
---
WR D3
sgorostas • 2 years ago
Poštovani, imam WR D3 od prošle zime. Veoma sam zadovoljan. Šare se troše više nego što sam očekivao. Prešao sam 10000km i izgubio sam 2mm. Veliki pozdrav iz Srbije
I recommend this product
Silent Sidewall Technology
More driving comfort
Silent Sidewall Technology is a special zone constructed on the sidewall of the tyre that cuts out any noise and vibration carried over from the driving surface by the tyre tread. This reduces noise, making driving more stable and comfortable.
Slush Blower
Safer driving on wet and slushy roads
Research shows that driving in slush is even more dangerous than driving on wet or icy roads. As the name implies, the Slush Blower blows the water and slush away from the tyre's grooves. This significantly improves the efficiency of aquaplaning and slushplaning prevention, and also helps to maintain road contact on wet and slushy surfaces.
Cool Touch Design
Low rolling resistance
Cool Touch Design minimises the friction and heat generation caused by unnecessary sipe movement. This is assisted by the heavy siping that does not break the edge of the tread block. This ensures excellent grip, while the framed block remains rigid. When the friction and heat generation have been minimised, the tyre's rolling resistance remains low. This makes the tyre roll sensitively and effortlessly, while saving energy.