Enjoy safe summer driving: Top tips to prevent a tyre puncture
The risk of a puncture is present all year long, but you can prevent it or limit the damage if it strikes. It all starts with correct preparation. Punctures are the most common type of tyre failure. Typical causes of punctures include nails, screws and crushed stone.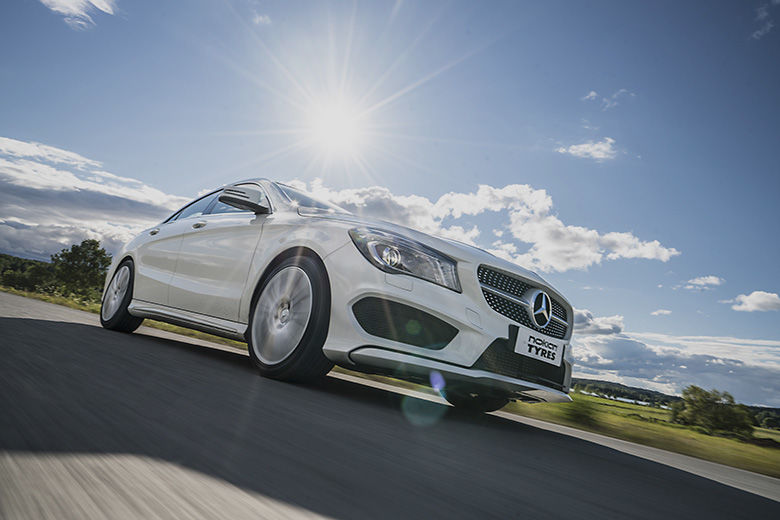 "You should be especially careful when driving through areas of construction: you may encounter sharp pieces of crushed stone that can easily cause punctures. In wet weather, in particular, sharp rock pieces can cut through the tyre like a hot knife through butter and penetrate the steel belts", says Martin Dražík, Product Manager of Nokian Tyres.
Low tyre pressure will also increase the risk of sidewall damages. For example, when driving into a kerb at low pressure, the tyre can easily hit the rim, breaking the sidewall. "When pressures are too low, the tyre will flex more and the sidewall will be more susceptible to damage when hitting obstacles. If this happens, the tyre can no longer be saved: repairing passenger car tyres with sidewall damage is neither safe nor recommended", explains M. Dražík.
The fact that punctures are nothing out of the ordinary is also seen in the results of the latest survey* by Nokian Tyres among European drivers. Over a five-year period, roughly 40% of drivers in nearly all monitored countries experienced a punctured tyre on their car once or twice. Tyre punctures are the least common in Germany, where 69% of drivers have not undergone any puncture over the course of five years.
How to prevent punctures
Punctures cannot be completely avoided. However, they can be prevented and the damage can be mitigated. In addition to careful driving, good pressure management is very important. Late-model cars have TPMS (Tyre Pressure Monitoring System), which monitors tyre pressure and gives an alarm when it falls. If your car does not have TMPS, you should check your tyre pressures once every three weeks.
The correct tyre pressure significantly prolongs tyre life. Various car manufacturers give their own recommendations for tyre pressures that are based mainly on handling properties and driving comfort.
"The correct tyre pressure is important, because if the pressure is for example 20% too low, the tyre life is shortened by 50%. Thus the effect is significant. Generally, tyre pressure should be approximately 0.2-0.3 bar higher in winter tyres than in summer tyres. You should also raise the pressure when the car is heavily loaded. If the pressure is not increased, the tyre sidewall will begin to curve outwards, making it more susceptible to damage," M. Dražík advises.
Most drivers however check the pressure in their tyres irregularly, as shown by the results of the survey* by Nokian Tyres. For example, in Germany, only 36% of drivers check the pressure regularly once per month. It is quite the same with drivers in other European countries such as Poland, Czech Republic, France and Italy. Bulgarian and Romanian drivers are the most thorough in this aspect. The survey also reveals that at least a fourth of the European drivers check the tyre pressure before taking a longer trip.
Keep safe distance when driving
Another key safety element is maintaining a safe distance from moving vehicles both in front of and behind your own vehicle. Moreover, in case of an unexpected event such as your car getting a sudden flat tyre, this literally plays a life-saving role. It is therefore always worth it to maintain safe distances to prevent dangerous situations. Unfortunately, not all drivers abide by this rule. Results of the survey* state that on average, just over 50% of European drivers claim to regularly maintain a safe driving distance. This is found the least in the Czech Republic, where only 37% of drivers claim to regularly maintain a safe driving distance. The most conscientious in this aspect are Bulgarian, Italian and Polish drivers. In any event, keep in mind that if the situation is difficult or the punctured tyre is on the traffic side, calling roadside assistance is a good idea.
The unique Nokian Tyres´ guarantees
Nokian Tyres offers all its customers a carefree ride thanks to unique patented technologies as well as guarantees. Nokian Tyres' Aramid Sidewall Technology employs durable Aramid fibre to reinforce the sidewall on SUV tyres. The Nokian Tyres Aramid Guarantee covers accidentally on sidewall damaged tyres and provides a new, corresponding product free of charge. 
The short course in tyre damage
When? Tyre damage can occur at any time of the year, but it is usually more frequent during the summer holiday season. People usually drive longer distances in the summer, and there are more roadworks going on. In the spring and autumn, frost heave will damage the road surfaces. Poor road conditions may also increase the risk of puncture.
Why? Punctures are the most common type of tyre damage. The risk does not only apply to worn tyres. Even new tyres may be punctured by sharp objects that stick inside the groove and push through the belt package. Low tyre pressures will often cause sidewall damage when the tyre suffers an impact.
How to avoid them? Maintain correct inflation pressure. If the car is loaded more than usual, increase the pressure accordingly. Prevent unnecessary damage by driving carefully, especially on roads that are in poor condition and in construction zones. 
What to do? If your car's handling becomes unstable, stop in a safe place as soon as possible. Learn how to use your tyre repair kit or make sure that your spare tyre is in order and that you have the necessary tools for changing tyres. In difficult situations, ensure traffic safety first and then contact roadside assistance. Keep warm clothes in your car in case a puncture occurs under cold conditions.
* Data from a survey of European drivers realized by the agency Ipsos for Nokian Tyres CE, 4/2017.
Nokian Tyres: Nokian Aramid Sidewall Technology reinforces the tyre's sidewall
Infographic: download here
Photos: download here
Contacts:
Jaroslav Nálevka, PR manager McCann Prague, 00420 725 865 874, [email protected]
Zuzana Michalová, PR manager Nokian Tyres CE, 00420 603 578 866, [email protected]