Wed March 11 10:00 am 2020 in category Product news
New Nokian Snowproof P – Reliable performance for Central European winter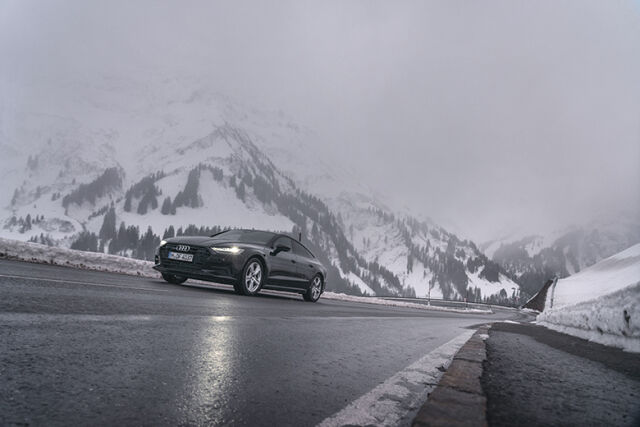 Scandinavian premium tire manufacturer Nokian Tyres is introducing a new UHP tire for Central European winter. Designed to deliver peace of mind for passenger car drivers, the new Nokian Snowproof P is a sporty and modern combination of high-performance handling and reliable winter grip – just what you need in sudden lane changes and slushy side roads. Nokian Tyres' new Alpine Performance concept ensures first-class safety for daily driving with advanced traction, shorter stopping distances and safety through corners. 
According to Nokian Tyres' consumer survey, almost 60% of drivers in Central Europe considered specialized winter tires as the most important car safety equipment during the winter months. Nearly 70% of respondents found the tire's grip and handling in winter conditions as the most valuable characteristics, while safety in extreme situations like on snowy roads and tire's grip on slush made it to the top three. Among high performance car owners grip on dry roads, precise handling in high speeds and driving comfort were especially highlighted. *
- Safety and balanced driving properties are always the main principle of our development philosophy. Our mission is to keep your journey safe and predictable, every day of the winter. When developing our new Ultra High Performance winter product, special attention was paid to improve the grip on snowy and wet roads, says Marko Rantonen, Development Manager at Nokian Tyres.
Introducing a new UHP winter tire is a natural continuum of expanding Nokian Tyres' winter tire selection in the Central European market. The Nokian Snowproof P is offered in speed categories H (210 km/h), V (240 km/h) and W (270 km/h), and its comprehensive size selection covers 55 products from 17 to 21 inches. The new Nokian Snowproof P will be available to consumers in autumn 2020. Nokian Tyres' versatile winter tire range for passenger cars and SUVs also includes Nokian Snowproof, Nokian WR D4 and Nokian WR SUV 4. The extensive range for modern car models covers nearly 200 sizes.

The Nokian Snowproof P is developed by Nokian Tyres, the world's northernmost tire manufacturer and the inventor of the winter tire. The Company holds over hundred winter safety patents and is among global leaders in safety and sustainability.
Alpine Performance – Precise driving feel and advanced winter grip
Unexpected changes in winter weather are common these days across Europe. Extremes are becoming more typical; ranging from mild, non-existent winter to abrupt snowfalls and icy rain. The road conditions can get treacherous overnight as the water and slush freezes making the driveways slippery and unsafe.
Although weather can be unpredictable, your tires cannot. The new Alpine Performance concept used in the Nokian Snowproof P provides an exceptional combination of reliable winter grip while offering predictable and balanced driving feel. The concept consists of an optimized tread pattern combined with specially tailored, dense siping and new Alpine Performance compound.
The biggest change compared to the previous model Nokian WR A4 can be seen in the tread pattern. Moving from the asymmetric tread pattern to directional and symmetric ensures the predictable and controlled behaviour in all conditions and improves overall safety of the tire.

The new tread pattern with tailored lateral and longitudinal grooves allows the tire to maximize the contact area between the tire and the road, improving grip and much-needed steering precision. The optimized contact patch ensures even road wear while the new Tread Block Support Matrix offers logical handling. The tire provides stable road feel and quick steering feedback both in high speeds and tough winter conditions.

- Changing lanes on slushy highways or merging into busy traffic from an icy intersection can be a challenge. In line with our product development philosophy, the new Nokian Snowproof P maximizes safety in all driving conditions and remains controlled and reliable at the grip limits. Our new Alpine Performance concept is specially developed to offer balanced driving experience in dry autobahns, slushy city streets and snowy mountain drives. It provides the much-needed grip and control for spirited driving and varying winter conditions, Rantonen explains.
Safely in the slush
Nokian Snowproof P covers all the wintry weather conditions offering reliable performance on wet, slushy and snow-covered roads. One of the most difficult conditions to handle is slush, especially when it appears between lanes on a busy motorway. Designed to prevent dangerous slushplaning, the new tread comes with Dense siping and Connected grooves, which effectively remove water and slush between the tire and the road. The Polished Grooves also accelerate the removal of water, providing added safety and assisting drivers in the rain, while giving the tire a polished, stylish look.
To further improve the wet properties of the tire, the new Alpine Performance rubber compound is designed to handle a wide temperature range. While powering through the demanding and cold winter days, Nokian Snowproof P is a steady performer also in milder weather. This new tailored tread compound increases the wet grip without compromising any winter properties of the tire. Due to its lightly rolling tread model and state-of-the-art tread compound sporty Nokian Snowproof P has low rolling resistance as well as excellent wear resistance under varying conditions.
The multifaceted Snow Claws between the tread blocks and in the shoulder areas provide balanced grip on ice and snow, particularly when braking and accelerating. The Brake and Acceleration Boosters on the tread blocks do their part to improve the longitudinal grip.
Versatile testing for extreme safety
The improved snow and slush grip properties of the Nokian Snowproof P are the result of over four years of development. Research shows that slush is one of the most dangerous and feared elements of winter. The combination of melting snow, the water cushion at the road surface, and potential ice is dangerous even for an expert driver. The unique slushplaning testing method available on the Nokia test track allowed for the long-term development of the slush characteristics.
The tread patterns, structures and rubber compounds represent Finnish state-of-the-art expertise and they have required thousands of hours of computer modelling, laboratory comparisons and authentic testing in varying conditions. The development included testing in Lapland's arctic conditions at Nokian Tyres' own White Hell testing centre in Ivalo, Finland. In addition to the kingdom of ice and snow, the new product's wet and dry road characteristics were also fine-tuned on several Central European test tracks in Germany, in Austria and in Spain.

Nokian Tyres has also had the pleasure of continue working with F1 World Champion Mika Häkkinen.
- His tire expertise was first applied with the passenger car model Nokian Powerproof and continuing this cooperation along our in-house test teams with Nokian Powerproof SUV and now also with our winter tire Nokian Snowproof P, Marko Rantonen explains.
Häkkinen finds the Nokian Snowproof P a perfect combination of high-class performance and enjoyable driving feel. Above all, he values safety and the ease of daily driving.
- The tire works reliably both at high and low speeds on slippery roads. You can enjoy precise and easy handling even at the extremes. Whatever the winter might throw at you, Nokian Snowproof P gives you great driving confidence, which in turn offers safety and smooth driving, Häkkinen says.
Nokian Snowproof P – Peace of mind for wintry ways
Steady performance with premium winter grip
Reliable and precise high-speed handling
Low rolling resistance saves fuel and environment
Main innovations:

Alpine Performance concept. Excellent winter grip and reliable handling. The optimized tread pattern allows the tire to maximize the contact area between the tire and the road, improving the winter grip, logical handling and steering precision. The tailored siping ensures excellent lateral and longitudinal grip offering safe and controlled driving. The Alpine Performance compound tackles the cold winter conditions, while offering excellent performance in milder weather across a wide temperature range. New tread compound increases the wet grip without compromising winter properties. Low rolling resistance allows light rolling while saving fuel and environment.

Snow Claws: balanced grip on ice and snow. The snow claws effectively grip their surface when driving on soft snow, providing high-class grip when braking and accelerating.

Brake and Acceleration Boosters: specially designed to improve grip on snow. The sharp, saw-like pattern of the boosters improve longitudinal grip needed for braking and accelerating.

Tailored grooves for aquaplaning and slushplaning resistance. The tailored grooves accelerate the removal of slush and water by efficiently storing water and quickly transfering it away from the tire and driving surface. The Polished Grooves also accelerate the removal of water, providing added safety and assisting drivers in the rain.
Tread Block Support Matrix offers steady and logical handling. The tire stays stable and easy to control both in high speeds and tough winter conditions.
 Download product photos and videos
*Winter tire survey 2019. The data is based on an online panel survey taken in December 2018-January 2019 by Nokian Tyres in cooperation with YouGov research company. The survey was conducted in five countries (Germany, France, Italy, Poland and Czech Republic) with a sample of 500-2, 000 respondents from each country.
Further information:
Nokian Tyres plc,

PR Manager Zuzana Seidl, tel. +420603578866,
[email protected]
Product Manager Martin Drazik, tel. +420735747556
[email protected]