Nokian Powerproof and Nokian Wetproof: Reliable performance and peace of mind for the Central European summer roads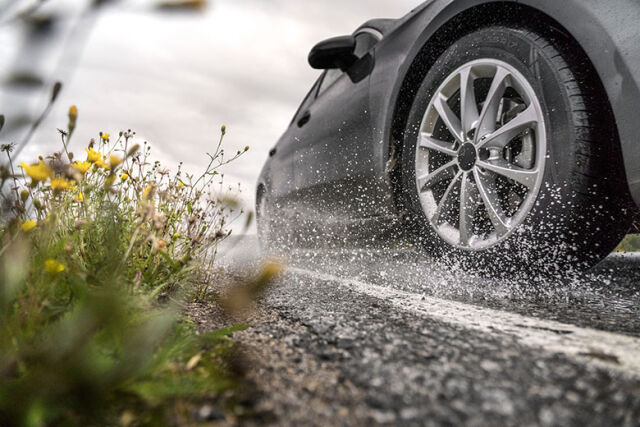 The premium tire manufacturer Nokian Tyres has earned international success for its high-quality tires and the first-class safety and driving comfort they provide. The Scandinavian legend has always recommended putting safety and quality first, as these properties guarantee the drivers peace of mind in all conditions. Independent tests by renowned international car magazines and car clubs can also come in handy when deciding on the best summer tires for your car, since EU tire labels provide only very limited information.
Nokian Tyres' latest and technologically most advanced summer tires are Nokian Wetproof, Nokian Wetproof SUV, Nokian Powerproof, and Nokian Powerproof SUV, which have all been developed to accommodate increasingly variable summer weather conditions, where great temperature variations can rapidly change the driving conditions. The right set of high-quality tires can help the drivers quickly adapt to these changes.
First-class safety from spring mornings to late autumn nights
Nokian Wetproof offers steady performance on rainy days and added comfort for poor road conditions. 

"Thanks to the specially developed Dual Zone Safety concept and the new generation rubber compound, the Nokian Wetproof summer tire guarantees first-class safety, stability and wet grip. Drivers can now easily handle the variable summer weather with sudden temperature changes, heavy rain or sudden thunderstorms. The tire also maintains its properties on dry surfaces including sun-scorched motorways", says Martin Dražík, an expert and Product Manager for Central Europe in Nokian Tyres.
In an independent magazine test by the prestigious German Auto Motor und Sport (7/2021), the Nokian Wetproof shared the second place and ranked "very good". The results highlighted especially its safety on wet surfaces, harmonious cooperation with the ECS system and very easy handling on dry asphalt. The tire also shared the second place in another German magazine AUTO Strassenverkehr (8/2021) and was pronounced the undisputed winner of the price/performance ratio test.
Another test by the renowned German ACE Lenkrad (March 2021) declared the Nokian Wetproof a well-balanced tire with no obvious weaknesses. It also emphasized its very good price/performance ratio. According to the market feedback the Nokian Wetproof has been given the rating of 4,5/5, which means that consumers have been very satisfied with the tire performance.
The SUV version, Nokian Wetproof SUV, is a top-performing premium product featuring the patented Aramid Sidewall technology. It is no wonder that it has become a popular choice for SUV owners. It was rated "good" in a test by the German Auto Bild Allrad (March 2021), securing the fifth place. According to the magazine, the advantages of Nokian Wetproof SUV include short wet and dry braking distances as well as good safety margins at aquaplaning. The test also pointed out another important feature for SUV cars – the tire's high traction force on grass and gravel.
Sporty cars must rely on safety and stability on long summer journeys
The newest addition in the UHP category, Nokian Powerproof for sports cars, has gained great popularity with fast and safe driving enthusiasts and many others.
The Nokian Tyres ambassador and two-time Formula 1 world champion Mika Häkkinen said about his experience after having tested the tire:
"Driving fast cars is my passion. But I always need to rely on my tires for an accurate and fast driving response. Nokian Powerproof's great stability and perfect grip   guarantees true safety for the driver."
Nokian Powerproof's premium quality also caught the attention of the popular Polish magazine Motor (14/2021). Ranking third in their test, the tire was praised for good handling on both wet and dry surfaces, and the silent and comfortable driving experience it provides. According to the magazine, it offers good performance at an attractive price.
In the Italian magazine Quattroruotte the tire received the highest number of points in the test in comparison with all other participating products. It was praised for high dry grip, excellent comfort and for being fast on the wet. Nokian Powerproof was also rated "good" at the summer tire test conducted by Gute Fahrt. According to the German magazine, Nokian Powerproof is a highly agile tire with an excellent handling performance and comfort.
Nokian Powerproof SUV provides safe and carefree driving. It comes with a strongconstruction for powerful SUVs, featuring the unique Nokian Tyres' patented Aramid Sidewall technology.
Year-round convenience for European drivers with top-notch performance
Many drivers prefer all-season tires as they don't have to be changed twice a year and thus avoiding purchasing a second set of tires and wheels. However, drivers should bear in mind that summer tires provide supreme safety and performance in summer   the same way winter tires do in winter.
The new Nokian Seasonproof all-season tire family has been specially developed to meet the needs of Central European drivers and adapt to both winter and summer driving conditions. With its new tread pattern optimized for all-season use, the tire features several innovations ensuring maximum safety, excellent wear resistance and low rolling resistance all year round.
"The growing need for added safety in unexpected wet and snowy conditions, even out of season, is one of the major reasons why a number of Central European vehicles are fitted with tires which can handle all the varying weather," Martin Dražík tells.
According to a recent consumer survey Nokian Tyres carried out among all-season tire users,* European drivers appreciate especially the tire's safety in all weather conditions. Among other features they also mentioned good grip and handling, wear and tear resistance and safety properties on winter roads.
* All-season tire survey 2020. The data is based on an online survey taken in May 2020 by YouGov research company for Nokian Tyres. The survey was conducted in four countries (Germany, France, Italy and Poland) with a sample of 300 all-season tire users from each country.
More information:
Current offer of Nokian Tyres premium summer tires
New Nokian Tyres all-season tires
Test results of Nokian Tyres summer tires
Pictures:
Further information:
Zuzana Seidl, PR Manager Nokian Tyres CE, 00420 603 578 866, 
[email protected]