Mon September 1 12:59 pm 2014 in category Product news
Extreme durability, controlled safety
Nokian Tyres is introducing five new SUV summer tyres and renewing its van tyre selection
The world's northernmost tyre manufacturer is growing its product selection by five new SUV tyres. Its ever-expanding SUV product selection is the most modern on the market, utilising aramid fibre that is also employed by the aviation and military industries. The extremely strong sidewall structure provides much-needed durability and safety for demanding road conditions and surprising situations.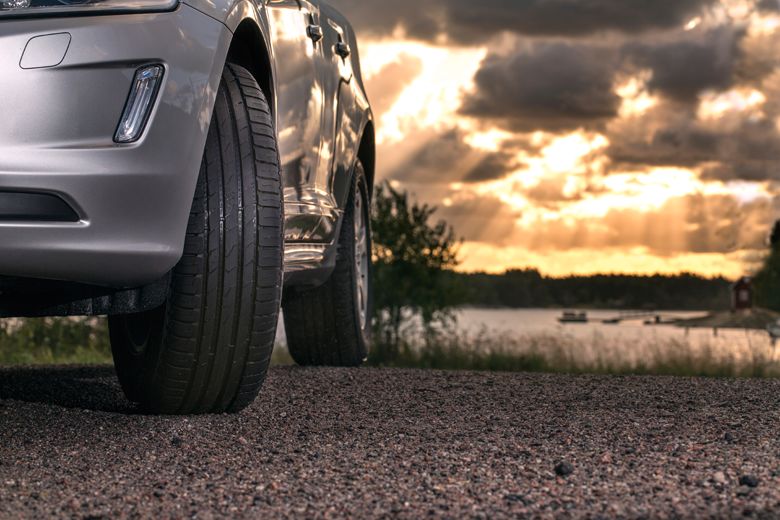 Combined with precise handling, the unique durability provides exceptional driving pleasure to drivers of powerful SUVs. These special products that are tailored for the growing SUV segment are aimed at the company's main markets in the Nordic countries, Central Europe, and Russia.  
New Nokian Hakka summer tyre models for the Nordic countries and Russia
The latest introduction to the Nokian Hakka summer tyre family that has dominated magazine tests in the Nordic countries and Russia are the Nokian Hakka Black SUV and Nokian Hakka Blue SUV. The versatile Nokian Hakka Blue SUV for the popular small and midsize SUVs offers uncompromisingly safe and comfortable travel from the first moments of spring until long into the autumn. The sporty Nokian Hakka Black SUV is designed for the largest SUVs. It exudes power and precise handling and, like its little brother, it will be available to consumers in a comprehensive selection of sizes in the spring of 2015. The extensive range of Hakka summer tyres designed for the Nordic countries and Russia is supplemented by the Nokian Nordman S SUV, a durable and comfortable option for older and smaller SUVs.
In addition to the new SUV products, Nokian Tyres is also supplementing its selection of Hakka summer tyres, tailored for the rough Northern roads, with the Nokian Hakka C2 van tyre. The stable Nokian Hakka C2 van tyre carries its heavier loads safely, precisely, and lightly. The new product family uses one tread pattern for both the lighter and heavier vehicles.
Growing Nokian Line product family for Central Europe
Three new products are being introduced into the Nokian Line product family, which is especially suited for the varying Central European summer weather. The Nokian zLine SUV offers high performance and precision, and it retains control even under extreme situations. The Nokian Line SUV, fine-tuned for small and midsize SUVs, offers a versatile experience. It is the correct choice for drivers who value safe driving, performance, and driving comfort in both urban traffic and on country roads. The sturdy and safe Nokian cLine is an excellent choice for professional drivers and their modern delivery trucks and vans.  
The Nokian Rotiiva HT, designed for light trucks, larger SUVs, and pickups will also be launched on the global market during the autumn. It is a reliable performer on asphalt and gravel alike.  
The inventor of the world's first winter tyre will be presenting the new products in its summer range to its key interest groups in the coming weeks. More detailed product information will be made available mid-September. The tyres will start shipping to retailers in late 2014.
Photos:
www.nokiantyres.com/hakkablacksuv
www.nokiantyres.com/hakkabluesuv
https://www.nokiantyres.com/hakkac2
https://www.nokiantyres.com/linesuv
https://www.nokiantyres.com/zlinesuv
www.nokiantyres.com/cline
Videos:
Video: Nokian Hakka Black SUV – Tough cool performer
http://youtu.be/u00rU28qq98
Video: Nokian Hakka Blue SUV – Tough wet performer
http://youtu.be/JS8tJoBGlvo
Video: Unique durability – Nokian Aramid Sidewall concept
http://youtu.be/N5LvBke-UqY
Video: Nokian summer tyres – Testing at the extremes
http://youtu.be/6kT0wLEOxY4
Read more:
Nokian Tyres – the world's northernmost tyre manufacturer and the inventor of the winter tyre
www.nokiantyres.com/company/about-us/history/
Nokian Tyres plc,
Business Manager Petri J. Niemi, tel. +358 10 401 7646

Product Development Manager Juha Pirhonen, tel. +358 10 401 7708 juha.pirhonen(at)nokiantyres.com
petrij.niemi(at)nokiantyres.com