Nokian Tyres launches a test-winning VF tractor tire and VF flotation tire for efficient farming at Agritechnica 2023 in November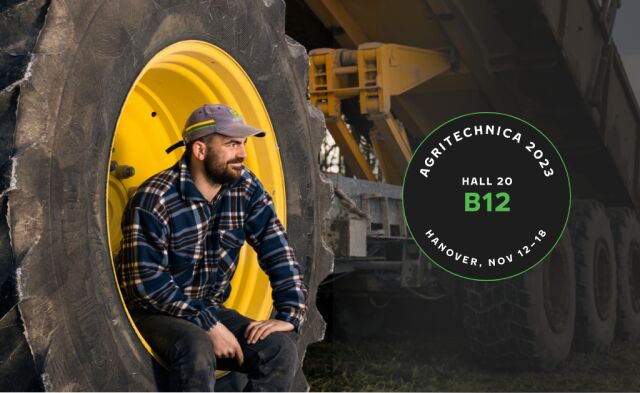 Nokian Tyres Flexforce® VF is a unique new tire technology that enables more efficient agricultural work by creating an XXL-sized ground contact and by reducing loss of power. The first tractor tire utilizing this technology is Nokian Tyres Soil King VF, which has already proven to be ahead of competition in third-party tests. A new flotation tire for high-capacity tankers and trailers, Nokian Tyres Float King VF, complements the Flexforce VF range. Nokian Tyres is proud to present the new tires as well as the existing range of special tires at the agricultural trade fair Agritechnica 2023 in Hanover, 12–18 November.
To make the most out of long working days, farmers today need power and scale. With high power and high capacity comes the challenge of improving productivity and reducing cost, which is also the sustainable way to go. At Agritechnica, the highlight of the Nokian Tyres stand are the two tire models utilizing Nokian Tyres Flexforce VF – a brand-new tire technology that combines strength with high flexibility for the most efficient XXL-size ground contact with improved energy efficiency.  
"The Flexforce VF technology brings the advanced design and premium features that the farmers have been asking for to agricultural tires," says Tero Saari, Product Manager at Nokian Tyres.
Introducing two new tires for efficient farming
Nokian Tyres Soil King VF is the first tire for high-powered tractors utilizing the new Flexforce VF tire technology. It has been tested by the highly regarded DLG, or Deutsche Landwirtschafts-Gesellschaft. The comparison against other premium agricultural tires proved its best-in-class performance in field and transport work with lower wheel slip and fuel consumption as well as a larger treated area per hour.
Nokian Tyres Float King VF is a new tire for high-capacity trailers and tankers utilizing the Flexforce tire technology. It has proven exceptional efficiency with flotation and grip in challenging soil conditions.
"The results are clear: Nokian Tyres VF tires save fuel and increase working efficiency," Saari says. "It is great to go public with cutting-edge tire technology that makes the difference where it matters most: in the daily work of farmers."
Step into the world of Nokian Heavy Tyres
The Agritechnica trade fair brings professionals together and gives a glimpse into the future of agriculture. In a crowded trade fair, it's not just about the products – it's about the experience.
For Agritechnica, Nokian Tyres has built a hybrid booth that gets you as close to the real-life experience of farming work as you can get in an exhibition hall. And there is a lot more to experience than just the new Flexforce VF products with a whole range of agricultural tractor, trailer and tanker tires as well as complete wheels.
"Tires, complete wheels and Nokian Tyres IntuituTM smart tire connectivity – they all complement each other, and some new features of Intuitu will be presented at our stand!" reveals Matthew Crocker, Product Manager at Nokian Tyres.
See you at Agritechnica!
For Manu Salmi, EVP of Nokian Heavy Tyres, the highlight of Agritechnica is clear: getting close to people.
"We are truly eager to meet with the professionals and show what we have been up to," he enthuses. "We have heard their needs in previous years and are now proud to offer them a true market challenger!"
You can find the Nokian Tyres stand in hall 20, stand 20B12. You can also spot Nokian Tyres products on the most modern tractors, trailers and tankers in many other stands as well, including the Fendt and Valtra stands in hall 20.
"Getting to know the professionals and the demands of their work has always been our way of doing things at Nokian Tyres," says Manu Salmi. "The people at Nokian Tyres never hesitate to put their rubber boots on and head to the field or forest – where the work is done."
Further information:
Tero Saari, Product Manager, Nokian Heavy Tyres Ltd
[email protected], tel. +358 10 401 7226
Marketing, Nokian Heavy Tyres    
[email protected]   
More information and photos:
Public press room: www.nokiantyres.com/heavypr
Company site: www.nokiantyres.com/heavy
Event site: www.nokiantyres.com/agritechnica