Nokian Tyres succeeds again in independent European winter tyre tests
The premium tyre manufacturer Nokian Tyres has once again earned a series of outstanding assessments this year in independent winter tyre tests performed by European automobile clubs and automobile magazines. Thanks to its constant innovation, premium quality and rigorous year-long testing, Nokian Tyres has become a reliable partner for drivers facing the European winter.
Nokian WR D4 is a fantastic winter tyre on snow with very low fuel consumption
Germany's ADAC awarded the tyre Nokian WR D4, size 215/65 R16, a joint second place in the test of winter tyres, where a total of 16 tyres from various producers were tested. Its perfect grip and outstanding traction on snow were the main parameters that led to the high assessment of the Nokian WR D4 tyre, made by the world's northernmost tyre manufacturer, Nokian Tyres. The ADAC also praised its good performance qualities on dry roads and low fuel consumption.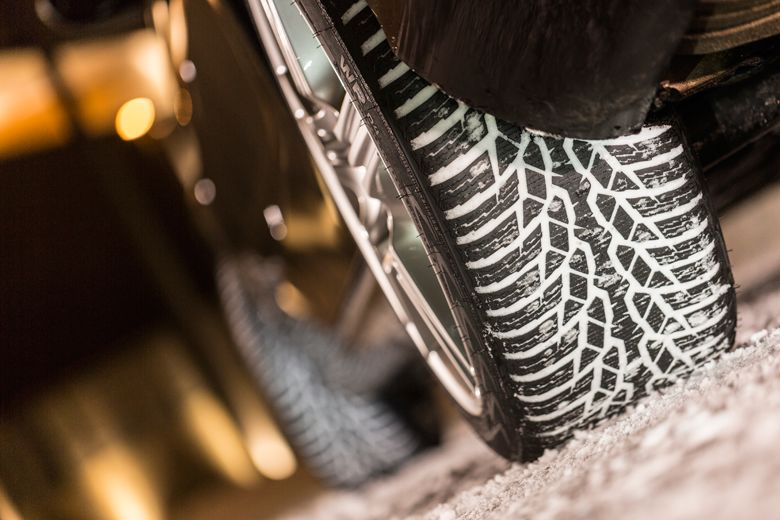 The Italian magazine Al Volante, performing its winter test on 6 different premium tyre brands of the very popular size 205/55 R16, recognized Nokian WR D4 had exactly the same qualities, awarding it the Gold Medal for its low fuel consumption as well the Silver Medal on snowy road conditions and another Silver Medal for its outstanding dry braking performance.
The winter tyre Nokian WR D4 also gained solid assessments in tests by Austria's ÖAMTC and Switzerland's TCS in yet a different size, 195/65 R15, for smaller vehicles. Riding on the snowy roads in the ever-changing Central European weather is literally child's play for the Nokian WR D4. It is also a master in grip thanks to its special rubber compound, modern technologies and other innovations.
In Sweden, Nokian WR D4, reached a victory when Teknikens Värld tested winter tyres for Central European conditions in the 205/60 R16 size. According to the magazine, Nokian WR D4 is without any doubt an excellent winter tyre on dry and wet surfaces. The tyre also got the best result in handling properties on snow.
Even the all-weather tyre Nokian Weatherproof can handle the snow
Nokian Weatherproof has been declared by the automobile magazine Automobilismo as the best all-season tyre for this year's winter season. A total of seven all-season tyres were rated, which the magazine subjected to various testing in dry conditions, wet conditions and, of course, in snow. The Nokian Weatherproof size 225/45 R 17 enthralled the judges the most with its stable reactions to steering and low rolling resistance. These characteristics and more earned the praise of the judges, who compared this all-season tyre's characteristics to reliable winter tyres from different manufacturers. The Nokian Weatherproof tyre offers first-class safety, maximum performance and durability for year-round use. It is marked with the Snowflake symbol 3PMSF indicating reliable winter use. It combines reliable safety in winter with precise stability in steering and the stable control of summer tyres from Nokian Tyres.
The all-weather tyre Nokian Weatherproof has also achieved excellent results in Germany. After winning first place last year in the test ACE Lenkrad, the magazine Auto Bild Allrad included it in a comparison, which tested eight all-season tyres for use on SUV type vehicles. The Nokian Weatherproof placed third and was marked with the assessment "Good" in the size 225/50 R17. Out of all competitors, it had the best results on snow, and in this aspect it was even comparable with standard winter tyres. Besides this, it was also outstanding on wet roads and gained points for its low noise.
Winter and all-weather tyres from Nokian Tyres achieve excellent results also thanks to their thorough testing at Ivalo, the northernmost testing centre located in Finland. "Here above the polar circle, the natural conditions allow us to test winter tyres for five months out of the year. Temperatures fluctuate well below freezing, then in springtime, the difference between day and night temperatures reaches an unbelievable 40 degrees centigrade. Such natural conditions enable us to perform extreme testing of our tyres, and thanks to this, we can improve and increase their performance", says Matti Morri, technical customer service manager for Nokian Tyres.
More information about winter tests success here:
https://www.nokiantyres.com/innovation/test-success/
Further information:
Jaroslav Nálevka, PR manager McCann Prague, 00420 725 865 874, [email protected]
Zuzana Michalová, PR manager Nokian Tyres CE, 00420 603 578 866, [email protected]