Thu July 18 11:33 am 2019 in category Product news
Nokian Tyres Swamp Soccer World Championships 2019: Will to win, team work and a good sense of humor take you far in the swamp
Finland is a country of thousands of lakes, almost as many swamps and a bit loony but perseverant people, who love to challenge themselves. Therefore, it is no wonder that Nokian Tyres Swamp Soccer World Championships, organized every July since the year 2000, is a popular sporting event in Finland. In addition to Finns, the games gather likeminded gutsy people from around the world to play in Finnish mud.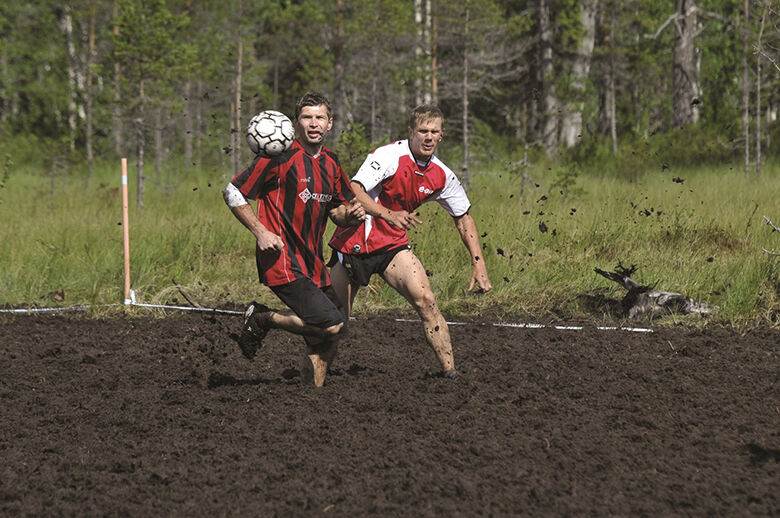 Love for nature and challenges unites
Peat, sweat and muddy limbs. These are all usual sights at the Nokian Tyres Swamp Soccer World Championships, as as a sport it's tough. There are twenty 35 x 60 m pitches, each with their own unique characteristics in terms of the sogginess of the terrain. One team comprises a goalie and five players who wade in the swamp for two 10-minute halves. Each team plays 4 to 6 matches over the weekend with a total of nearly 1000 matches being played during the championship games. In these challenging conditions, perseverance and great team work are the main elements in succeeding, and the lack of managed and clean lawns is no hindrance to having fun. However, certain physical attributes do help too:
– Along with a good game strategy, a slim body and long legs are advantages in swamp soccer. The best players are like moose in the swamp: springy with thin legs, says Kimmo Kyhälä, Managing Director of Ski Resort Ukkohalla in Hyrynsalmi, Finland. The championship games are organized by the municipality in cooperation with the ski resort and other operators of the area.
Nokian Tyres has been the main sponsor of the Swamp Soccer World Championships for more that a decade. The company and swamp soccer enthusiasts are connected by their common values and love for nature: they both believe that team work and the will to win are the key to success and find inspiration in overcoming the challenges posed by the Northern conditions.
Thousands of visitors arrive at the swamp
The Nokian Tyres Swamp Soccer World Championships 2019 is organized on July 19-20 at the legendary game arena on Vuorisuo swamp in Hyrynsalmi. People from multiple countries arrive to Finland for the event and there are around 10.000 people who visit the swamp or the areas around it each year during the games. Altogether around 200 teams compete for the world championship titles in four series.
Although the competition is serious, Nokian Tyres Swamp Soccer World Championships is above all a fun and relaxed event. Good sense of humor is a must if you want to survive the swamp!
More information:
http://suopotkupallo.fi/in-english/
www.nokiantyres.com
Nokian Tyres Swamp Soccer World Championships
Kimmo Kyhälä, phone +358400 689 979, [email protected]
Nokian Tyres
Antti-Jussi Tähtinen, Vice President, Marketing, [email protected], tel. +35810 4017940