Wed September 2 11:30 am 2020 in category Product news
Peace of mind beyond four seasons: New Nokian Seasonproof and Nokian Seasonproof SUV offer first-class safety all-year round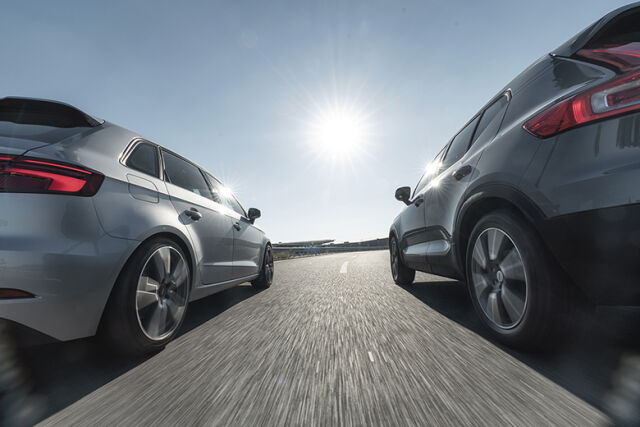 Scandinavian premium tire manufacturer Nokian Tyres is introducing a new all-season tire family for passenger cars, sport utility vehicles and crossover models. The new Nokian Seasonproof is designed for drivers who need reliability and first-class safety for snowy and slushy winter days but who also want top-notch performance and effortless driving feel in the summer.
The uncertainty caused by suddenly changing driving conditions and concern over erratic weather throughout the year is increasing the interest for all-season tire segment. The growing need for added safety in unexpected wet and snowy conditions, even out of season, is one of the major reasons why an increasing number of European vehicles are being fitted with tires which can handle all the varying weather.
According to Nokian Tyres' recent all-season consumer survey*, European drivers specially value safety in all weather conditions throughout the year. Grip and handling with good wear and tear resistance and safe winter properties in changing environment were also among the most relevant properties. In addition to the most important tire features, convenience and flexibility on driving with only one set of tires were found essential.
- Safety comes always first in our product development philosophy. The new Nokian Seasonproof is developed to meet the needs of Central European drivers and designed to be flexible and adaptable to both winter and summer weather conditions. We have a new tread design tailored for optimal year-round use and innovations to ensure maximum safety, excellent wear life and low rolling resistance, says Marko Rantonen, Development Manager at Nokian Tyres.
The new Nokian Seasonproof product family offers safety and year-round convenience for Central European drivers. All the sizes come with the Snowflake symbol (3PMSF), which indicates that the tire has been officially approved for winter use. The product range offers sizes for modern passenger cars, SUVs and CUV's with a selection of 64 products from 14 to 19 inches, with speed ratings of T (190 km/h), H (210 km/h) V (240 km/h) W (270 km/h). Eleven selected sizes will be available in autumn 2020 and the rest of the selection will be brought to market in the beginning of 2021.
Convenience meets safety in the new Season Sense concept

The new Nokian Seasonproof offers a practical solution for drivers who want to say goodbye to the seasonal tire changes but still want a safe option for snowy, slushy and rainy roads on every day of the year. Nokian Tyres' expertise in winter safety and excellent performance on varying driving conditions can be seen and felt in the new product by looking at the Season Sense concept. This new concept is made specially for all-season use to ensure driving is safe on rainy days and slushy streets, but also comfortable and precise on dry roads during summer heat.
The Season Sense concept combines multiple innovative technical features in the tire's siping, tread design and rubber compound. The multifunctional all-season siping and modernized directional tread pattern with stiff block design are tailored to offer versatile all-season performance and to secure ultimate safety on snow and dry. The maximum wet and slush grip is accomplished by the new all-season water and slush channels, and the new high silica rubber compound takes care of the excellent durability, wet grip and low rolling resistance.
Safe driving on snow, wet and slush
The new rubber compound of Nokian Seasonproof is tailored for safety and durability. The high-silica compound is made to excel in varying conditions; it works magnificently along a wide range of temperatures and can withstand intense wear even in hot summer weather. Winter grip stays excellent at temperatures near zero and below. The new silica compound also offers excellent wet grip and low rolling resistance.
The multifaceted Snow Claws between the tread blocks provide powerful grip and stable driving feel on snow during braking and accelerating. The Snow Grip Boosters on the tread blocks do their part to improve the longitudinal and lateral grip.
The all-season water and slush channels on the tread are optimized to perform especially under wet conditions. They forcefully push slush and water away from between the tire and the road, effectively preventing slushplaning and aquaplaning. The excellent aquaplaning properties are completed by polished grooves that are both stylish and functional - they further accelerate the water and slush flow.
Firm handling and excellent wear life
Nokian Seasonproof has excellent handling properties on dry asphalt and streets filled with autumn sleet. It offers extreme stability and grip on dry roads, even at high speeds. The multilevel block support improves high speed handling. For drivers this means excellent stability and quick, responsive steering feel.
The new tread offers also improved summer performance. The improvements can be felt in the wet and dry braking properties, as the bound center area with tailored tread blocks and sipes are made to offer optimal performance for varying weather conditions. The wet and dry surface siping technology offers shorter stopping distances and safety through corners by advanced traction and control.
The wear resistance of the new Nokian Seasonproof is more than 25% higher than its predecessor. This is a major leap forward in durability that may correspond to an additional driving season depending on the driving style.
New Nokian Seasonproof SUV – More stability for SUV and CUV models
Good driving stability and excellent grip is especially valuable to SUV drivers. SUV tires must be strong enough to keep the tall, heavy vehicles stable. The shoulder areas of Nokian Seasonproof SUVhave been specifically tailored for SUV use, improving the stability with block support. The tire provides stable road feel and precise handling in rain-soaked roads and snowy winter conditions.
The new Nokian Seasonproof SUV can manage its high wheel loads surely and firmly on snow, slush and dry roads alike. Coming with strong and improved structure and SUV optimized compound, the new SUV tires are also equipped with Nokian Tyres' unique Aramid Sidewall technology.
The strong construction of Nokian Seasonproof SUV is combined with the specially reinforced Aramid sidewalls to improve durability and to ensure that the tire can withstand various impacts that may occur while driving. The sidewall structure contains extremely strong aramid fiber, which makes the tires more resistant to sudden impacts and cuts that could otherwise easily interrupt a trip. Such damage usually requires fitting a replacement tire.
Always a sustainable choice
Sustainability is an essential part of Nokian Tyres' business. The safety and eco-friendliness are considered throughout the tire's entire life cycle. As with all its products, Nokian Tyres designed the Nokian Seasonproof with sustainability in mind. The tread compound is carefully developed to minimize rolling resistance while maximizing safety. The low rolling resistance makes the Nokian Seasonproof a fuel-efficient option for drivers who want to keep their environmental footprints low while saving in fuel costs.
The company's production factories in Finland, Russia and the United States adhere to rigorous sustainability standards aimed at reducing emissions, responsibly disposing of waste, and protecting the well-being of employees.
Nokian Seasonproof - Peace of mind beyond four seasons
First-class safety all-year-round, especially for snowy roads and rainy days
Excellent mileage and improved durability
Low rolling resistance saves fuel and environment
Aramid Sidewalls give unique protection against impacts and cuts for SUVs
Main innovations:
Season Sense concept: The multifunctional all-season siping and modernized directional tread pattern are tailored to offer versatile all-season performance and to secure ultimate safety on snow and dry. While the all-season water and slush channels maximize aquaplaning prevention, the new high silica rubber compound takes care of the excellent durability, wet grip and low rolling resistance.
Snow Claws: Powerful grip and stable driving feel. The snow claws effectively grip the surface when driving on soft snow, providing high-class grip when braking and accelerating.
Snow Grip Boosters: More winter grip. The snow grip boosters improve longitudinal grip needed for braking and accelerating.
Polished Grooves: Stylish and functional. The polished grooves accelerate the water and slush flow improving safety on wet surfaces.
Aramid Sidewall technology: Extreme durability. The extremely strong aramid fibers strengthen the tire's sidewalls providing more durability and protection for demanding driving situations. The fiber makes the tire more resistant to impacts and cuts that could otherwise easily damage it.
Patented safety

For added safety, both Nokian Seasonproof and Nokian Seasonproof SUV feature a Driving Safety Indicator (DSI) patented by Nokian Tyres. The location and pressure indicators on the information area on the tire's sidewall also improve safety. The information area allows for recording the correct inflation pressure and installation location when changing the tires. Comfort and safety are further improved by an additional section that can be used to record the tightening torque of bolts.
*All-season tire survey 2020. The data is based on an online survey taken in May 2020 by YouGov research company for Nokian Tyres. The survey was conducted in four countries (Germany, France, Italy and Poland) with a sample of 300 all-season tire users from each country.
Further information:

Nokian Seasonproof
Nokian Seasonproof SUV
Download product photos and videos
Nokian Tyres plc,
PR Marketing Manager Zuzana Seidl, tel. +420603578866
 [email protected]
Product Manager Martin Drazik, tel. +420735747556 
[email protected]