Wed September 4 11:15 am 2019 in category Product news
The best of both worlds – Nokian Tyres enables better machine versatility by presenting the new multi-purpose Nokian Ground King tire at Agritechnica 2019
Nokian Heavy Tyres, Nokia, Finland, 4 September 2019 – Today's multi-use machinery is most likely to bring a good return when it lends itself to a wide variety of different uses and seasonal contracting. The new Nokian Ground King tire, premiering this year at Agritechnica fair, Hannover, brings new opportunities for tractor and machine contracting by combining on-road endurance, traction and grip on a soft terrain and a high load-bearing capacity.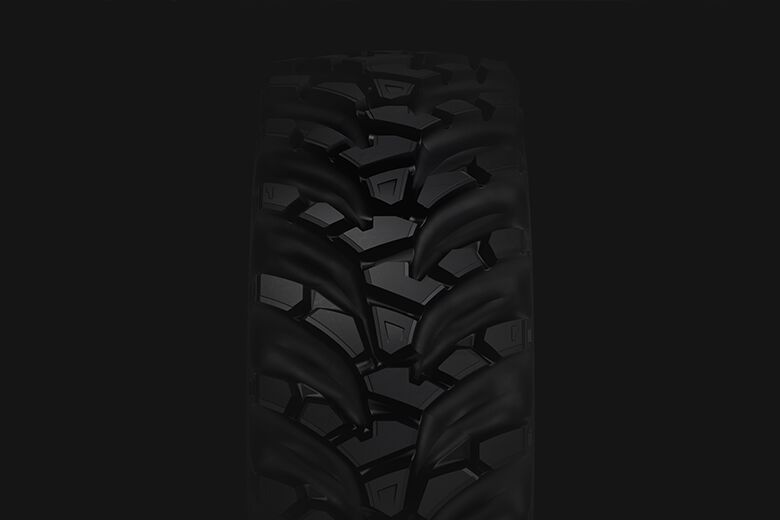 Transits and road transport play a major role in tractor and machine contracting work, while the all-terrain mobility is a must on work sites and fields. With its Hybrilug™ technology, the all-new Nokian Ground King tire offers both, helping contractors to realize the full potential of the modern multipurpose machinery.
"In Agritechnica 2017, we presented the visionary Concept Tire, which promised to mark a new era in versatility" says Toni Silfverberg, Head of Sales & Marketing at Nokian Tyres. "Now the concept has been developed further to what has become Nokian Ground King – the tire that lives up to Concept Tire's promise of the more versatile, cost-effective farming and contracting."
Breaking the pattern
The most distinguishing feature of the new Nokian Ground King tire is a whole new type of tread pattern. Combining the best features of lug and block type patterns, it actually looks exactly that – a familiar lug pattern shape that is divided into blocks. But it's more than just a new look, it also breaks the old pattern of compromising either field properties or highway comfort and endurance.
"We call it the Hybrilug™ technology", says Tero Saari, Product Manager at Nokian Tyres. "Tire's contact to the driving surface is very different, which contributes positively to both grip on soft surfaces as well as on-road characteristics."
This all-terrain mobility makes new Nokian Ground King an ideal OEM tire. "With Nokian Ground King, the machine manufacturers can be confident that the tire further improves the versatility of multi-purpose machines", Saari explains.
Carrying the weight
Besides having good features on various surfaces, a modern contracting tire needs to be ready for heavy weights.
"The job at hand may require heavy work implements, adding to the total weight of the machine", Tero Saari says. "Nokian Ground King tire has a very high strength structure that is stable under heavy loads, giving peace of mind in that area as well."
Long-lasting grip
For economical use, a good contracting tire must maintain its properties even when worn – and wear down slowly, for that matter.
"The fast highway transports are an essential part of modern contracting work." Tero Saari says. "Nokian Ground King is designed to support this aspect better than most all-terrain tires."
The amount of high-grade, wear resistant tread compound in the HybrilugTM technology, together with the extended ground contact extends the tire's effective operating life to whole new level.
A word from a test user
Benjamin Dufour from Saint Lô, France, has been testing the Nokian Ground King tires with a Fendt 714 tractor. "The tire has excellent comfort on every place – road, field and worksites", he says. "There is no noise on the road."
Benjamin Dufour's working days include both agricultural contracting and public service works. Besides comfort, he appreciates the tire's good self-cleaning abilities. "When I exit the field, the tire has good self-cleaning", he points out – important when minimizing the transition of dirt on the road.
In the initial tests, the Nokian Ground King has also proven to last. "They wear slower than my previous tires", Dufour has noticed.
When it comes to looks of the new tire, Benjamin Dufour has a clear opinion. "At first, I was surprised by the design", he admits. "But now I like the aggressive look!"
All-round performance
For more efficient utilization of the machinery, Nokian Ground King is a true universal tire.
"It's a real all-round performance tire that is ready for a diversity of seasonal work", Toni Silfverberg sums up. "If the next working day brings something new every time, Nokian Ground King tire a very sensible option. Visit our booth at Agritechnica 2019 and see it for yourself!"
Sizes and availability
Presented in Agritechnica fair, Hannover in November 2019, Nokian Ground King will be available from Nokian Tyres' dealers starting from 2020 in Farm and Utility Tractor tire sizes.
Event:
Agritechnica, 10-16 November, 2019: www.agritechnica.com/en
Nokian Tyres in Hall 19/20 booth B52
More information and photos:
Photos and press materials: www.nokiantyres.com/groundkingPR
Product page: www.nokiantyres.com/groundking
Concept tire materials: www.nokiantyres.com/nhtconcepttyre_materials
Company website: www.nokiantyres.com/heavy
Toni Silfverberg, Head of Sales & Marketing, Nokian Heavy Tyres Ltd, [email protected], tel. +358 10 401 7854
Tero Saari, Product Manager, Nokian Heavy Tyres Ltd, [email protected], tel. +358 10 401 7226