There is a common misconception related to electric cars – in reality, tires will last for a long time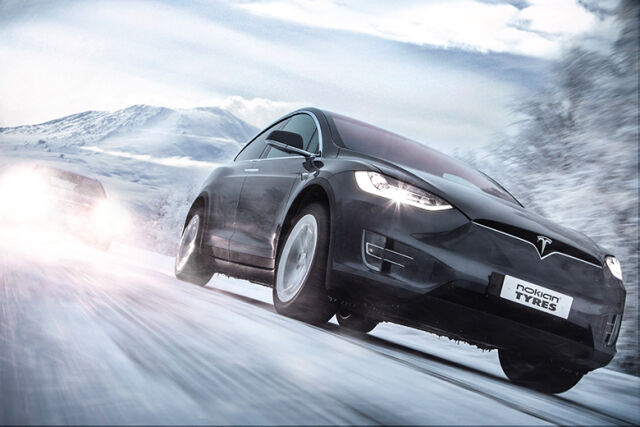 Many drivers prefer all-season tires to avoid purchasing a second set of wheels. However, you should bear in mind that winter tires provide supreme grip in winter conditions. Contrary to what many people think, EV drivers need not worry about rapid tire wear. Tires on electric vehicles will often wear down more slowly than in cars with internal combustion engines.
Electric vehicles typically have high power outputs and they weigh more than ICE cars. This sets specific requirements for their tires. Traffic safety is the most important factor, however. When purchasing winter tires for an electric vehicle, you should primarily base your choice on your driving conditions.
When choosing tires for a hybrid or electric vehicle, the three most important criteria are commonly safety, low rolling resistance, and low noise. Lower rolling resistance extends the vehicle's range. Electric vehicles are quiet, which makes low rolling noise a question of comfort.
When shopping for tires, the driver also needs to decide whether winter tires or all-season tires are the better choice.
– If you use your car a lot in winter and drive on poorly maintained roads, I recommend purchasing a dedicated set of winter tires and wheels. This is a safety investment worth making. The design of traditional all-season tires favors the characteristics required in the summer, making them weak in terms of winter grip. However, all-season tires are no match of real summer tires in the summer, either, says Mikko Liukkula, Development Manager for Nokian Tyres.
Driving all winter took less than 1 mm off the tires
Nokian Tyres' Development Manager Mikko Liukkula wants to emphasize that a common misconception related to electric vehicle tires is not true. Although electric vehicles have plenty of power and torque, they are not particularly demanding on tires – the opposite is true, in fact.
– Tires on a modern electric car will wear down much slower than in a car with a traditional internal combustion engine. This is due to good traction control. The driver assist systems reduce slipping by utilizing the electric motor's rapid power adjustment. This system is much quicker than in ICE vehicles, where it is based on braking and limiting engine RPM, Liukkula says.
– On my Tesla, driving for 12,000 kilometers last winter took far less than one millimeter off the winter tires, he explains.
Nokian Tyres utilizes several electric vehicles in its tire tests, which provides the company with extensive knowledge of the applicability of the tires for different car models. In addition, the company's tires are tested on electric taxis, for example.
– We are very much looking forward to our new testing center in Spain being completed next year. We already have the largest and best winter testing area in the industry, and soon, our summer testing facilities will be better than anyone else's.
Rotating tires once per winter will pay off
Technical Customer Service Manager Matti Morri from Nokian Tyres instructs us to monitor tire wear and inflation pressures during the winter. This will maximize the service life of your tire set.
– If your car does not have four-wheel drive, you should keep an eye on the differences between the driving and freely rotating tires. Tires on the drive axle may wear down up to twice as quickly as on the free-wheeling one. A good rule of thumb is that you should rotate the tires when the difference in tread depth exceeds two millimeters. Doing this once per winter will usually be sufficient.
Nokian Tyres' products have a Driving Safety Indicator (DSI) that you can use to quickly and easily check the amount of remaining tread. The DSI numbers show the remaining tread depth. The numbers will disappear, one by one, as the tire wears down.  If you see a different number on the front and rear axles, you should rotate the tires.
Fact: Observe these when choosing winter tires for your electric vehicle 
Safety: the most important thing is to consider your driving environment and choose tires accordingly.
Low rolling resistance: the lower the rolling resistance, the better range you will get.
Low noise: choosing quiet tires for your quiet electric vehicle will improve driving comfort.
Winter tires or all-season tires: winter tires offer supreme grip in winter conditions.
Winter tire recommendations for the most common electric vehicles
Video: Braking test for different tires on an icy road
Tire information on various topics
Further information:
Nokian Tyres plc 
Technical Customer Service Manager Matti Morri, tel. +358 10 401 7621 
[email protected]