Tue March 17 11:54 am 2015 in category Product news
SUV tyres
New Nokian SUV summer tyres – driving comfort and cool performance
Controlled safety and extreme durability by Nokian Aramid Sidewall technology. Nokian Line SUV: Dynamic handling, pleasant comfort and firm wet grip for small and midsize SUVs. Nokian zLine SUV: Sporty handling, perfect driving pleasure, quick steering and best possible wet grip for the largest SUVs. Van tyre Nokian cLine Van: more kilometres, high safety and stability.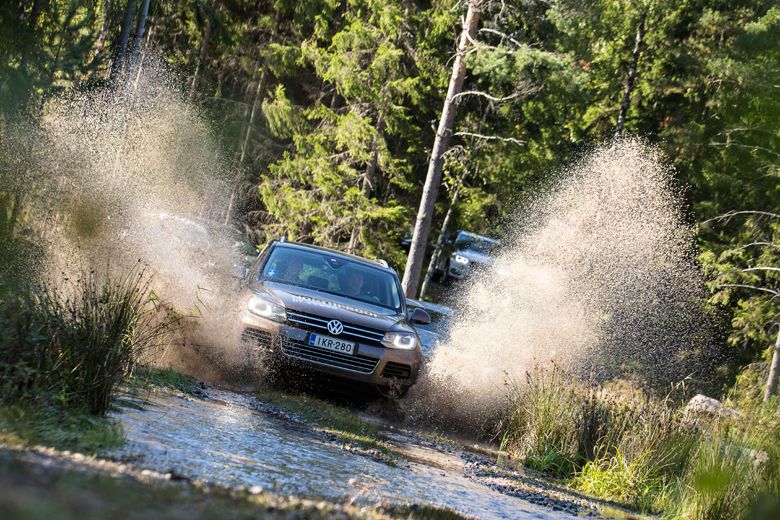 Nokian Tyres' summer tyre range, developed for varying summer weather, is now more comprehensive than ever before. Since last summer, the world's northernmost tyre manufacturer has grown its summer selection by 30% by introducing new products and expanding the size selection. Especially the selection of popular SUV tyres is now substantially more versatile. Nokian tyres from Finland are multiple test winners.
Nokian Tyres introduces two new premium SUV summer tyres and a new van tyre for summer 2015. The new Nokian Line SUV summer tyre for varied SUV use offers pleasant comfort, high performance and firm wet grip. It keeps going under varying weather and road conditions, as it has excellent durability by Nokian Aramid Sidewall technology. Furthermore this summer tyre designed for the popular small and midsize SUVs consumes little fuel.
The sporty Nokian zLine SUV summer tyre provides precise handling, extreme durability, safety for demanding conditions and perfect driving pleasure. Its sidewalls are likewise reinforced by sturdy Aramid. Aramid fibres are also used in the aviation industry and provide much-needed durability to the largest SUVs. Best possible wet grip makes them safer even in rainy roads.
Summer van tyre Nokian cLine offers firm stability, long durability, and high safety for demanding professional use.
The Finnish tyre manufacturer also offers the Nokian Rotiiva HT and Nokian Rotiiva AT Plus for heavy SUV-type 4x4 vehicles and pick-ups; the latter is also well suited for light off-road driving.
Nokian Line SUV: Aramid fibres reduce the sidewall damage
The comfortable and sporty Nokian Line SUV is the correct choice for drivers who value safe driving but also want to enjoy the power of their SUVs on rough roads and in urban traffic alike.
The service life is improved by aramid fibres which the world's northernmost tyre manufacturer from Finland uses. The same material is also utilised in the aviation and military industries and reduces the sidewall damage that is common to SUV drivers. Several innovations that improve wet grip and maximise aquaplaning prevention make this versatile quality tyre one of the best products in its class.
The design of this new tyre,designed for varying European conditions, is based on the multiple test-winning Nokian Line. The Nokian Line SUV has very low rolling resistance, which also means very low fuel consumption.
The comprehensive size selection of the premium brand is aimed at the growing Central European SUV market, and it consists of a total of 32 tyres, with sizes from 15 to 19 inches. The speed ratings for the new products are T (190 km/h), H (210 km/h), and V (240 km/h), meaning that the Nokian Line SUV and its big brother, the Nokian zLine SUV, cover nearly all of the popular SUV models that are sold in Central Europe. The Nokian Line SUV is now available for purchase at tyre retailers.
Nokian zLine SUV: extreme durability, sporty handling and high safety
The Nokian zLine SUV steers logically, quickly, and responsively at high speeds. Thus drivers can unleash the full potential of their powerful SUVs. It is the latest display of skill from the world's northernmost tyre manufacturer from Finland that combines SUV owners' requests for safety under extreme conditions, pleasant comfort, and care-free driving.
The sporty and precise Nokian zLine SUV is the result of nearly four years of careful development, and its unique durability and handling properties are the key features setting it apart from its predecessors.
"More durability, state-of-the-art handling, and the best possible safety for rain-slick roads vote for this premium tyre," says Product Development Manager Juha Pirhonen from Nokian Tyres." Drivers who want to enjoy the power of their SUVs will value durability in addition to a precise and comfortable driving feel."
SUV tyres are most often damaged by impacts to the tyre sidewall. The Nokian zLine SUV uses Nokian Aramid Sidewall technology to better withstand surprising impacts and cuts.
The Nokian zLine SUV exudes power, and it is designed for the largest SUVs in the main market Europe. The comprehensive selection of 25 sizes from 17 to 22 inches has the speed ratings V (240 km/h), W (270 km/h), and Y (300 km/h). Nokian zLine SUV is now available to consumers.
Nokian cLine van tyre: Nokian cline Cargo for heavier loads and Nokian cLine Van for lighter
The new Nokian cLine summer van tyre offers more kilometres, stability, durability, and safety for demanding professional use on European roads.
These tyres from Finnish tyre manufacturer are intended for modern vans and delivery trucks as well as minibuses. The sturdy and well-built Nokian cLine Cargo summer tyre for heavy vehicles like delivery and transport trucks even carries higher wheel loads with ease. Its non-directional tread and structure are similar to those of a truck tyre.
Nokian cLine Van is perfectly suited for lighter loads and passenger transport.
Nokian cLine covering a selection 23 tyres all the way from 14 inches up to 17 inches is now available at retailers.
Photos downloads Nokian Line SUV:
www.nokiantyres.com/linesuv
Photos downloads Nokian zLine SUV:
www.nokiantyres.com/zlinesuv
Photos downloads Nokian cLine:
www.nokiantyres.com/cline
Videos:
Video: Nokian Line SUV – Tough wet performer
http://youtu.be/kOD9prmIPEQ
Video: Nokian zLine SUV – Tough cool performer
http://youtu.be/sYHyUmczeS4
Video: Unique durability – Nokian Aramid sidewall concept
http://youtu.be/N5LvBke-UqY
Video: Nokian summer tyres – Testing at the extremes
http://youtu.be/6kT0wLEOxY4
Nokian Line SUV summer tyre press release in full-length:
https://www.nokiantyres.com/company/news-article/nokian-line-suv-summer-tyre-driving-comfort-and-performance-for-versatile-use-on-suvs/
Nokian zLine SUV summer tyre press release in full-length:
https://www.nokiantyres.com/company/news-article/nokian-zline-suv-summer-tyre-cool-performance-and-extreme-durability-for-suvs/
Nokian cLine van tyre press release in full-length:
https://www.nokiantyres.com/company/news-article/nokian-cline-van-tyre-more-kilometres-high-safety-and-stability/
Further information:
Nokian tyres rated "good" in ADAC summer tyre test 2014 and by consumer organisation Stiftung Warentest
https://www.nokiantyres.com/company/news-article/nokian-tyres-rated-good-in-adac-summer-tyre-test-2014-and-by-consumer-organisation-stiftung-warentest-2/
Nokian Tyres test success
www.nokiantyres.com/innovation/test-success/
Nokian Tyres Europe
Nokian Tyres s.r.o
V Parku 2336/22
148 00 Praha 4
Czech Republic
Business Director Central Europe Dieter Köppner, Tel. +420 222 507 761
, E-mail: dieter.koppner(at)nokiantyres.com
Technical Customer Service Manager CE Sven Dittmann, Dipl.-Ing., Tel. +49 8143 444 850
E-Mail sven.dittmann(at)nokiantyres.com
Marketing Manager Lukáš Líbal, Tel. +420 222 507 759
E-Mail lukas.libal(at)nokiantyres.com
Nokian Tyres Finland Headquarters
Nokian Tyres plc
Pirkkalaistie 7
P.O.Box 20
37101 Nokia
Finland
Development Manager Juha Pirhonen, Tel. +358 10 401 7708
E-Mail juha.pirhonen(at)nokiantyres.com
Technical Customer Service Manager Matti Morri, Tel. +358 10 401 7621
E-Mail matti.morri(at)nokiantyres.com
Product Manager Central Europe Stéphane Clepkens, Tel. +358 50 462 7536
E-Mail stephane.clepkens(at)nokiantyres.com
---
Attachments
New Nokian SUV summer tyres – driving comfort and cool performance (.pdf)
New Nokian SUV summer tyres – driving comfort and cool performance (.docx)