Thu January 28 10:00 am 2021 in category Product news
Next generation of safety: The new NOKIAN HAKKAPELIITTA® 10 offers ultimate winter grip, driving comfort and eco-friendliness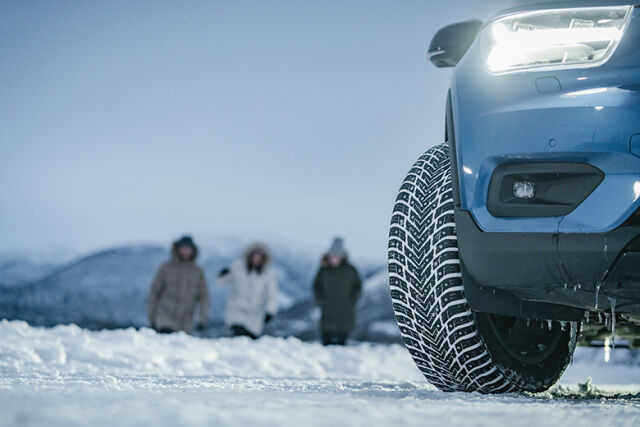 The new Nokian Hakkapeliitta 10 for passenger cars and Nokian Hakkapeliitta 10 SUV for sport utility models and crossovers are made to deliver ultimate safety for situations it is needed the most. Providing next-generation safety, this flagship range of studded winter tires is an innovative combination of superior winter grip, driving comfort and eco-friendliness. A special new introduction into this product family is the Nokian Hakkapeliitta 10 EV, a dedicated version for electric vehicles and hybrids. For the first time, Nokian Tyres is also introducing a model especially tailored for the Russian market: the Nokian Hakkapeliitta 10p. 
The new Nokian Hakkapeliitta 10 studded winter tire is tailored to handle the harsh conditions of the North with comfort and ease. The superior winter grip of the new product range is the result of Nokian Tyres' modern studding solution, rigorous testing and relentless research. The unique Double Stud Technology offers maximum safety on ice and snow, as the center studs improve acceleration and braking grip, while the studs on the shoulder areas maximize grip during turning and lane changes.
- The most important safety feature of a studded winter tire is its performance on ice. Changing lanes on a highway or merging into busy traffic from an icy intersection can be challenging, not to mention black ice, which is equally hazardous. In line with our product development philosophy, the new Nokian Hakkapeliitta 10 maximizes safety in all driving conditions and remains controlled and reliable at the grip limits. Our mission is to keep your journey safe and predictable every day of the winter, says Nokian Tyres Head of R&D Olli Seppälä.
The new Nokian Hakkapeliitta 10 product range comes with a comprehensive selection of over 140 products. Covering sizes from 14 to 22 inches, Nokian Hakkapeliitta 10 is offered in speed category T (190 km/h). Most of the products are marked XL for the highest possible load capacity in that size. The new Nokian Hakkapeliitta 10 product range will be available to consumers in autumn 2021. The main markets are in the Nordic countries, Russia and North America.
The new Nokian Hakkapeliitta 10 is developed by the world's northernmost tire manufacturer and the inventor of the winter tire. The company holds over hundred winter safety patents and is among the global leaders in safety and sustainability. For Nokian Tyres, offering peace of mind means safety on the road and doing business in an environmentally and socially responsible way. The introduction of Nokian Hakkapeliitta 10 product family will strengthen Nokian Tyres' position as the market leader in the Nordic countries and Russia and the growth targets in North America.
Read the full product release

Download product photos and videos 
Further information:

Nokian Tyres plc
Head of Product Management Marko Saari, tel. +358 10 401 7339, [email protected] 
Manager, Content & Product Marketing Teemu Sainio, tel. +358 10 401 7296, [email protected]