Nokian Tyres survey: drivers see the behavior of others as the main risk, the condition of your tires matters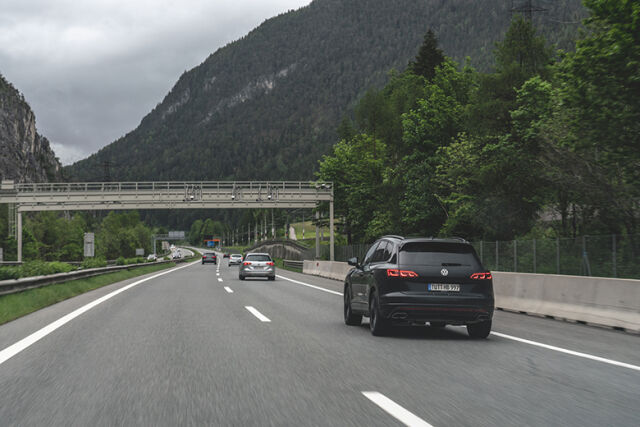 More than half of European drivers believe that the main risk associated with driving a car in the summer is the behavior of other drivers. This unflattering result seen in the last Nokian Tyres summer tires survey shows that the human factor still plays a key role in vehicle operation. The same is true for the responsibility for using the right tires in different seasons.
According to the survey by Nokian Tyres[1], the perception of the highest risk on the roads in the summer time was caused by the behavior of other drivers, excessive speed, and by the use of the phone while driving. The Czechs, Poles and Italians have the least confidence in other drivers.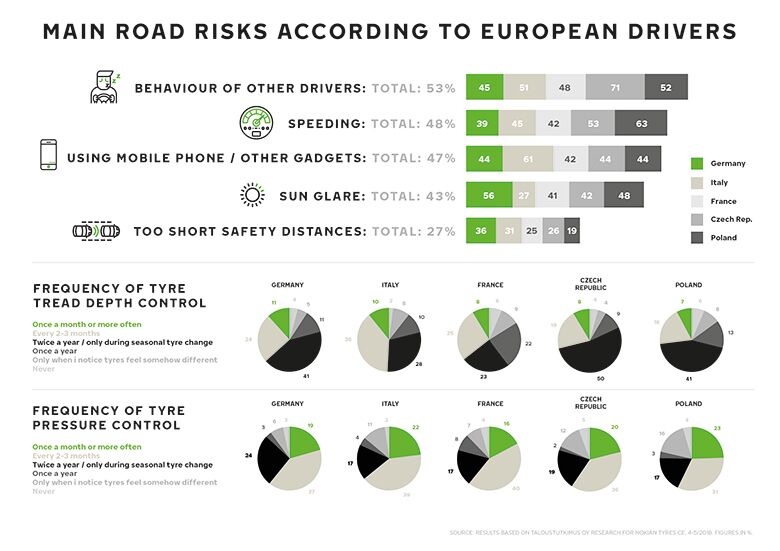 The danger caused by excessive speed was especially emphasized by Poles and Czechs. The use of a phone or other gadgets while driving is considered as the most dangerous factor by Italians. It is interesting to note that the risks associated with traveling by car present the biggest concern for respondents older than 51 years. In this group of drivers, most people pay attention to the behavior of other car drivers, as well as to the road conditions. This may be due to awareness of older drivers that they need a longer time to react, and also due to the fact that their cars are often older.
Condition of your tires matters
More than one third of drivers check the tread depth on their car tires twice a year, 24% do it every two to three months, whereas 13% do this check only once a year. However, 10% of respondents were not able to remember when they checked the condition of their tires last time, or whether they ever did it at all. Among the people most concerned about the condition of their tires, i.e. those respondents who were checking the tread depth every two to three months, were mainly Italians, people travelling 30,000 to 40,000 km or more per year, men, and drivers over 66 years of age.
"Our research shows that only a small percentage of people pay attention to tire wear. But tires are the only points of contact of the car with the road, and their condition is critical when it comes to traffic safety. For example, with worn tires with a tread depth of 2 mm, the braking distance can be up to 12 meters longer from the speed of 80 km/h on a wet road compared new tires (Car magazine Tekniikan Maailma 16/2016). At the same time, it is interesting to note that respondents in all countries studied, emphasized such safety features as grip of tires on wet and dry roads, tire stability, and safety in extreme situations - all this is regarded as main characteristics of tires to which people pay a lot of attention when they buy new tires," says Martin Dražík, Product Manager for Nokian Tyres Europe.
Safety first
Enjoying the beautiful summer weather, it is easy to forget the dangers of driving in the rain. Unexpected, heavy rainfall increases the risk of aquaplaning, especially when large amounts of water accumulate on the road surface and in the ruts. Therefore, when choosing summer tires, you should pay attention to those models that have been designed for safe wet driving, such as Nokian Wetproof tire. It should also be remembered that safe summer tires should have a tread depth of over 4 mm, and their lifetime should not exceed 6 years.
Further info:
Summer tires belong on summer roads
Useful tips for tire maintenance
Photos:
Download photos and infographic
Contact:
Zuzana Seidl, PR manager Nokian Tyres CE, 00420 603 578 866, 
[email protected]
[1] Data is based on an online survey May 2018 by Nokian Tyres and conducted by a research company Taloustutkimus Oy. Survey was conducted in five countries (Germany, France, Italy, Poland and the Czech Republic), with a sample of up to 1,000 respondents from each country.