Nokian Tyres to introduce premium 2016 winter tyres for Central European drivers
Nokian Tyres, the Nordic premium tyre producer, offers exclusive winter tyres for Central European drivers for the coming winter season.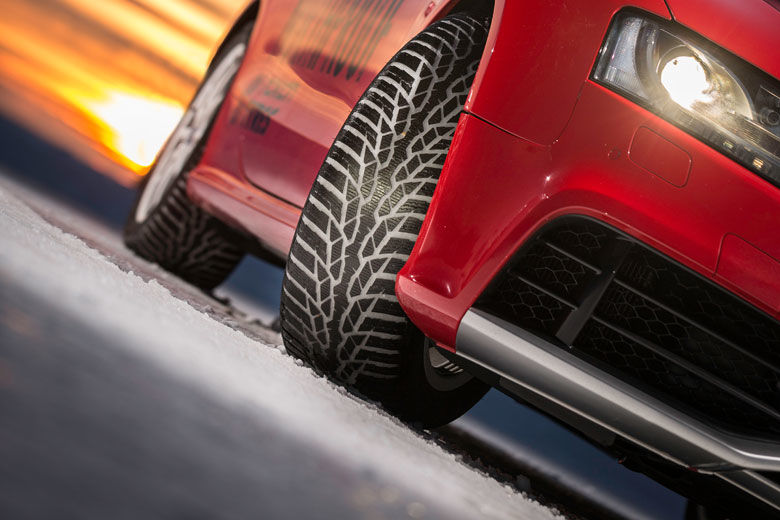 Do you want to enjoy absolute safety and comfort regardless of winter's weather whims? Then go for Nokian Tyres with their perfect driving properties for frequently changing weather conditions during the Central European winters – be it slush, snowstorm, downpour or dry roads. With Nokian Tyres premium tyres, you can literally forget about any pitfalls of this year's winter.
Nokian WR A4 – the ultimate weather master
This year's novelty. A new generation of sturdy winter tyres make sporty driving possible on any winter surface thanks to its perfect grip. The state-of-the-art, innovative Performance Traction Silica compound containing natural rubber, silica and canola oil ensures maximum grip, excellent stability and wear resistance. Tear strength makes the tyre extremely resistant to impacts and punctures. The excellent winter grip properties remain the same even as temperatures change and the kilometres add up. The centre area is dominated by a sturdy longitudinal rib consisting of tread blocks, and thanks to the innovative Functional Performance Siping a Centipede Siping technologies, it offers maximum contact surface improving handling and grip on snow and slush at different turning angles. The new Coanda Technology combats the risk of aquaplaning. An element was constructed on the edge of the tread blocks on the Nokian WR A4's inner and outer shoulders. Extremely low rolling resistance results in low fuel consumption. Convenient DSI (Driving Safety Indicator)and WSI (Winter Safety Indicator) patented by Nokian Tyres offer maximum safety.
This premium winter tyre covers sizes from 16 to 21 inches and speed ratings from H (210 km/h) up to W (270 km/h), including the XL load capacity.
Nokian WR D4 – champion among winter tyres
The world's first premium winter tyre for passenger cars that in many sizes offers wet grip in the EU tyre label's best A class. It significantly reduces the braking distance and fuel consumption. It allows for safe and balanced driving on wet and snowy roads alike. The state-of-the-art technologies, such as Twin Trac Silica, Block Optimized Siping and Steering Precision Rib, allow not only for top performance, but also for long life and stability even during temperature changes and after many kilometres. The special Silent Sidewall technology is unique in filtering the noise. Patented DSI and WSI indicators are marked on the tread. Comfortable, high-performance, and reliable, the Nokian WR A4 is one of the most popular winter tyres on the market with an excellent price–performance ratio.
The size selection of this tyre covers sizes from 14 to 20 inches and speed ratings from Q to W, with load capacity up to XL.
Nokian WR SUV 3 - revolutionary, indestructible and extremely economical
A sturdy, high-performance SUV winter tyre offers extreme durability, excellent driving properties and safety on all surfaces. Made of Nokian Twin Trac SUV Silica rubber compound, it ensures extraordinary grip on winter surfaces. The perfect tyre is enhanced by innovations such as Snow Claws, Groove Lifts and 3D Lock Sipes. The revolutionary Nokian Tyres Aramid Sidewall technology makes this tyre exceptional thanks to the sidewall being puncture-resistant even on sharp stones and curbs. Nokian WR SUV 3 is the world's first winter tyre that achieves the best possible class A in the EU tyre label's wet grip and fuel efficiency. The revolutionary Nokian WR SUV 3 winter tyre, in size 265/50 R19 V, can reduce braking distances by up to 18 meters on wet roads and save fuel by up to 0.6 l/100 km.
The tyre is available in sizes from 15 to 21 inches and speed ratings from H to W, with load capacity up to XL.
Extreme testing at a unique testing centre north of the Arctic Circle
"Our winter tyres are tested in the most demanding ways at our special Nokian Tyres testing centre "White Hell" in Ivalo, Lapland – far behind the Arctic Circle. They have extraordinary grip and significantly shorter braking distance on both wet and snow surfaces. The state-of-the-art winter tyres are a result of more than 80 years of development and innovations, ensuring the unique properties of our products and a high added value for our clients," said Hannu Liitsola, Managing Director of Nokian Tyres CE.
Innovations and world primacy in developing the best tyre solutions
Nokian Tyres is a world-famous producer of winter tyres. It invented the world's first winter tyres more than 80 years ago. The most recent innovation involves the Aramid Sidewall technology. The Aramid fibre that Nokian Tyres uses in the sidewall compound strengthens the tyre's sidewall, allowing it to better withstand impacts and cuts. It is an added value for customers who want to enjoy care-free off-roading and urban driving. In 2015, Nokian Tyres introduced the world's first AA class winter tyre in wet grip and fuel efficiency.
Nokian Tyres premium winter tyres can be purchased in retail stores of Vianor, the official distributor, and from authorised dealers.
High resolution photos can be downloaded here:
www.nokiantyres.com/winterportfolioCE
More information on Nokian Tyres winter tyres can be found here: https://www.nokiantyres.com/tyres/passenger-car/winter-tyres/
Contact
For more information, please contact:
Jaroslav Nálevka, PR manager McCann Prague, 00420 725 865 874, [email protected]
Zuzana Michalová, Public Relations Nokian Tyres CE, 00420 603 578 855, [email protected]
About Nokian Tyres
Nokian Tyres was founded in 1988 and the company's roots go back all the way to 1898, when Suomen Gummitehdas Oy, or Finnish Rubber Factory, was established. The company is the world's northernmost tyre manufacturer. It promotes and facilitates safe driving in demanding conditions. Innovative tyres for passenger cars, trucks, and heavy machinery are mainly marketed in areas with snow, forests and challenging driving conditions caused by varying seasons.
In 2015, the company's net sales were approximately EUR 1.4 billion, and it employed 4,400 people at the end of year. Nokian Tyres' stock is listed on the Nasdaq Helsinki. Production plants are located in Finland and Russia. At the headquarters in Nokia, Finland, centralized product development is carried out and prototypes and test runs are completed. The Nokia factory manufactures car tyres, heavy-duty tyres, and retreading materials for truck tyres. All products are developed with the goals of sustainable safety and environmental friendliness throughout the product's entire life cycle. Nokian Tyres' global headquarters is located in Nokia, Finland, while its European management is based in Prague.
For more details, please visit: www.nokiantyres.com