Nokian Tyres Hakkapeliitta 8 SUV studded tyre provides grip and durability like never before
The Nokian Tyres Hakkapeliitta 8 SUV, studded tyre from the inventor of the winter tyre, uses completely new innovations to tame the extremes of the Northern winter. The most modern stud technology in the business provides grip like never before on ice and snow.
SAFE GRIP LEVEL IN ANY WINTER WEATHER
PRECISE HANDLING
REINFORCED SIDEWALLS RESIST IMPACTS AND CUTS

Officially approved for winter use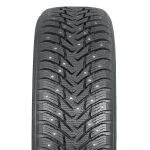 User opinions
Rated 4.6 based on 249 customer reviews
---
my all season sumitomos were similar on ice while braking
yash • 15 months ago
the studds keep going away. the tires are better than all seasons in deep snow but they don't seem to perform better on ice as I thought.
---
Great tires, but aren't available R15 for 4x4 ?
Jake • 3 years ago
I found this tires, read a couple of reviews, and literally made my mind, to find that they're not available for my rims size. I'd be more then happy to buy a set of 33inch tire for 15inch rim, e.g. 33x10,5R15 or 33x11,5R15 or similar. Even 32x10,5R15 would do.
I recommend this product
---
What winter?
Buck022 • 4 years ago
I became a fan of Nokian during my 800,000 km during 8 years of winter highway driving in Alberta Canada. Often driving with my family, we ALWAYS made it home. One evening, an impatient driver sped passed us doing 120+ on the highway, after passing me, he lost control, wiped out the taxi in front of me and they both spun to opposite sides of the highway. Having witnessed this insanity I got out of my Sequoia (Have to give my toyo props) and fell flat on my arse, slipping on the glass like ice beneath me. I had no idea as the Hakka tires stuck like summer pavement. I've never driven on anything like them and will never bemoan winter road conditions. Once you can command your vehicle on snow and ice, you will never be without them again. I love, love, love these tires.
I recommend this product
NOKIAN TYRES ARAMID SIDEWALL TECHNOLOGY
Durability and protection for surprising situations
The sidewall compound that is exceptionally durable and puncture-resistant contains extremely strong aramid fibres. The same material is utilised by the aerospace and defence industries. The aramid fibre strengthens the sidewall rubber to withstand external impacts and pressing against the wheel flange.
NOKIAN ECO STUD 8 CONCEPT
Supreme grip on ice and softness of stud impact
Combining the anchor stud, flange design, and the Eco Stud cushion with a revolutionary stud placement ensures supreme grip and soft stud contact on all driving surfaces.
BRAKE BOOSTER
Effective braking on snow
The surface of the tyre consists of tread blocks. The Brake Booster is an innovation that was developed on the rear edges of tread blocks on the edges of the tyre in order to provide additional safety in demanding weather. The Brake Booster is a part of each tread block located on the shoulder area of the tyre; it is a powerful, edged saw-tooth pattern that increases the tyre's contact with the driving surface and effectively increases braking grip, especially on snow surfaces.