Thu December 1 11:42 am 2016 in category Company news
The most extreme testing center in the world White Hell celebrates 30 years since its opening
The testing centre with a fitting name – White Hell – is a place where Nokian Tyres, the northernmost tyre manufacturer, thoroughly tests its winter tyres on snow, ice and winter slush. This unique site spans over 700 hectares of snowy plains in Ivalo, Lapland, far beyond the Arctic Circle. It is situated by several hundreds of kilometres more to the North than the official home of the legendary Santa Claus – the Christmas town of Rovaniemi.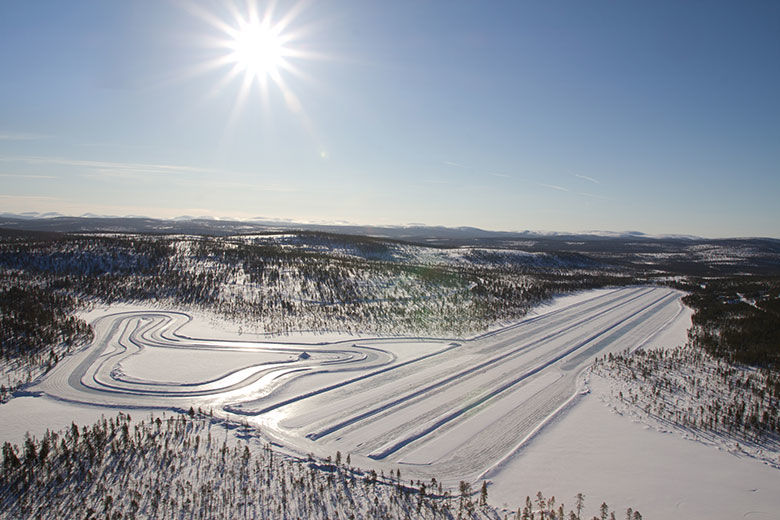 The Hell – full of MOST
Nokian Tyres set up the Ivalo Testing Center in the mid-1980s, in 1986, and since then, it has gained the reputation of the most rigorous, biggest, most complex and most extreme natural tyre testing centre in the world. In White Hell, temperatures fall far below the freezing point in winter, while in spring, temperature variations between day and night of up to 40 degrees are possible.
The test tracks are busiest between November and May. In that time, during the approximately 200 days of freezing weather, more than 20,000 tyres are tested and more than 40,000 kilometres driven on the test tracks. The highly experienced teams of professional drivers test the tyres all day and night. In the facility, there are over 20 maintained tracks spanning over 100 kilometres, including a 700-metre long "ice hall" where consistent testing is possible in any conditions. The track maintenance is very demanding as the conditions of snowy and icy tracks have to be comparable in order to get trustworthy results. In practice, it is ensured that a track will always have the same snow thickness and roughen ice and brush it clean, as needed.
Why are tyres tested in such a demanding and comprehensive way
"Intense and uncompromising testing in winter weather's extremes and whims aims at reaching the utmost objective of development, which is the maximum safety and functionality of Nokian Tyres winter tyres. Besides the testing program in special or current operating conditions, such as in Ivalo, a significant number of further laboratory tests and computer simulations is necessary for tyre development. It is by thorough testing that the best tyres can be separated from the good ones, enabling future winter tyres to have the best safety characteristics in the world" explains Matti Morri, Nokian Tyres Technical Customer Service Manager. A perfect winter tyre must behave in a logical and predictable way under any circumstances. To achieve comprehensive results, tests are also performed outside of the Nokian Tyres' testing centers – at various international test tracks globally.
Innovations and development come first
Adapting to demands of consumer needs and individual markets, the modern portfolio of Nokian Tyres' products is renewed periodically and increase every year. That's why the amount of new products represents at least one fourth of the company's annual turnover. This is one of the reasons why over half of R&D costs is used on precise tyre testing. The development of an entirely new passenger car tyre takes about 2 to 4 years. Authentic testing plays a vital role here, directing the research and development efforts until the best performing tyre is developed to the respective winter conditions.
Technologies cannot replace human approach
In some tests it is essential that extreme conditions are simulated. That's why in Ivalo, tyres are tested during hundreds of hours of braking, acceleration at circuits, slalom and on slopes, snow and ice. It is because of the intense testing that Nokian Tyres is considered a global frontrunner in tyre development and manufacturing.
Besides experienced test drivers who are key for the testing, modern robot vehicles are used in testing as well to ensure exact repetitions of the individual tests. However, these only play a supporting role as no machine or device can replace actual drivers and their experience. It takes several years for a person to become an excellent professional test driver able to provide valuable information.
"In testing, state-of-the-art technologies are used that keep improving and developing. For example, real-time tracking of temperature and relative humidity makes our work easier and faster," says Petri Peltoniemi, Test Manager at Nokian Tyres.
New versatile technology center for winter and summer tyres
In 2017, Nokian Tyres is opening a new multi-purpose technology center in Santa Cruz de la Zarza, Spain, for both summer and winter tyres to boost the year-round product development. Situated to the South of Madrid, this modern development centre will span over 300 hectares and will be circled by a 7-kilometre oval track.
"This oval track with banked curves enables us to test our summer and winter tyres with high speed ratings at speeds of up to 300 km/h (186 mph). There is a demand for tyres with a high speed rating especially in Central Europe and North America, the two areas where we are currently seeking strong growth," says Antti-Jussi Tähtinen, Vice President, Marketing and Communications for Nokian Tyres. In the centre of the oval track, there will be further research and test tracks for aquaplaning, wet braking and handling. This is also where most approval tests will take place, including tyre noise testing. Nokian Tyres will invest about EUR 16 million in the new facility.
High resolution photos can be downloaded here:
www.nokiantyres.com/ivalo-30-years
Testing in extreme conditions:
https://www.nokiantyres.com/innovation/testing/
Video: Winter tyre testing at the top: Ivalo Testing Centre – White Hell
http://youtu.be/UEGUTw7KHxE
Video: Nokian Tyres summer tyres – Testing in extreme conditions
https://youtu.be/6kT0wLEOxY4
Photos from testing centre in Spain:
www.nokiantyres.com/technology-center-spain

Contact
For more information, please contact:
Jaroslav Nálevka, PR manager McCann Prague, 00420 725 865 874, [email protected]
Zuzana Michalová, PR manager Nokian Tyres CE, 00420 603 578 855, [email protected]