Thu September 13 10:30 am 2018 in category Company news
Customers' Favourite 2018: Nokian Tyres the best tyre manufacturer in Germany-wide consumer survey
Nokian Tyres, the northernmost premium tyre manufacturer, has received the Customers' Favourite 2018 Award in the consumer satisfaction ranking by the German business magazine Focus Money and Deutschland Test. The Germany-wide survey examines which brands are especially popular with consumers.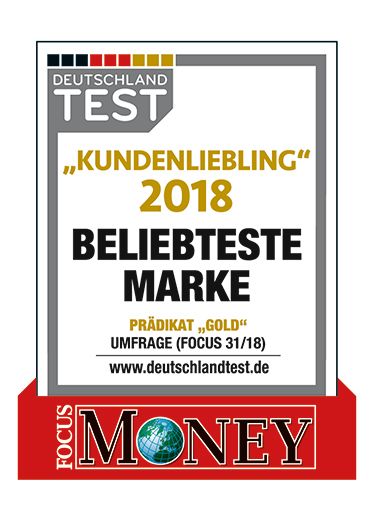 In the survey, a total of 53 million social media mentions and 350 million online sources of 3,000 brands from 146 industries were analysed from June 2017 to May 2018. Online statements about price, service, quality and the overall company image were evaluated.  
Nokian Tyres received the maximum number of 100 points, ranking first in the tyre industry category. Nokian Tyres convinced with the best value-for-money and ease of servicing. According to the survey, the consumers also appreciate the company's product quality and brand image in particular. 
"We are happy to receive the Customers' Favourite 2018 Award," said Hannu Liitsola, Managing Director, Central Europe at Nokian Tyres. "It is based on the consumers' opinions and shows that our ability and commitment to provide quality products and the highest level of service are noticed and appreciated by satisfied drivers. This is our great strength, which we want to prove in the future as well."  
Further information: 
Nokian Tyres GmbH, Am Tullnaupark 8, 90402 Nuremberg 
Zuzana Michalová, Public Relations Manager CE, Nokian Tyres, E-mail: [email protected], Tel.: +420 603 578 866  
Stefanie Schneidewind, Public Relations Manager, PR-Agentur Weber Shandwick, E-mail: [email protected], Tel.: +49 89 380 179 19