Tue December 18 01:32 pm 2018 in category Product news
Does winter driving make you anxious? – Driving tips for the inexperienced
The most challenging driving season is ahead of us, and the arrival of winter makes many of us uneasy about driving. Statistically, inexperienced drivers are many times more likely to have a traffic accident. Even newcomers can enjoy driving when their car and tires are in good condition.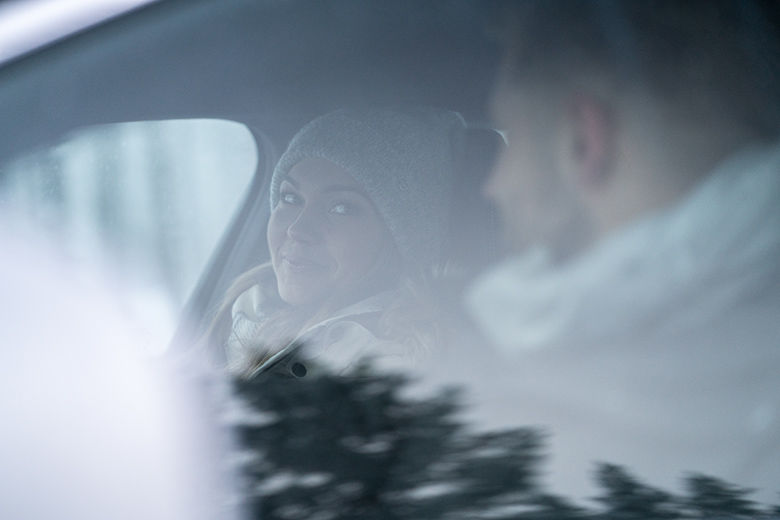 – Winter brings about large weather variations, and friction changes caused by snow and ice may surprise inexperienced drivers. Visibility may be low, and slush and sleet will have a substantial effect on the car's steering and braking distances, says test driver Mika Kuusi from Nokian Tyres. 
Young drivers are considered novices in traffic. There are also many who only drive rarely. Short trips between your home and the shops will not amount to much winter driving experience. 
– People who drive less will often have trouble with challenging routes or weather conditions. Driving in the city center, being stuck in traffic, parking, and having to drive in the dark can all be scary to new drivers, Kuusi explains. 
Car control improves with experience 
According to European Commission, drivers between 16-24 are greatly over-represented in crash and fatality statistics. They face a two to three times higher risk of getting into a car accident than the drivers who are more experienced. Accidents involving young drivers are often caused by loss of control or speeding and are more likely to happen at night.
The car's condition and knowledge of its features have a substantial effect on safety. Young drivers will often have older cars that lack driver-assistance systems and the latest safety equipment. Instead of the family's second car, you should give the young driver a car that is as safe as possible. 
– Even with later-model cars, you need to be aware of how they will behave under extreme conditions. Returning to your own lane after passing a car in the winter is a typical scenario for loss of control, says Martin Dražík, Product Manager for Nokian Tyres Europe.
M. Dražík reminds that even the automatic systems and safety equipment of a large SUV cannot keep the weight on the road if the speed is too high. 
When you rarely drive, well-maintained tires are the safest choice 
In addition to their vehicle, inexperienced drivers should pay special attention to tires. M. Dražík recommends to choose the best model of the newest product line for people who rarely drive. 
– The newest models of tires will always offer better grip and up-to-date innovations will help you to get better feeling of control and safety when driving on very slippery roads. The new tires are in good condition, nevertheless you should check the tread depth regularly. It is also important to maintain correct inflation pressure, Martin Dražík reminds us. 
Martin Dražík and Mika Kuusi, who have had long careers concerning cars and tires, want to encourage timid drivers:  
– Especially in the winter, you can – and should – preferably be extra careful in traffic. The only way to learn to drive is to drive. 
Drive bravely! – Tips for inexperienced drivers: 
 You can only achieve the necessary courage by practicing. Empty parking lots, for example, allow you to test your vehicle in different scenarios. You can also enroll in courses at a driving school even if you already have your license. 
 You should regularly practice driving on slippery surfaces in order to know how your car will behave in a slide. Tracks made on icy lakes are optimal for this purpose, for example. If necessary, you can also visit special training tracks. However, they are very often too slippery and do not offer the same feel as real snow and ice. 
 Calm steering is key. Instead of panicking, slamming on the brakes and locking your shoulders, you should keep an eye out for possible places to swerve toward and try to maintain control even in case of surprises. 
 Checking the tire pressure every now and then may feel unimportant, but it can have a major effect when driving under extreme conditions. Cars with incorrect inflation pressure may behave strangely during high-speed evasions, for example. How to check tire pressure.  
These tips were provided by Nokian Tyres' test driver Mika Kuusi and Product Manager of Nokian Tyres Martin Dražík. 
Contacts:
Jaroslav Nálevka, PR manager McCann Prague, 00420 725 865 874, [email protected]
Zuzana Seidl, PR manager Nokian Tyres CE, 00420 603 578 866, [email protected]