Tue June 22 08:00 am 2021 in category Product news
Efficiency and safety for maintenance work in built environment – Nokian Hakkapeliitta TRI tire is made available for utility tractors in popular 65-series sizes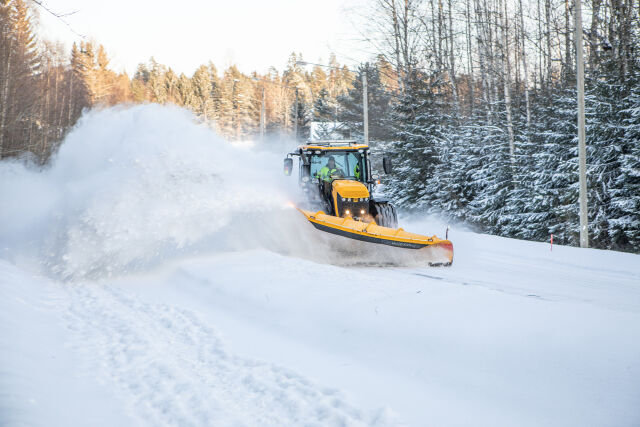 Nokian Hakkapeliitta TRI tire offers the winning combination of all-season efficiency, unsurpassed grip in varying winter conditions and excellent handling on the road. Its versatility and wide size range have made it a popular choice from compact tractors to high-powered machines. Now, with the new 540/65R28 and 650/65R38 tire sizes, the number of available sizes extends to 29.
The seasonal maintenance work in built environment is often very intense and carried out on a tight schedule. Nokian Tyres has made Nokian Hakkapeliitta TRI tractor tire range for this purpose – to tune up the level of efficiency, safety and ergonomics of tractor-based maintenance operations in widely varying conditions.
"As more and more utility tractors are equipped with the wide-profile 65-tires, we wanted to make the excellent properties of our Nokian Hakkapeliitta TRI tractor tire available for every contractor," says Tero Saari, Product Manager at Nokian Tyres. "That's why we have extended the size range further to 65-series in 28" and 38".
Safety, efficiency and control in varying conditions
In built environment, mid-sized utility tractors are the tools of choice for a variety of different maintenance works because of their agility and efficiency. And when the winters are snowy and roads icy, the tires must be first rate.
Nokian Hakkapeliitta TRI tire profile has some unique features with many advantages. The unique way the Nokian Hakkapeliitta TRI tractor tire grips to the driving surface has clear advantages in the maintenance work carried out in built environment. The better power transfer, steering response, directional stability, braking efficiency and high load-bearing capacity reduce stress around the year by making the handling more predictable and driving more comfortable, stable and safer. In addition, the tire's long service life and low rolling resistance help to save costs.
Two new 65-series sizes
In addition to three 65-series tires already in production, the new 540/65R28 and 650/65R38 tire sizes are tailored for utility tractors.
"The powerful utility tractor lends itself to many kinds of work, and with a premium tire it can work even more efficiently", Tero Saari says. "These days, more and more contractors realize how the choice of tires can make a big difference in how smoothly a working day in the tractor's cabin goes."
Further information:
Tero Saari, Product Manager, Nokian Heavy Tyres Ltd
[email protected], tel. +358 10 401 7226
Marketing, Nokian Heavy Tyres
[email protected]
More information and photos:
Photos and press materials: www.nokiantyres.com/hakkapeliittatriPR
Product page: www.nokiantyres.com/hakkapeliittaTRI
Company site: www.nokiantyres.com/heavy