Wed May 31 01:07 pm 2023 in category Articles
Expanding capacity and upgrading supply operations to support Nokian Tyres' growth ambitions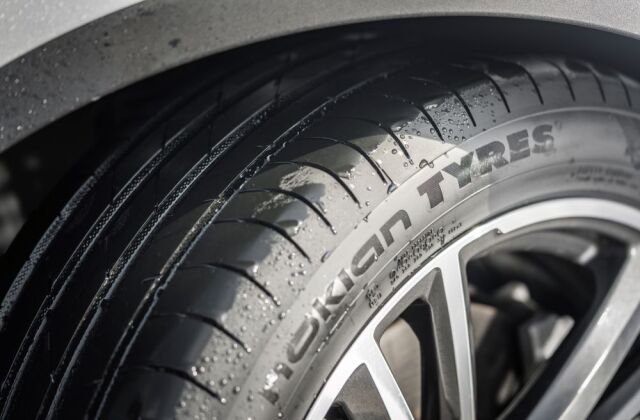 Nokian Tyres organized a Capital Markets Update in April. In the event, Adrian Kaczmarczyk, Senior Vice President of Supply Operations, discussed, among other things, how the company plans to add new capacity and strengthen its supply chain processes.
Nokian Tyres is expanding capacity in its existing factories in Finland and the US, and efforts towards building the new factory in Oradea, Romania, are in full speed. The groundbreaking ceremony in Oradea took place on May 11, 2023, the first tires are planned to be manufactured in the second half of 2024 and commercial production is expected to start in 2025.
Adrian Kaczmarczyk, Senior Vice President of Supply Operations, is confident that the tight timeline will be met.
"We ordered certain machinery already in late 2022 to ensure that machine deliveries with long lead times are secured, and we are also partnering with a recruiting agency to prepare for the hiring process. We have a very proactive risk management process in place, our staffing plans are ready, and we have continuous support from our Nokia and Dayton factories to ensure that we can meet this challenging timeline," Kaczmarczyk describes.
The new factory in Romania is designed for high productivity and automation and has the flexibility to respond to evolving market requirements in the Central European market, such as an increasing demand for EV and SUV tires with larger rim sizes.
"As the world's first zero CO2 emission tire factory, the Oradea factory will be an industry benchmark in sustainability and help us further reduce our carbon footprint in the future. Energy used at the factory will come from renewable sources and steam needed for the tire manufacturing process will be generated fully without fossil fuels."
Nokian Tyres has applied for an investment subsidy for the factory from the Government of Romania.
"Our goal is to receive a subsidy of EUR 99.5 million. We have filed the application, and now it's in the hands of the European Commission and the competition counsels reviewing the case. We expect the final decision within the next six to nine months," says Kaczmarczyk.
Oradea to become the biggest in volumes by 2027
In 2027, Oradea is expected to produce up to 6 million tires and overtake Nokia as the company's biggest factory in production volumes. However, the Finnish factory remains a key location for the Nordic product families and R&D.
"The Nokia factory will continue to be the key supply factory of passenger car tires for the Nordic market and for winter tires in North America. Additionally, Nokia is our main hub for R&D activities and a place where our heavy tires are being manufactured. The expansion options related to the land purchases made last year are currently being reviewed, and we are working on plans to expand the Nokia factory with heavy tires capabilities," Kaczmarczyk states.
"In the US, we will finalize the investments in the Dayton factory by the end of this year. This enables the factory to reach full capacity in 2024 and supports our growth in the North American market."
In addition to Nokian Tyres' own production, the company has signed the first agreements to produce selected passenger car tires through contract manufacturing.
"Contract manufacturing has a role as a virtual factory in our manufacturing footprint, supporting our growth strategy. Depending on the year, we are expecting to get some one to three million tires annually through contract manufacturing. As we are recognized for our tire quality and performance, our partners will adhere to our high quality standards and requirements."
Upgraded supply operations drive greater efficiency
Kaczmarczyk also highlights Nokian Tyres' continuous efforts to improve its supply chain performance. By streamlining processes and improving visibility, the company strives to remain agile and improve reliability throughout the supply chain.
"We are moving the supply chain away from manual activities, which are not connected or digitalized and offer no end-to-end visibility. Replacing old systems and applying state-of-the-art technology help us improve efficiency and enhance the visibility of the supply chain. This will ultimately improve our ability to better serve our customers and improve our cost and cash position," Kaczmarczyk describes.
Adrian Kaczmarczyk's presentation at the Capital Markets Update 2023 can be viewed here.