Thu September 2 10:00 am 2021 in category Product news
Improved efficiency by heavier loads – Nokian CT trailer tire gets even higher load-bearing capacity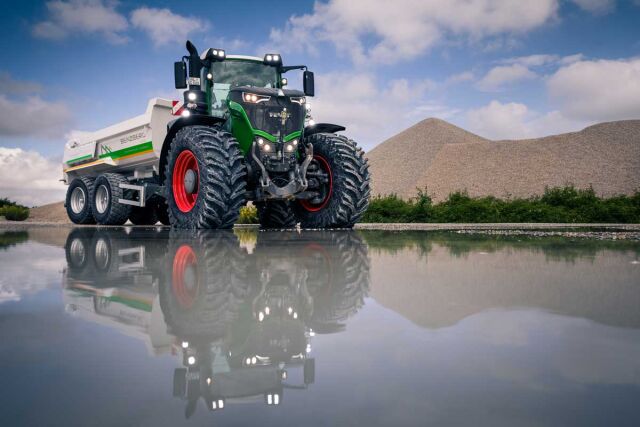 Designed for the heaviest loads and toughest surfaces, the Nokian CT agricultural trailer tire has brought stability, long service life and massive load-bearing capacity to earthmoving and contracting jobs for years. Now the popular 600/55R26.5 size of Nokian CT gets an update that enables even bigger loads and higher operating pressures – resulting in even better operational efficiency.
Agricultural, municipal and earthmoving contractors face the same demands for efficiency as every other industry. Bigger, more powerful tractors can pull ever bigger tipping trailers with heavier load on one go, manage faster road transits – and get more done in the same amount of time.
"The Nokian CT trailer tire was created in response to this need for strong, yet comfortable tire", says Tero Saari, Product Manager at Nokian Tyres. "We had to come up with something new that could handle the heavy loads while being economical to use with a long service life."
The challenger arrives
Nokian Tyres has been a forerunner of agricultural flotation tires for many years. The Nokian CT trailer tire, with its extremely wear and damage resistant earthmoving-grade radial structure and thick pattern, large contact area and extra high-strength construction is the peak of this tire know-how.
"Released in 2014, the Nokian CT is still among the sturdiest, most stable trailer tires in the world", Tero Saari says. "What's more, its rubber compound proved to be so tough that even we were surprised by the long service life of the first production samples," he grins.
Today, the Nokian CT trailer tire enjoys global popularity thanks to its versatility.
"We didn't want to narrow down its use too much", Tero Saari says. "In the real world, the same tire may be used for earthmoving, farming and many other uses – and Nokian CT trailer tire has proven its worth in all of these, making it a popular OEM tire for trailer manufacturers."
The best just got better¨
To further improve the versatility of the Nokian CT tire, Nokian Tyres has developed the popular 600/55R26.5 size even further.
"Under maximum operating pressure, the new version can carry up to 6.5 tons on the top speed of 65 km/h", Tero Saari says. "On 50 km/h the load capacity is already 7.9 tons. This means that in a tandem axle configuration you may be able to carry up to two cubic meters more soil or sand, for example."
Replacing the old version, the new 600/55R26.5 Nokian CT tire will make daily work even more productive for trailer users – demonstrating how tire technology can unlock the full machine potential.
"The ability to move high loads safely, comfortably and economically is what Nokian CT trailer tire is all about", Saari sums it up. "This update takes care of that in the future as well."
Further information:
Tero Saari, Product Manager, Nokian Heavy Tyres Ltd
[email protected], tel. +358 10 401 7226 
Marketing, Nokian Heavy Tyres
[email protected]
More information and photos:
Photos and press materials: www.nokiantyres.com/ctPR
Product page: www.nokiantyres.com/CT
Company site: www.nokiantyres.com/heavy