Tue January 17 12:00 pm 2023 in category Product news
Long-lasting front tire for reach stackers – the smooth, extra-deep tread of the new Nokian Tyres HTS G2 L-5S harbor tire offers hard-wearing safety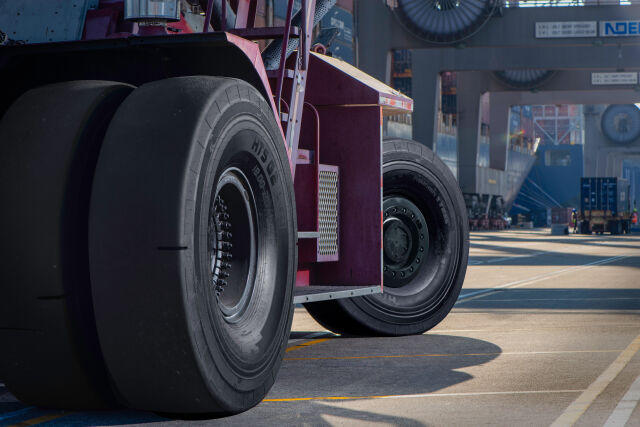 In a busy terminal, tire stability and long service life are key factors in making the work safe and efficient for reach stackers, forklifts and log stackers. The Nokian Tyres HTS G2 harbor tire family has been developed for this purpose, and its excellent stability, good grip and predictable service life has been impressing users for years. Now the HTS G2 family has a new member: Nokian Tyres HTS G2 L-5S, a new tire developed for reach stacker front axle use.
In a container terminal, the last thing you need is downtime. You want to keep the goods moving – reliably, predictably and economically. The new Nokian Tyres HTS G2 L-5S reach stacker front axle tire in the size 18.00-25 is made for long, busy working days on grinding tarmac or concrete.  
"In a heavy reach stacker front tire use, the smooth, extra-deep slow-wearing tread lasts up to 35% longer than our previous comparable tire – depending on your location and application", says Kimmo Kekki, Product Manager at Nokian Tyres. "Add the stable, steady handling, high load-bearing capacity, and excellent puncture resistance to the package, and you have a real efficiency booster in your hands!"  
Advanced tire engineering 
The whole Nokian Tyres HTS G2 series of port and terminal tires has been designed specifically for high stability and load-bearing capacity in mind.  
 "Particular attention has been paid to the tire flexing area, which benefits from our special shock-absorbing rubber compound used in the tire carcass", says Kimmo Kekki. "All Nokian Tyres HTS G2 tires use bias tire technology that has now been further developed for the benefit of the new tire."
Optimized cost per hour 
The Nokian Tyres HTS G2 L-5S is designed specifically for front axle use. This enables even thicker tread than the previous L-4S models, resulting in a longer service life. The rubber compound that has already proven its value in previous models both wears slowly and resists puncture damage, preventing unexpected downtime.  
"It all comes down to the cost per hour", Kimmo Kekki says. "Longer tire life means lower cost of ownership, which helps to keep the operation competitive."  
Safety and sustainability 
In addition to optimized cost per hour, premium harbor tires with excellent handling properties can improve working safety and the sustainability of the entire operation.  
"The longer the tire tread lasts, the more efficiently the entire tire will be utilized resulting in less waste", says Kimmo Kekki. "What's more, the entire Nokian Tyres manufacturing process is optimized for efficient use of energy and materials." 
Designed and made in Finland
All tires by Nokian Tyres are the result of Finnish innovation, research, and product development, and all Nokian Tyres harbor tires are designed and manufactured at our plant in Nokia, Finland.
All Nokian Heavy Tyres heavy-duty tires and wheels carry the 'Design From Finland' and 'Key Flag' symbols granted by the Association for Finnish Work. These symbols demonstrate that the products are designed and made in Finland.
Availability
The new Nokian Tyres HTS G2 L-5S tire will be available from January 17, 2023.
More information:
Kimmo Kekki, Product Manager, Nokian Heavy Tyres Ltd
[email protected], tel. +358 10 401 7254  
Marketing, Nokian Heavy Tyres 
[email protected]  
Product information, photos & press materials                        
Photos and press materials: www.nokiantyres.com/htsg2l5sPR
Product page: www.nokiantyres.com/htsg2l5s
Company site: www.nokiantyres.com/heavy