Tue June 5 10:57 am 2018 in category Company news
New Nokian HTS G2 models released at TOC Europe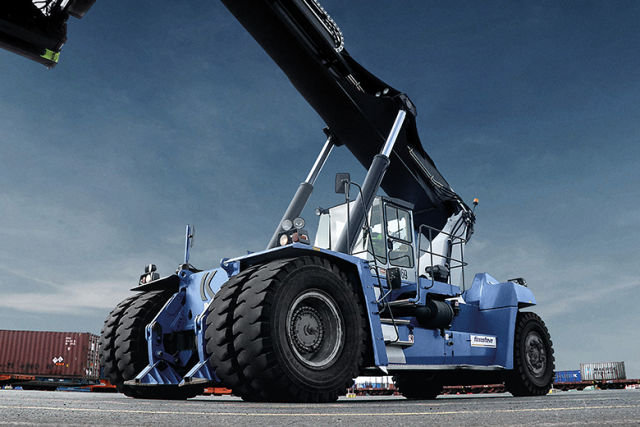 Held in Rotterdam, Netherlands, TOC Europe is an event that brings together all the different stakeholders of the container supply chain to learn and discuss – and showcase the latest in port technology. Keeping the goods moving relies heavily on quality tyres, so naturally Nokian Tyres is present with the latest additions to our product line.
New sizes for our latest model
Nokian HTS G2 is the improved new generation of the Nokian HTS harbour tyres. Both slick (Nokian HTS G2 L-4S) and patterned (Nokian HTS G2 E-4) variations bring stability, handling precision and load-bearing capacity for reach stackers, fork lifts and log stackers. To complement the line, both variations are now available also in size 18.00-33.
New models for reach stackers
The Nokian HTS G2 product family now has two new members designed specifically for reach stackers. As the working environment requires good tyre stability, Nokian Tyres has introduced a new carcass material for Nokian HTS G2 with engineering focus on stability on flexing area. This enables improved machine response and safety during operation. New tyre pattern is designed for increased service life as deeper tread enables improved wear resistance and solid center enhances puncture resistance properties.
The best choice for terminal tractors
Nokian HTS Tugger is the first tyre designed especially for terminal tractors. With its low profile, precise handling and massive load-bearing capacity, it suits perfectly for crowded, busy harbours with limited vertical space.
See you at TOC Europe
Nokian Tyres is present at the booth D3. Come by and see how the world leader in special tyres pushes the technology forward to keep the goods moving safer, faster and more economically!
Read more: 
Nokian HTS G2 
Nokian HTS G2 L-4S 
Sign in to TOC Europe