Thu August 8 07:00 am 2019 in category Company news
New possibilities for earthmoving tires – Nokian Tyres presents new products for more efficient contracting work at Maxpo fair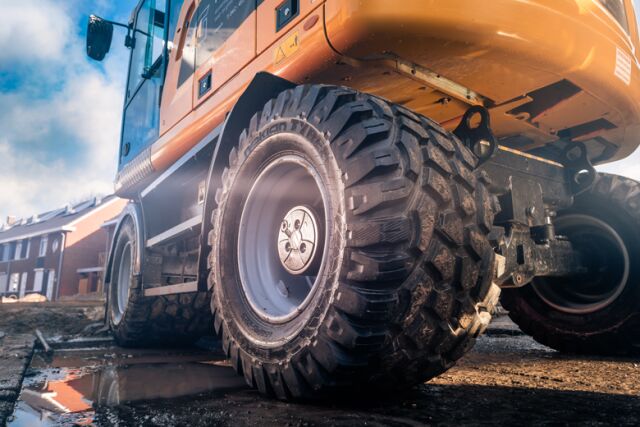 Maxpo, the largest exhibition of land construction and environmental maintenance machines in Finland, will bring everyone in the industry to Hyvinkää airport starting from September 5. Nokian Tyres will be presenting new products and tire sizes for every aspect of versatile contracting work – from excavators to trucks.
The development of contracting work presents new demands for the tires as well. Heavier, more efficient machines call for high load-bearing capacity and durability while the damage to the soil should be minimized. The smart choice of tires will indeed improve efficiency, economy, and sustainability of almost any job.
"Nokian Tyres is investing in product development that meets the true user needs", says Tuomas Färlin, OTR business line director at Nokian Tyres. "One clear trend is the need for versatility – both in terms of different contracting sites as well as changing seasons."
At Maxpo, Nokian Tyres will present the theme of versatility with the new tires that lend themselves to a variety of different machines and conditions. Below we highlight some of the new products that can be experienced at our booth:
New tire for excavators and backhoe loaders
The new, block-patterned Nokian Ground Kare is an excavator and backhoe loader tire that offers good traction on soft surfaces, low surface pressure for minimal damage to the soil as well as excellent stability and on road properties. The good load-bearing capacity enables its use on the heaviest of machinery and auxiliary equipment. The Nokian Ground Kare tire is also available as a special semi-slick version for railway use.
New sizes, new possibilities
Nokian Hakkapeliitta Loader and Nokian Hakkapeliitta TRI tires represent the most flexible choice for all-season contracting. With the new sizes available, even more machines can benefit from the modern tire technology:
Nokian Hakkapeliitta Loader is a wheel loader tire optimized for the best winter grip and long service life – also on summertime and on rough surfaces. Originally the tire has been available in sizes 17.5R25, 20.5R25 and 23.5R25, but since the beginning of 2019 there has also been a size 14.00R24 specifically made for road graders. This allows road maintenance in demanding conditions to benefit from the new grip and durability as well.
Nokian Hakkapeliitta TRI tire has features aimed at making the snow removal from streets and residential areas as well as other winter contracting more efficient – without compromising the functionality in other seasons. During its production, the range of tire sizes has grown to cover many compact machines and loaders in addition to tractors and backhoe loaders. The latest sizes available are 340/80R18, 400/60R18, 360/80R20, 400/70R20, 460/70R24, 500/70R24, 540/70R24 and 600/70R34.
From earthmoving sites to highways
Nokian R-Truck range of tires has been designed with the challenges of on and off-road use in mind. The range has a tire for every axle position, and they all work well both on the highway use as well as on rocky earthmoving sites and muddy forest roads. From the summer of 2019 on, the trailer tire Nokian R-Truck Trailer has been available in the new sizes 265/70R19.5 and 275/70R22.5 for demanding on and off-road use on heavy timber trailers. They also work well in other trailer use that calls for good grip and self-cleaning properties.
See you at Hyvinkää! STAND A150
The Maxpo event offers a comprehensive overview of the Finnish land construction and environmental maintenance machinery and companies. That's why Nokian Tyres is proud to be present, demonstrating how the tires can create new contracting opportunities.
"The machinery, work management and the whole process are moving towards better safety, efficiency and sustainability", Färlin points out. "The right tires speed up this development and bring peace of mind to each working day."
More information:
Images and press material:
Product pages:
Technical manual: www.nokiantyres.com/heavytiremanual
Toni Silfverberg, Head of Sales & Marketing, Nokian Heavy Tyres Ltd
toni.silfverberg(at)nokiantyres.com, tel. +358 10 401 7854
Tuomas Färlin, Business Line Director OTR, Nokian Heavy Tyres Ltd
tuomas.farlin(at)nokiantyres.com, tel. +358 50 317 4095