Thu February 20 10:00 am 2020 in category Product news
New sizes, new possibilities – Nokian Tractor King family expands with a new tire size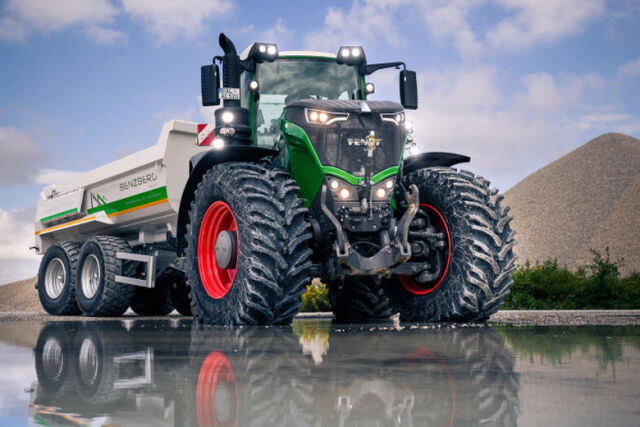 Nokian Heavy Tyres, Nokia, Finland, 20 February 2020 – When the terrain is harsh but even the most challenging work needs to be done, equipment with an outstanding quality come in need. Featuring radical new thinking in tractor tire technology, the no-compromise Nokian Tractor King tire is designed for the heaviest of machinery and the most difficult terrain in forestry, earthmoving and road maintenance. Now the Nokian Tractor King tire family expands its potential even further with a new tire size. 
In 2018, Nokian Tyres launched a whole new type of tractor tire. Combining the strength of an earthmoving tire with a new kind of lug pattern, the versatile Nokian Tractor King tire pushed the boundaries of tractor work in demanding forestry, earthmoving and road maintenance applications. In 2019 eight new tire sizes were launched, and from April 2020 onwards a brand-new size takes the revolution even further.
Constant improvement
"The continuous developing and improving of our innovations is extremely important for us", says Teemu Vainionpää, Product Manager at Nokian Tyres. He emphasizes that the whole design of Nokian Tractor King tire – from its all-new tread pattern to fortified carcass – is nothing short of revolutionary. "And we want to spread that revolution, of course. That's why it's essential to make Nokian Tractor King tire available for a wide range of machines", he adds.
The heavyweight
With the increase in machine weights, horsepower and road speeds comes the need for a tractor tire that can make a difference. Nokian Tractor King is brimming with innovation, challenging users to push the limits of tractor work. With the high load capacity of 320 kPa, Nokian Tractor King tire also supports the use of heavy tractor accessories.
Hear it from the user
"There is more contact area due to the wide tread. At the same time the double lug provides more tractive edges", says Christof Wiederstein who works in logging and forestry in Hergenroth, Germany. "The tire works perfectly in muddy conditions and provides top-class traction and lateral grip – even on slippery rocks."
15 different sizes
In 2018, Nokian Tractor King tire was first made available in seven sizes:
540/65R28
540/70R30
600/65R34
600/70R34
650/65R38
650/75R38
710/75R42.
To make the tire compatible with even wider range of machinery, eight new sizes were launched in the beginning of 2019:
500/65R28
600/60R28
540/65R30
600/70R30
620/75R30
600/65R38
650/85R38
710/70R42.
Now the range of machinery is developed even further, as from April 2020 there will be a new size: 650/65R42
More information and photos:
Photos and press materials: www.nokiantyres.com/tractorkingPR
Product site: www.nokiantyres.com/tractorking
Company website: www.nokiantyres.com/heavy

Further information:
Toni Silfverberg, Head of Sales & Marketing, Nokian Heavy Tyres Ltd
[email protected], tel. +358 10 401 7854
Teemu Vainionpää, Product Manager, Forestry, Nokian Heavy Tyres Ltd
[email protected], tel. +358 10 401 7175