Thu February 9 07:17 am 2017 in category Company news
New steer-axle winter tyre from the inventor of winter tyres: Nokian Heavy Tyres launches new Nokian Hakkapeliitta Truck F2 steer-axle tyre for trucks and busses – designed for a reason
The new Nokian Hakkapeliitta Truck F2 has completely refined new design and more aggressive tread pattern for maximum grip. Focus of the development has been making the already excellent Nokian Hakkapeliitta Truck F even better. The new F2 model supersedes the F and provides that additional grip and feel just when that extra couple percentage makes all the difference. The tyre is best suitable for both long-haul and regional applications.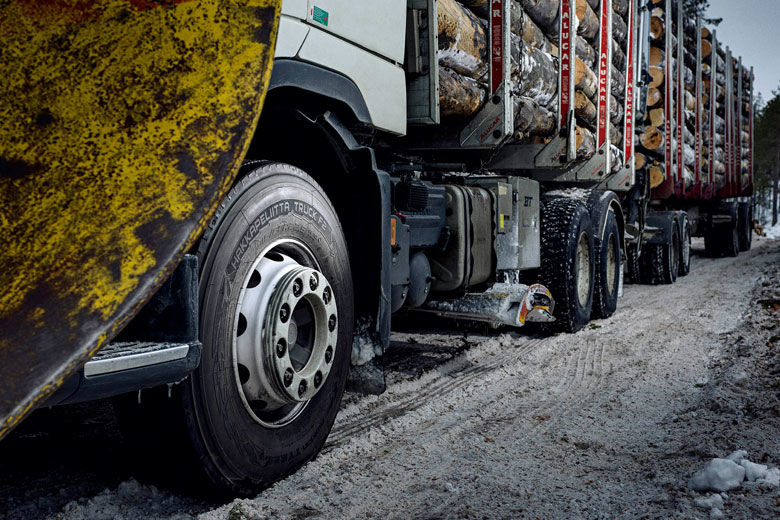 Hakkapeliitta Truck F2 has many new innovations. New type of Spiral Sipe System gives the tyre excellent grip even when worn. Tread grooves have wide zig-zag shape which makes the self-cleaning more efficient and gives extra grip on snow with more edges. Further developed groove design with larger and more intelligent stone ejectors protects the carcass from penetrating stones. The F2 has new shoulder area design which improves the handling and mobility when driving in deep snow conditions. Hakkapeliitta Truck F2 can also be studded for more grip and it has prepositioned stud arrangement to make the studding easier. F2 is also equipped now with modern and unique sidewall design.
By clever design of block siping the heel/toe wear has been minimized. The F2 also has low rolling resistance and low driving noise level.
Nokian Hakkapeliitta Truck F2 product range consists sizes 385/65R22.5, 315/80R22.5, 315/70R22.5 and 295/80R22.5. Product range will be available for winter tyre season in autumn of 2017.
"The new F2 has a really good feel on the edge of the road near the ditch, where the snow is packed", describes Petri Pasanen, timber truck driver from Ivalo, Finland. "The tyre is excellent in deep snow and cuts nicely through the snow surface, which is important on bad roads." But not all Nokian Hakkapeliitta Truck F2 features are for narrow forest roads. "It has a good grip on fast highways, too", Petri says, smiling.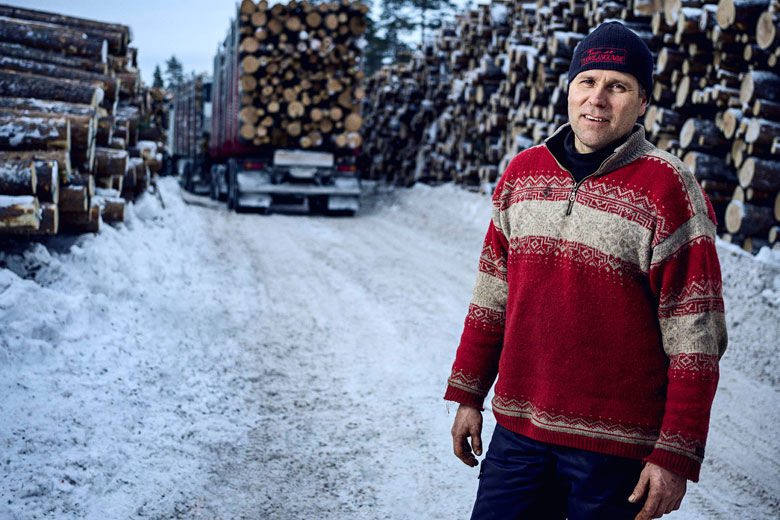 Driving Safety Indicator for improved winter safety
As before, the tread contains the Driving Safety Indicator (DSI) patented by Nokian Tyres. The numbers on the centre surface of the tyre indicate how much of the main groove depth remains on the tread. The snowflake symbol or Winter Safety Indicator (WSI) remains visible to a groove depth of eight millimetres. Once the snowflake has worn out, we recommend purchasing new winter tyres in order to ensure sufficient safety.
Main innovations:
Spiral Sipe System
Hakkapeliitta Truck F2 features refined siping system in tread blocks. This Spiral Sipe System means enhanced grip level will be available even with worn tyre.
New zig-zag grooves
Self-cleaning of the tyre is important when operating in hard conditions. Open design and wide groove improve cleaning effect. At the same time wide grooves allow more gripping edges to be in contact with driving surface.
New groove design and stone ejectors
To prevent effectively stones from penetrating the tyre tread groove bottom Hakkapeliitta Truck F2 features new and improved design for stone ejectors. Now the stone ejectors are larger and protect more effectively the groove bottom.
New shoulder shape
Shoulder shape is important especially for winter tyre which is made to operate in snow conditions. F2 introduces new shoulder area design which makes the tyre cut through the snow easier while at the same time giving instant feedback to the driver about the road conditions.
Unique sidewall design
The development of Nokian Hakkapeliitta Truck F2 is fully Finnish origin. The F2 includes unique sidewall design which represents nicely Finland's 100-year independence anniversary in 2017.
More information: www.nokiantyres.com/hakkapeliittatruckf2
Further information:
Toni Silfverberg, Head of Sales & Marketing, Nokian Heavy Tyres Ltd
[email protected], tel. +358 10 401 7854
Teppo Siltanen, Product Manager, Nokian Heavy Tyres Ltd
[email protected], tel. +358 10 401 7709