Nokian Heavy Tyres introduces four new CT sizes to handle even the heaviest agricultural loads efficiently and safely
Nokian Heavy Tyres has launched four new tyre sizes in its CT tyre range. CT trailer tyres are designed for extremely heavy loads and the most demanding agricultural and contracting tasks. CT tyres are suitable for a versatile range of uses, high loads and uneven surfaces. They are also among the leading tyres on the market in terms of durability, puncture resistance and low noise levels.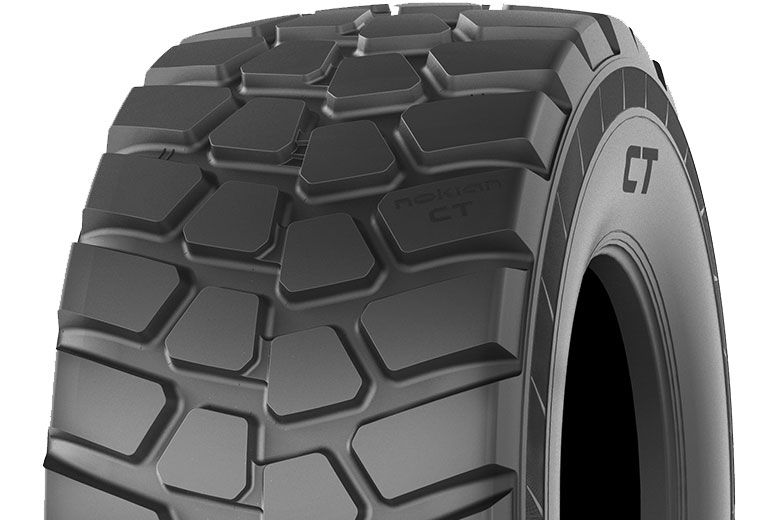 The 650/55R26.5 CT tyre has been highly rated among customers since it was introduced at the Agritechnica exhibition three years ago, and now the CT tyre range is being expanded with four new tyre sizes.
"The size of agricultural loads that are being transported these days is really big, both on fields and on the road. In addition to agricultural tasks, customers often perform a wide range of contracting tasks. Traditional agricultural tyres may not be suitable for such extreme use, or it may not be economical to use them due to their fast rate of wear and susceptibility to punctures. This is why we developed our CT range of tyres," says Project Manager Tero Saari.
Long lasting
One of the advantages of CT tyres is their durability. The tread surface is 22 to 27 millimetres, which is 5 to 29 percent more than the corresponding tyres of competitors. The thicker tread surface combined with the durable rubber compound extends the life of the tyre.
CT tyres have three steel belts under the tread compared to the usual two, which increases load capacity, improves stability and helps prevent punctures. The strong structure of CT tyres allows them to carry much higher loads than ordinary tyres, even over rocky terrain.
The contact area of CT tyres on hard surfaces is more than 10 percent greater than similar competitor tyres on the market, which means less soil compaction and greater stability, for example when unloading trailers. The greater contact area and solid structure also enhances comfort and safety on roads, where heavy slurry trailers and earthmoving trailers are subject to extreme lateral loads when cornering. The increased contact area also means that the tractor with same horsepower can be used to pull even heavier loads.
The tread pattern features an asymmetric block array that reduces noise levels considerably. In addition, the tread pattern has been designed for very good self-cleaning as it prevents rocks and soil from accumulating between the grooves.
"We wanted to design a tyre for farmers and contractors that is as reliable and long lasting as possible, making it also the most economical choice. In addition, we wanted to make the tyre as versatile as possible, as our customers are often engaged in a wide range of different tasks, from farming to earthmoving and everything in between," Saari adds.
"Nokian CT has proven to be a superior tyre"
Serge Contat is head of the company S.E.T.A.R. Bibollet, which is engaged in farming and contracting in the French Alps with a fleet of 15 tractors. The region is mountainous and the soil has a lot of limestone, which can puncture tyres easily. The tractors are used to pull heavy loads of feed, grains and manure.
"Nokian CT tyres are extremely stable, even with the heaviest loads. Despite the hard conditions and limestone filled soilhere, we haven't had a single puncture with our CT tyres. Lateral grip is also extremely important when loading here in the Alps, and the Nokian CT has proven to be a superior tyre in this regard too," Contat confirms.
Nokian CT tyres:
New sizes (available as of January 2017):
560/60R22.5
600/50R22.5
600/55R26.5
600/60R30.5
Original tyre size: 650/55R26.5
Nokian Heavy Tyres Ltd.
More information:
Jiri Kozich 
Product Manager – TRI and Agricultural Tyres
Tel. +420 773 673 348  
[email protected]
Nokian Flotation Tyres www.nokiantyres.com/flotation
Facebook: www.facebook.com/nokianheavytyres 
Twitter: https://www.linkedin.com/company/nokian-tyres-plc 
YouTube: https://www.linkedin.com/company/nokian-tyres-plc 
LinkedIn: https://www.linkedin.com/company/nokian-tyres-plc
Nokian Heavy Tyres homepage
www.nokiantyres.com/heavy