Mon June 2 08:27 am 2014 in category Product news
Nokian Noktop 86 – Stable reliability for demanding off-road conditions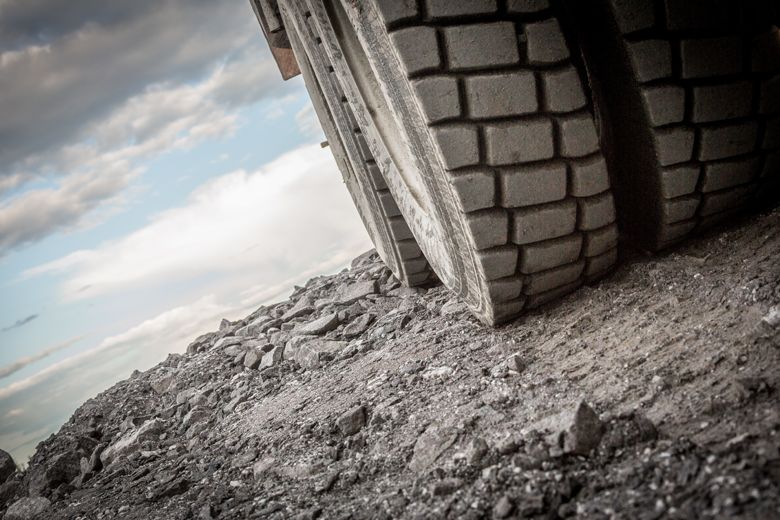 The Nokian Noktop 86 offers stable reliability for demanding earthmoving applications. Nokian Heavy Tyres is now introducing wider selection for this product that works reliably even under difficult conditions. Nokian Noktop 86 now covers tyre sizes 315/80R22.5 and 13R22.5.
Due to the special rubber compound developed by Nokian Heavy Tyres, the Nokian Noktop 86 provides excellent puncture and cut protection under demanding conditions in mines and excavation sites, where quarried rock presents an ever-challenging working environment.
"The world of mining, for example, places heavy demands on tyres, since the routes are difficult to move in. Avoiding obstacles is not always possible in the narrow tunnels. The Nokian Noktop 86 is especially designed for challenging work locations", says Teppo Siltanen, Product Manager for Truck Tyres at Nokian Heavy Tyres.
Nokian Heavy Tyres is one of the world's leading manufacturers of special tyres, and it provides expertise and understanding concerning the requirements of mining conditions. This expertise has now been put to use in the design of the Nokian Noktop 86. The tread is designed for short transfers, and in particular for off-road use on special vehicles. The large-block tread pattern and wide grooves ensure good cleaning and grip properties.
Nokian Noktop treads provide durability and grip
Nokian Heavy Tyres is the largest manufacturer of retreading materials in the Nordic countries. The Nokian Noktop range of retreading materials is designed for demanding conditions, and its product development is guided by the unique winter expertise of the world's northernmost tyre factory and the principle of sustainable safety. Nokian Noktop products are carefully researched and tested. As a result, our retreading materials provide excellent grip and low rolling resistance, while saving fuel and being highly resistant to wear.
Pictures: www.nokiantyres.com/nokiannoktop86
Further information:
Nokian Heavy Tyres Ltd. Product Manager, Truck Tyres Teppo Siltanen tel. +358 10 401 7709 teppo.siltanen(at)nokiantyres.com
Key Account Manager, Truck Tyres Ari Maunula tel. +358 10 401 7521 ari.maunula(at)nokiantyres.com