Nokian Tyres exhibits at the "Reifen 2016" trade fair in Essen
Nokian Tyres prepared a unique display in the style of an arctic landscape. The newest products will be presented in an environment of ice, bright and spectacular aurora borealis.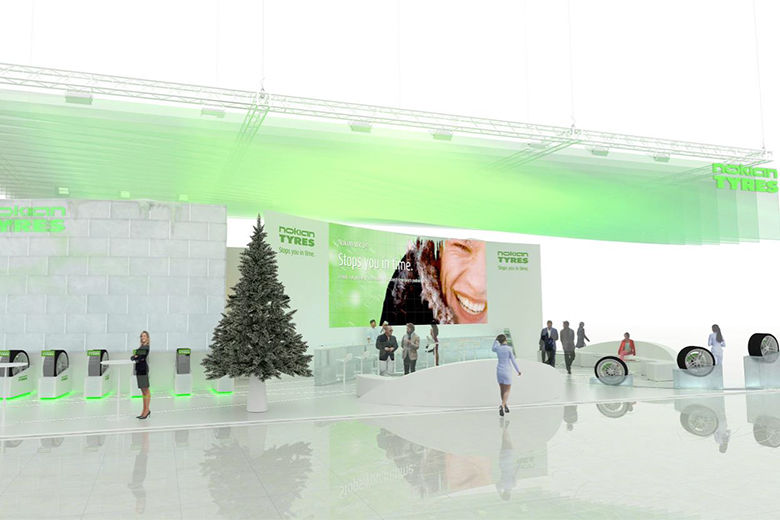 Nokian Tyres, the Finnish manufacturer of premium tyres, will exhibit its latest products and technologies at the upcoming "REIFEN 2016" trade fair in Essen, Germany. The company will display its latest technologies and innovations, such as for example the SUV tyres with sidewalls made of aramid fibres or the AA-rated advanced tyres. Visitors will experience a unique display in the style of a landscape behind the Arctic Circle. The newest products by the northernmost tyre manufacturer in the world will be presented to visitors surrounded by pure ice, bright white banks of snow and a spectacular aurora borealis.
"We are looking forward to welcome all visitors and hope they will join us at this unique event, which takes place only once every two years, " says Hannu Liitsola, Managing Director of Nokian Tyres for Central Europe.
"We have prepared this unusual experience for visitors not only to stress out the fact that we are a premium manufacturer from North, but also to express our love to state-of-the-art technologies and design."
The REIFEN Essen trade fair is one of the biggest international events in Germany. Nearly 200 exhibitors from 44 countries will take part in this year's show. Nokian Tyres will present their products in the spirit of a Finnish landscape full of snow and ice in hall number 3, at stand number 3B38.
In spite of the ice concept of the stand, Nokian Tyres has prepared a full portfolio of its winter and summer line-up, including new Nokian WR A4 for sporty cars, the world's first AA class winter tyre Nokian WR SUV 3 (265/50 R19) and Nokian iLine summer tyre. The modern technologies and procedures used during the development and manufacture of the tyres are also reflected in the display area. It is dominated by an enormous 30m2 LED screen and the aurora borealis, which is reflected onto special moving ceiling panels. All visitors may also spend time with company representatives at the ice bar.
Photos for press use are available at www.nokiantyres.com/Essen2016
About Nokian Tyres plc
Nokian Tyres plc was founded in 1988 and the company's roots go back all the way to 1898, when Suomen Gummitehdas Oy, or Finnish Rubber Factory, was established. The company is the world's northernmost tyre manufacturer. It promotes and facilitates safe driving in demanding conditions. Innovative tyres for passenger cars, trucks, and heavy machinery are mainly marketed in areas with snow, forests and challenging driving conditions caused by varying seasons.
In 2015, the company's net sales were approximately EUR 1.4 billion, and it employed 4,400 people at the end of year. Nokian Tyres' stock is listed on the Nasdaq Helsinki. Production plants are located in Finland and Russia. At the headquarters in Nokia, Finland, centralized product development is carried out and prototypes and test runs are completed. The Nokia factory manufactures car tyres, heavy-duty tyres, and retreading materials for truck tyres. All products are developed with the goals of sustainable safety and environmental friendliness throughout the product's entire life cycle. For more details about company history, please visit: www.nokiantyres.com/company/about-us/history/
Innovations to improve safety
The success of Nokian tyres stems from a thorough understanding of the Nordic conditions complemented by innovation – a continuum of ideas harnessed to improve safety, durability and environmental friendliness. The results of company work are tested in conditions in which only the toughest can make it. In 1934, the company presented the first winter tyre in the world and since that, the Nokian Hakkapeliitta tyre represents the pinnacle of safe driving. In 2013, the company set the world speed record on ice at 335.713 kilometres per hour, achieved on car with Nokian Hakkapeliitta 8 studded tyres. The new Nordic non-studded Nokian Hakkapeliitta R2 winter tyre is the most energy efficient winter tyre model in the automotive industry. The company also offers special SUV tyres with Aramid Sidewall technology that reinforces the sidewalls to even better withstand impacts and cuts. In 2014, the company introduced the concept of tyres with retractable studs. The Nokian WR SUV 3 (265/50 R19) is the world's first AA class winter tyre. The Nokian WR D4 offers wet grip in the EU tyre label's best A class. For more information, please visit: www.nokiantyres.com/innovation/research-and-development/
Contact
For more information, please contact:
Hannu Liitsola, Managing Director CE, +420 605 236 440, [email protected]
Lukáš Líbal, Marketing Director CE, +420 222 507[email protected]
 759,
Further information:
Nokian Tyres' summer tyres
www.nokiantyres.com/tyres/passenger-car/summer-tyres/
Nokian Tyres' winter tyres
www.nokiantyres.com/tyres/passenger-car/winter-tyres/
Top AA category - Unique new winter products
www.nokiantyres.com/innovation/research-and-development/top-aa-category/
Nokian Tyres Aramid Sidewall Technology 
www.nokiantyres.com/innovation/innovations/nokian-tyres-aramid-sidewall-technology-winter/
Nokian Tyres – world's northernmost tyre manufacturer and the inventor of the winter tyre www.nokiantyres.com/company/about-us/
More information:
www.twitter.com/NokianTyresCom 
www.youtube.com/NokianTyresCom 
www.facebook.com/nokiantyres 
www.linkedin.com/company/nokian-tyres-plc