Tue June 13 10:33 pm 2023 in category Company news
Nokian Tyres participates in Euroforest exhibition in Bourgogne-Franche-Comté 22.–24. June 2023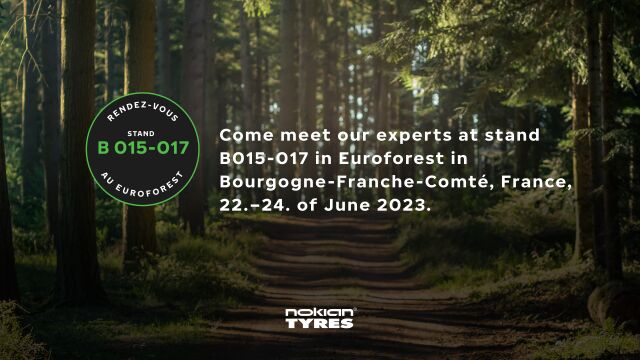 For devoted forestry workers, a three-day-gathering in Bourgogne-Franche-Comté, France, is a perfect opportunity to learn about the latest products and upgrade one's vehicle. Nokian Tyres works close to forestry workers, offering expert consultation as well as the best possible tires and wheels to make timber harvesting and transport safe, efficient and sustainable.
In the dense European forests, the tires must overcome many obstacles. They must be well-guarded against puncture damage from sharp rocks and offer traction and grip to make daily work efficient.   Working on demanding forest conditions it is essential for tires and wheels to work as one component to conquer challenges faced.    
In the upcoming Euroforest expo, the stand B015-017 is the place to be when in search of both all-round and highly specialized premium forestry tires as well as wheels in Nokian Tyres selection. 
From light tractors to heaviest machinery
At Euroforest, Nokian Tyres will be presenting its wide range of forestry tires. For light and medium weight tractors we present Nokian Tyres TR Forest 2. TR Forest 2 is well-protected against stones, branches and tree stumps with stability of a cross ply structure. It offers great reliability for forestry work made with tractors.
Nokian Tyres Forest King TRS 2 is traction pattern tire for most forwarders and harvesters. Its sturdy cross ply structure with steel fortification enables demanding forest operation. Its tractive tread design makes it an optimum choice for conditions where the use of tracks is limited or even prohibited. 
Nokian Tyres Forest King F2 has the same kind of puncture resistant steel-fortified cross ply structure than Forest King TRS 2, but with a tread specially designed for excellent performance when working with tracks or chains. By optimizing the connection between the track and tire it offers optimal support and grip. 
For 6-wheeled forwarders and harvesters, Nokian Tyres Forest King TRS 2+ is your tire of choice. Its range includes alternatives in 34" wheel size to cover sizes used in the single axle of a 6-wheel forest machine. They offer durability, traction and improved performance with wheel tracks, making them a premium choice for heavy forestry machinery. 
Versatile kings for tractors
At the stand we present our Nokian Tyres Tractor King which is the strongest radial tractor tire in the market for high-horsepower tractors. Strong radial structure together with forest-class tread rubber makes this tire suitable for mixed use from earth moving to forestry. All this combined with revolutionary tread design gives you smooth and comfortable drive and durability for high-speed road transitions. 
Nokian Tyres Ground King is a tire best suited for mixed agricultural work. It is a crossover tire, combining the best features of lug and block patterns. Its innovative design makes working on the field a breeze and transitions to the road seamless. Nokian Tyres Ground King also has a high load-bearing capacity that allows the use of heavy work implements. 
We at Nokian Tyres are with you where the job is done. And we welcome you to find tires that best suit your forestry work. Come meet our experts at stand B015-017 in Euroforest in Bourgogne-Franche-Comté, France, 22.–24. of June 2023.