Wed May 30 12:20 pm 2018 in category Company news
Nokian Tyres reinvents its Dealer Services
Nokian Tyres is taking its digital services to the next level by launching a reinvented service for its business-to-business customers. Nokian Tyres Dealer Services provides its customers the essentials for everyday tyre business, from tools for sales and order management to personal service and business insights.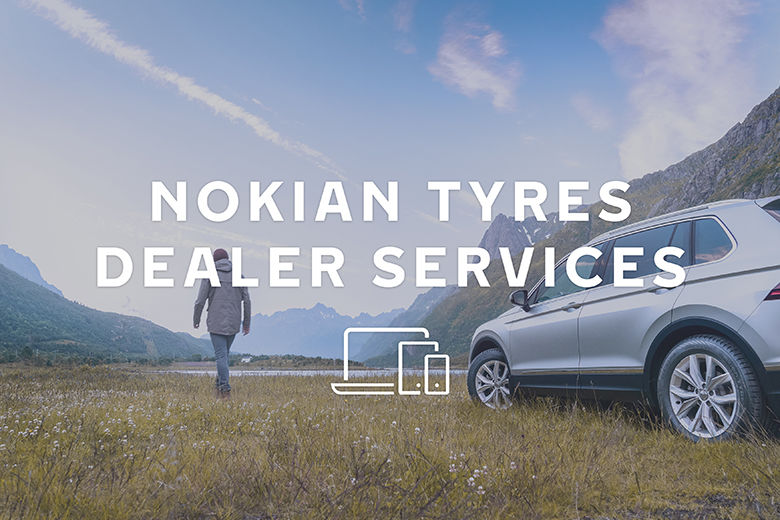 Digitalization is changing the business. The trend has been visible especially in sales; transparency has increased and the customers are becoming more conscious of the products. To answer the digital service needs of today, instead of launching a pure web shop, Nokian Tyres decided to go for a more comprehensive digital service focusing on availability and ease of use.
"Our customers are also consumers, who are used to using amazing digital services every day. There is a need for that channel for B2B customers as well. We offer our customers the same level of services they have become accustomed to on the consumer market side," explains Online Manager Antti Merikoski.
Personal digital service, quick and easy ordering
The service is designed to speed up ordering and make order management simple and easy. The search function is fast and easy to use, the product and availability information is up-to-date, and marketing materials are readily available. This way the dealers can focus on serving their customers, instead of spending time tracking down materials and information from multiple sources.
"We aim to create a channel for digital dialogue for our customers. Our principle is that we want to offer the best possible services that can be accessed anytime, anywhere," Merikoski concludes.
The reinvented Nokian Tyres Dealer Services was launched in Central Europe in the autumn of 2017 for Nokian Tyres customers. The new service was launched in North America in March 2018, and Nordics will follow in the beginning of 2019.
Nokian Tyres Dealer Services – Essentials for everyday tyre business
The reinvented Nokian Tyres Dealer Services combines under one sign-on the old services available to the Nokian Tyres B2B customers: Dealer Shop, Product Toolbox and Marketing Toolbox.
In addition, there are many new functions:
A new channel for getting personal service, available on any device.
An exceptionally fast search and order process to make tyre ordering quick and easy.
All of the customer's order history in one place, no matter which ordering channel was used.
Reliable, up-to-date information on products and their availability.
Services and support materials available in six languages.

More about Dealer Services
Download pictures
Further information:
Jaroslav Nálevka, PR manager McCann Prague, 00420 725 865 874, [email protected]
Zuzana Michalová, PR manager Nokian Tyres CE, 00420 603 578 866, [email protected]