Nokian Tyres renews its tire labels – new appearance enhances the Scandinavian quality
The tire labels on Nokian Tyres' products will have a new look at the beginning of 2019. The new label design draws its inspiration from Scandinavian nature and features sceneries from beneath the northern lights as well as adventures on snowy mountains. With the new look of the labels, Nokian Tyres wants to emphasize the high quality of its products, the Scandinavian values it represents as well as the promise to offer peace of mind in all conditions.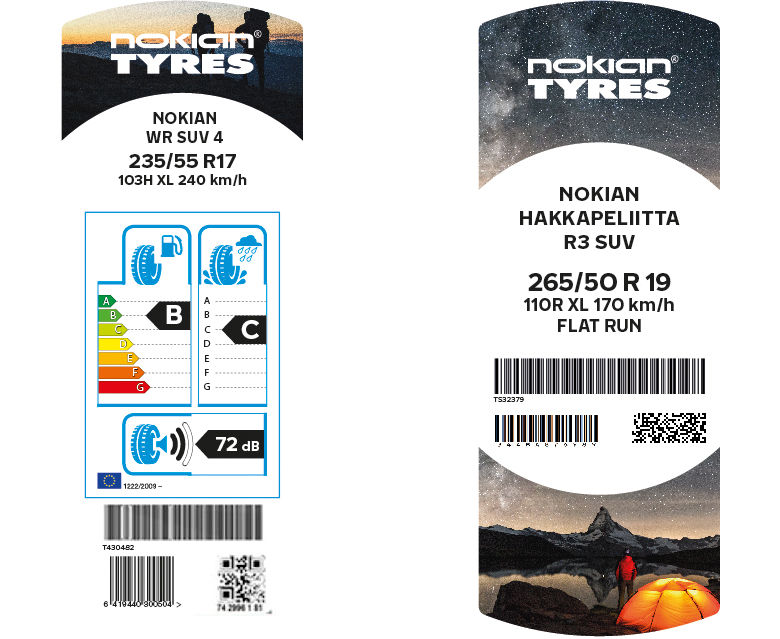 The new tire labels have several variations according to the product and the market. Tires that do not require EU values will have six labels, each with a different image. Premium studded tires will have three labels featuring images of winter. Furthermore, the label containing the EU values for fuel economy, wet grip, and exterior rolling noise will also receive a new, arctic look.
The information on the labels will not change. They will continue to include all of the information that is important both for the dealer as well as for the consumer, such as the tire size and load capacity. The label renewal concerns all of Nokian Tyres' passenger car, SUV, and van products in the summer, winter, all-weather, and all-season categories.
Renewing the labels is a part of Nokian Tyres' larger brand redesign that was launched earlier this year. The new brand look reflects the company's long history, sustainable operation, and Scandinavian values. The new labels with images are unique on the tire market, and they communicate to the customers Nokian Tyres' adventurous, caring and sustainable attitude.