Mon September 14 01:00 pm 2020 in categories Company news, Articles
Nokian Tyres sponsors Nokia born golfer Sami Välimäki in the U.S. Open
Golf comet Sami Välimäki competes in one of golf's major tournaments U.S. Open this week, and we are proud to be his sponsor. Sami's rise to the top began when he was just five years old, and the ambitious young golfer aims to be the best. 
Nokian Tyres' history dates back to the year 1898, and exactly 100 years later, Nokian family Välimäki grew with a son, Sami. This fall, Nokian Tyres is proud to sponsor Nokia-native golfer Sami Välimäki in the U.S. Open golf tournament.
Golfing since the age of 5
Sami turned into a professional player in 2019, when he was 21 years old. Despite his young age, he has received international success and experience, winning his first tournament at the age of 15. Sami's impressive journey from an amateur to a professional started in early childhood
- My parents played golf, and I was on the course with them from the age of five. I got my green card when I was just 7 years old.
Making the decision to become a professional golfer was easy in the end.
- It was my long-term goal, and we were just waiting for the right moment. There was really nothing left for me to achieve as an amateur, Sami says.
Ambition, hard work and sisu
The secret behind Sami's success is simple: ambition and hard work. Sami also says that doing groundwork is important:
- I knew all the time at what level I was supposed to be playing and achieved that, then went on to the next.
Sami also believes that his traits of perseverance and persistence help him on the course. The Finnish word for this is 'sisu' and it's believed to be the national quality of the Finns.
- I feel that being Finnish has helped me. Being a small country, I feel like I want to show the world what we can do. I also feel that the whole country is rooting for me, which feels good and gives me energy, Sami says.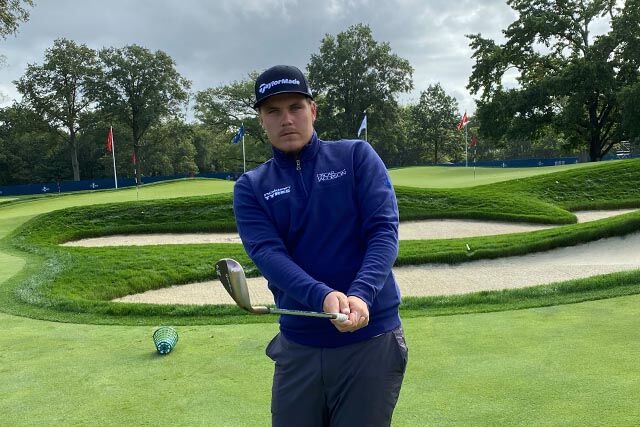 Becoming the best
U.S. Open is a special tournament but preparing for it follows a familiar pattern for Sami. He says that he really doesn't have a typical training day with the exception of the week of a big tournament.  Then Sami has a schedule on the course spanning from Monday to Wednesday with getting to know it and doing some practice rounds. In addition, he trains with his personal trainer.
For the U.S. Open, Sami's goal is clear:
- I want to play four solid rounds and make it to the finals. I want to play to win.
The ambitious young golfer also has a solid long-term plan.
- My dream is to be the best golfer in the world one day.
Peace of mind on and off the course
When faced with a difficult spot on the course, Sami has a technique for more peace of mind:
- It's tiring to concentrate on the game all the time, so between holes I chat with my caddy about something completely different, taking my mind off the game for a while. That relaxes me.
Outside the course Sami relaxes by playing computer games, and he also enjoys fishing.
- I love being out in the nature, away from all the hassle.
A success story from Nokia
Globetrotting Sami speaks fondly of his birth town Nokia.
- I still have a lot of friends and family in Nokia, although I moved away a couple of years ago. I also visit the Nokia golf course often.
Nokian Tyres' headquarters in the town center has been part of Sami's life since childhood.
- For me it's important that the company originates from Nokia. My very first car already had Nokian Tyres' tires on it, says Sami - I'm really happy and proud to be cooperating with Nokian Tyres.
The 120th U.S. Open Championship is played in Mamaroneck, N.Y. on Sept. 14-20, 2020. We wish Sami the best of luck, from one Nokian to another!