Tue March 15 10:00 am 2022 in category Product news
Smart tires bring smart savings – Nokian Tyres Intuitu™ smart tires are now available in France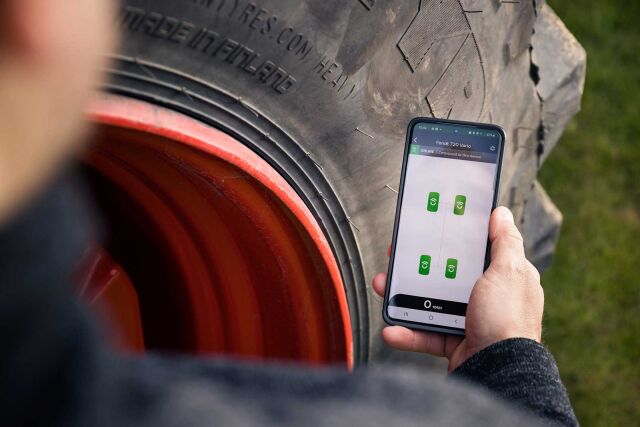 In every field, digital transformation brings savings by making work smarter and more efficient. This goes for farming, agricultural and municipal contracting as well. Nokian Tyres Intuitu smart tires make the digital transformation of heavy tires a working reality, bringing all the vital tire information from an entire fleet direct to your smartphone. Already available in Finland, Nokian Tyres Intuitu smart tires are now available for orders in France as well.
Since its first release in 2020, people have been impressed by the plug and play simplicity of the Nokian Tyres Intuitu smart tire solution: just buy the smart tires, download the app and let the sensors attached to the tires' inner surface send accurate pressure and temperature readings directly to the driver's smartphone.
"Fleet managers in particular are excited about having vital tire information and alarms available with a minimal need for configuration", says Pierre Choubert, Business Manager at Nokian Tyres. "Premium tractor tires are an investment you want to look after."
Smart savings
From one vehicle to a fleet of dozens, the idea is the same: Nokian Tyres Intuitu smart tires helps save time and money.  
"What the smart tire monitoring system gives you is better, safer and longer use of tires", lists Pierre Choubert. "The correct tire pressure enables better use of tires with more grip, fuel economy and service life. Temperature and pressure warnings enable safer use of tires by helping to prevent any serious damage in advance. And all of these combined with the extended warranty enable longer use of tires."
Intuitu at work
Thomas Fiquet does earthmoving, transports and municipal as well as agricultural contracting with his company Bray Thelle Prestations France. Mr. Fiquet has Nokian Tyres Intuitu equipped Nokian Tyres Ground King tires on his tractor, and he is very pleased with the combination.
"I can follow the tire pressure and temperature as well as the vehicle speed in real time on my smartphone", he says. "There is no need to connect the pressure gauge or whatever, everything is really connected."
Available for premium tires
All the smart features in the world wouldn't do much good if the tires themselves were anything less than first rate. This is why Nokian Tyres Intuitu is available for four flagship Nokian Tyres tractor tires – Nokian Ground King, Nokian TRI 2, Nokian Hakkapeliitta TRI and Nokian Tractor King.
"Ground King has the innovative Hybrilug pattern that combines first-rate field performance with excellent road properties", says Pierre Choubert. "The block-patterned Hakkapeliitta TRI combines incredible winter grip with car-like road handling, and Tractor King is made for the heaviest forestry and earthmoving work. The block-patterned TRI 2 tire has already established itself as the go-to tire for municipal contracting with long road transits", he continues. "All these premium tires can perform their absolute best every day with the help of Nokian Tyres Intuitu smart tire technology."
More warranty
Recognizing the fact that smart tires are significantly easier to look after and are therefore less likely to fail, Nokian Tyres offers a one-year warranty extension on these smart tractor tires.
"We feel confident to offer this extra benefit for smart tire users", Pierre Choubert says, "The digital dimension of tire management opens up new possibilities, and we have only just started!"
Further information:
Pierre Choubert, Business Manager, Nokian Heavy Tyres Ltd,
[email protected] , tel. +33 (0)6 72 85 83 30
Matthew Crocker, Product Manager, Digital Services, Nokian Heavy Tyres Ltd
[email protected], tel. +358 10 401 7049
Marketing, Nokian Heavy Tyres  
[email protected]  
More information and photos:
Photos and press materials: www.nokiantyres.com/intuituPR
Product page: www.nokiantyres.com/intuitu
Company site: www.nokiantyres.com/heavy