Wed August 31 07:00 am 2022 in category Product news
The perfect match – Nokian Tyres wheels complement the heavy tire offering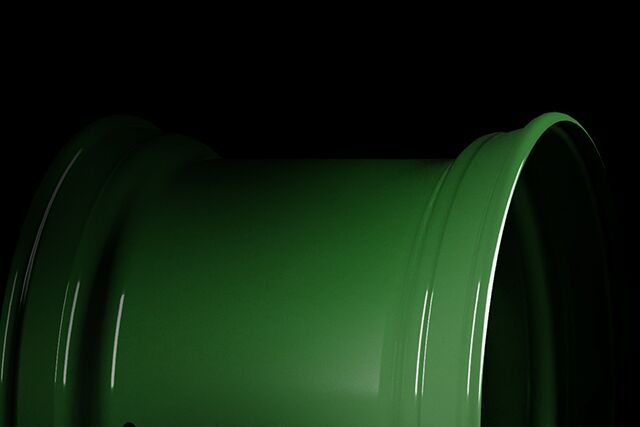 With premium tires and powerful machinery, the wheels cannot compromise the performance. Nokian Tyres offers a broad selection of premium wheels for forestry, agriculture, construction, and earthmoving work – all designed to match perfectly with the corresponding Nokian Tyres tires, complementing each other in a best way possible.
With the march of technology, the tractors, excavators, and other machines get ever more powerful, efficient and sophisticated – just compare a few decades old tractor with any latest model. The tires evolve as well, to keep up with the latest machine capabilities and even drive them forward. The same applies for wheels – their support will bring out the best in tires as well as the machinery.  
"The way we see it, the tire and wheel combination should be looked as a whole – not just tire and a wheel separately, but as a complete wheel with perfectly matched properties" says Matias Salonen, Product Manager at Nokian Tyres. "Only this way we can be sure that the tire and wheel complement each other perfectly, reducing the risk of the tire slippage on the wheel, for example." 
The technical advance 
Wheels by Nokian Tyres are a result of long commitment to every aspect of wheel manufacturing.  
"For several years, Nokian Tyres made close wheel collaboration with Levypyörä Oy, a company with six decades of experience in steel industry", says Matias Salonen. "In 2019, it became a part of Nokian Tyres, making the synergy even more natural." 
Besides being made to match the tires, the wheels by Nokian Tyres are designed without compromises – with premium Scandinavian steel, precision cutting, quality welding and impact and corrosion resistant double coating. 
"Our wheels have some unique properties such as advanced reinforcements. The Tube-Edge reinforcement, for example, is tubular rim reinforcement that is a seamless part of the wheel, adding rigidity and longevity", Matias Salonen says. "But most importantly, when buying complete wheels by Nokian Tyres, you get a one-stop, more manageable whole, and all the support you need from one place." 
Many Nokian Tyres wheels are also available as special Xtreme options, which are some of the sturdiest wheels available in the entire market. 
Rugged reliability for forestry tractors, skidders, harvesters and forwarders  
Forest is an unforgiving environment with all the sharp rocks, tree stumps and steep slopes. With the perfectly matching quality tires and advanced, rugged wheels complementing each other, the risk of wheel slippage or impact damage is minimized while maximizing the load-bearing capacity.  
"Complete wheels by Nokian Tyres are bolt-on solutions for skidders and CTL machines, making forestry work more confident", Matias Salonen says. "They complement the Nokian Tyres forestry tires with their easy installation, resilient double powder coating, efficient knurling and a choice of reinforcements adding to wheel sturdiness." 
Strength and versatility for tractors, trailers and compact loaders  
Powerful tractors, heavy trailers and high speeds – agricultural, municipal and construction work call for heavy-duty wheels and tires.  
"Complete wheels by Nokian Tyres provide a perfectly matched wheel and tire that can cope with the heaviest loads and high-power tractors with their high-grade steel and different reinforcements", Matias Salonen adds. "For stable and agile gardening or municipal work, the compact loaders benefit from the same quality." 
Stability for excavators and backhoe loaders  
In excavating and loading work, stability and impact resistance are important – both for the wheel and tire.  
"With the Nokian Tyres complete wheels for wheeled excavators as well as backhoe loaders, you will get the most out of your machine", says Matias Salonen. "The rugged coating, optional valve guard and available reinforcements give the entire wheel an extended service life and stable properties." 
Where to see the complete wheels 
After a long break, the trade fairs are here again. In Finland, the biggest one is FinnMETKO – and naturally, Nokian Tyres will be there with the complete wheels and many other interesting products. See you in Jämsä booth #38 September 1.–3. 2022! 
For further information please contact: 
Matias Salonen, Product Manager Wheels, Nokian Heavy Tyres Ltd 
[email protected]   tel. +358 xxx 
 
Marketing, Nokian Heavy Tyres 
[email protected]  
More information: 
Complete wheels: www.nokiantyres.com/wheels 
Complete wheels for Forestry: www.nokiantyres.com/forestrywheels  
Complete wheels for Agriculture and Contracting: www.nokiantyres.com/agriculturalwheels  
Complete wheels for Earthmoving: www.nokiantyres.com/earthmovingwheels