Thu August 25 10:00 am 2022 in category Company news
With you where the job is done – Nokian Tyres presents its versatile range of commercial tires at the FinnMETKO 2022 trade show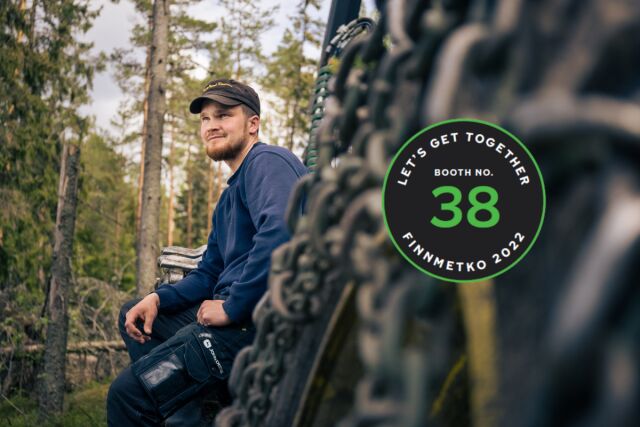 After years of canceled events and special arrangements due to coronavirus, it feels great to be back where Nokian Tyres has earned its trust in the first place – close to the people who make their living in the fields, forests, highways and wherever the heavy tires are spinning. In the FinnMETKO 2022 event, in September 1-3, 2022. you can meet Nokian Tyres experts face-to-face and get to know our comprehensive range of special tires.
The biannual FinnMETKO in Jämsä is Finland's biggest and most important event for the heavy machine industry. That makes it an excellent showcase for the latest trends and a place that connects the professionals of different fields.
"Getting to know the professionals and the demands of their work has always been the way we do things at Nokian Tyres", says director Manu Salmi. "If needed, the people at Nokian Tyres never hesitate to put their rubber boots on and head to the field or forest – where the work is done."
Manu Salmi is happy that after Covid-restrictions, Nokian Tyres is once again able to meet both the old friends as well as new end users, tire dealers, OEMs, and other partners over the same campfire. 
"We have never offered just tires, but also premium service and solid advice to go with them", Manu Salmi reminds. "If you want to learn what your customer's job requires, there really is no substitute for chatting over a cup of coffee!"

Premium products for many jobs
At the Nokian Tyres booth number #38 there is a wide assortment of special tires for different end uses on display – from highways to construction sites, forests and fields.
As the leading manufacturer of forestry tires, Nokian Tyres offers CTL machine tires that make the working more efficient while preserving the forest soil – with or without tracks. Nokian Tyres Forest King F2, for example, is a premium tire optimized for track use and offers excellent service life and performance in the most demanding forestry use.
In tractor tires the Nokian Tyres Hakkapeliitta TRI is continuing its success story. It offers the winning combination of all-season efficiency, unsurpassed grip in varying winter conditions and excellent handling on the road. Its versatility and wide size range have made it a popular choice from compact tractors to high-powered machines What is more, Hakkapeliitta TRI is available as a Nokian Tyres Intuitu smart tire that brings all the vital tire information directly to a mobile phone.
In machine contracting, one of the most remarkable new tires has been Nokian Tyres Ground Kare. It has been gaining popularity both in backhoe loader and excavator use as a versatile all-terrain tire – even as an alternative to twin wheel configuration.
Nokian Tyres made the world's first winter tire for trucks back in 1934. Ever since, we have committed ourselves into making professional driving safer, more comfortable, and more economical. On the display in our booth, you can see a wide portfolio of our truck and bus tires for any road – in any weather.
"We are also introducing our complete wheel sets for heavy machinery on the stand – tires and wheels complementing each other perfectly", Manu Salmi reveals. "The perfect match of wheels and tires brings out the best from a tractor, trailer, forestry machine as well as excavator. What's more, the matters concerning responsibility or warranty become more straightforward as we provide a one-stop solution for everything that rotates."
Have a break – listen to the fifteen-minute information sessions
With the current high fuel costs, the correct choice of tires really matters. During the fifteen-minute information sessions held over the campfire of our FinnMETKO 2022 stand, our experts will show and tell how premium tires and the correctly adjusted tire pressure lower the fuel costs while making the work safer and more efficient. We will also talk about the role of our testing and product development when creating new innovations, our perfectly matched complete wheels as well as answer any questions you might have on your mind.
See you in Jämsä!
Trade fairs have their unique atmosphere, which is best shared with like-minded people of all ages. During the year, the world events have also proven the value of local food production and manufacturing.
"Finnish tires support the Finnish agriculture and transport", Manu Salmi reminds. "All our heavy machinery tires are designed and manufactured in Nokia, Finland, while our truck and bus tires are designed in Finland and manufactured in the EU. In the past years, we have been investing heavily on product development. Now it is truly a pleasure to show its results. See you in Jämsä!"
More information:
Olli Nuutila, Head of Marketing and Business Development, Nokian Raskaat Renkaat [email protected], tel. +358 400 757 533
For media:
Nokian Tyres event page: nokiantyres.com/finnmetko 
Event press material: nokiantyres.com/finnmetkoPR  
Other press material: nokiantyres.com/heavyPR